Native Soul TEENAGE DREAMS 2LP
Niedriger Bestand
SKU
ATFALP43.TEENAGE.DREAMS.2LP
Native Soul TEENAGE DREAMS
In common parlance, the two producers who make up Native Soul would be considered "ma2000"—or, born after the onset of democracy,
having never experienced Apartheid—by virtue of their age. Kgothatso Tshabalala is 19 years old and Zakhele Mhlanga (DJ Zakes) is 18.
Their 12-track debut electronic music album, Teenage Dreams, is not easily dismissed as a project that shows their age, though.
Teenage Dreams presents a youthful, experimental sound, but the arrangement of each song and how each of the project's composite parts
are put together demonstrate an artistic maturity beyond the two producers' respective ages.
A cousin of Tshabalala introduced the two in 2016. Native Soul was formed in 2019. Until then, each of them had been
producing music in a variety of styles including hip-hop, different types of house as well as amapiano. They decided that with Native Soul,
their focus would be on amapiano—an electronic music movement which, by then, had begun to dominate both mainstream and underground music scenes in South Africa.
Amapiano is an electronic music movement first created and still most popular in the townships surrounding the major cities of Gauteng province in South Africa.
The style borrows from various genres which have been popular in South African townships during and after apartheid, including jazz, folk, afro, deep and tech house,
kwaito, dibacardi and others. As well as paying homage to all its predecessors, amapiano also has traits entirely of its own making, which differentiate it from its lineage. The most recognisable of these being the drums made from basslines which stick out like a pocket turned outside of pants.
On their debut album released by Awesome Tapes From Africa, Native Soul demonstrate the depth of the musical well they draw from.
The drawling tempo and synth chords on "Way to Cairo", the album's second song, are reminiscent of a certain type of Kwaito popular with pantsula culture.
The most discernible nod to Afro House on Teenage Dreams comes in the form of "Dead Sangoma"'s percussive drums.
Similarly, the aptly named "United As One" carries a tinge of Moloko's "Sing It Back" which was released in 1999, became anthemic in South Africa and continues to represent a belle epoque of electronic music in the country.
Throughout the album, each song develops patiently—introducing various instruments and elements in turn.
With each layer added, the emotion elicited from the listener is deepened. In this way, Teenage Dreams is not just a dance album,
but one that understands what can be gained when artistic maturity meets experimentation.
Native Soul TEENAGE DREAMS
Im allgemeinen Sprachgebrauch würde man die beiden Produzenten von Native Soul als "ma2000" bezeichnen - oder als nach dem Beginn der Demokratie geboren,
Sie haben die Apartheid aufgrund ihres Alters nie erlebt. Kgothatso Tshabalala ist 19 Jahre alt und Zakhele Mhlanga (DJ Zakes) ist 18.
Ihr 12 Tracks umfassendes Debütalbum mit elektronischer Musik, Teenage Dreams, kann jedoch nicht einfach als ein Projekt abgetan werden, dem man sein Alter ansieht.
Teenage Dreams präsentiert einen jugendlichen, experimentellen Sound, aber das Arrangement der einzelnen Songs und die Art und Weise, wie die einzelnen Teile des Projekts
zusammengesetzt sind, zeigen eine künstlerische Reife, die über das Alter der beiden Produzenten hinausgeht.
Ein Cousin von Tshabalala stellte die beiden 2016 vor. Native Soul wurde im Jahr 2019 gegründet. Bis dahin hatte jeder von ihnen
Musik in einer Vielzahl von Stilen produziert, darunter Hip-Hop, verschiedene Arten von House sowie Amapiano. Sie beschlossen, dass mit Native Soul,
ihren Fokus auf Amapiano zu legen - eine elektronische Musikbewegung, die zu diesem Zeitpunkt begonnen hatte, sowohl die Mainstream- als auch die Underground-Musikszene in Südafrika zu dominieren.
Amapiano ist eine elektronische Musikrichtung, die zuerst in den Townships rund um die Großstädte der südafrikanischen Provinz Gauteng entstanden ist und dort immer noch am beliebtesten ist.
Der Stil lehnt sich an verschiedene Genres an, die in den südafrikanischen Townships während und nach der Apartheid beliebt waren, darunter Jazz, Folk, Afro, Deep und Tech House,
Kwaito, Dibacardi und andere. Das Amapiano ist nicht nur eine Hommage an alle seine Vorgänger, sondern weist auch ganz eigene Merkmale auf, die es von seinen Vorgängern unterscheiden. Das auffälligste Merkmal ist das Schlagzeug, das aus Basslinien besteht, die wie eine umgedrehte Hosentasche aus der Hose herausragen.
Auf ihrem Debütalbum, das bei Awesome Tapes From Africa erschienen ist, zeigen Native Soul, aus welch tiefem musikalischen Brunnen sie schöpfen.
Das schleppende Tempo und die Synthie-Akkorde von "Way to Cairo", dem zweiten Song des Albums, erinnern an eine bestimmte Art von Kwaito, die in der Pantsula-Kultur beliebt ist.
Die deutlichste Anspielung auf Afro House auf Teenage Dreams kommt in Form der perkussiven Drums von Dead Sangoma".
Auch das treffend benannte "United As One" erinnert an Molokos "Sing It Back", das 1999 veröffentlicht wurde, in Südafrika zur Hymne wurde und nach wie vor eine Belle Epoque der elektronischen Musik des Landes darstellt.
Während des gesamten Albums entwickelt sich jeder Song geduldig und führt nacheinander verschiedene Instrumente und Elemente ein.
Mit jeder hinzugefügten Schicht vertieft sich die Emotion, die beim Hörer ausgelöst wird. Auf diese Weise ist Teenage Dreams nicht nur ein Tanzalbum,
sondern eines, das versteht, was gewonnen werden kann, wenn künstlerische Reife auf Experimentierfreude trifft.
Brand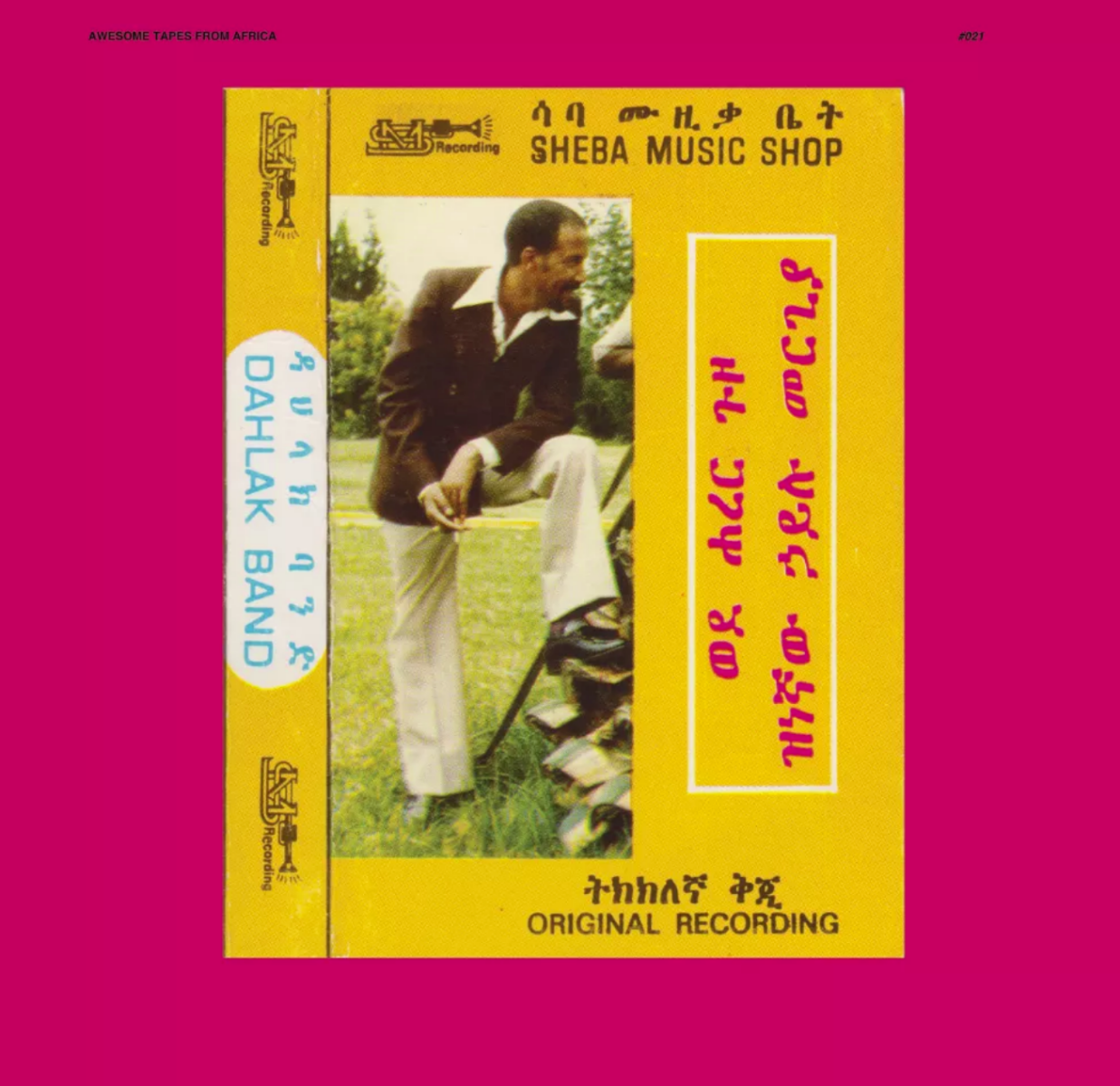 Awesome Tapes from Africa
Awesome Tapes From Africa is a record label and web site operated by Brian Shimkovitz.
The site was founded in 2006 in Brooklyn, New York.
The site was created as a way for Shimkovitz to share music he had come across while on a scholarship in Ghana.
He was interested in the variety of genres and artists he found, distributed largely on cassette tapes at markets, but that he had not come across outside West Africa.
In 2011 he transitioned the site from just a blog with posted recordings of collected tapes posted without the artists' permission to a commercial record label.
The goal of the company is to seed and expand an audience for the artists presented as well as provide opportunities to sell albums and tour.
Artists are paid every six months and receive 50% of the profits from an album.
Tapes presented on Awesome Tapes come from a variety of sources: gathered in Ghanaian street markets, purchased in stores in the US, or sent by others over the internet.
In addition to the website, Shimkovitz DJ's concerts, clubs and at festivals as Awesome Tapes From Africa, as well as hosts a show on Dublab.
Most Awesome Tapes From Africa releases are official rereleases of out-of-print cassettes from African musicians and bands.
SK Kakraba's Songs of Paapieye is the first album to consist of a new release. Although music is distributed in Africa via MP3 on mobile phones, Shimkovitz says the widest variety of music in West Africa is still available on cassette tape.
In the journal Public Culture, Awesome Tapes From Africa, along with record labels Sublime Frequencies and Parallel World, is discussed as being emblematic of "World Music 2.0" for combining the "open source ethics of online networks with long-standing countercultural networks of circulation" within cassette culture and music distribution in developing nations.