Maison Cisson - 100% Knitted "Le Chorizo Épicé du Pays Basque" Sausage
---
Made in Europe
Small Producer
Aprox. 20cm
Knitted sausage made of orange wool, hand-tied with white cotton food string, metal clips.
Polyester filling.
Gestrickte Wurst aus orangefarbener Wolle, handgeknüpft mit weißer Baumwoll-Lebensmittelschnur, Metallklammern.
Füllung aus Polyester.
Ahhh look at the spicy chorizo's wonderfuly warm colour!
Doesn't it make you think of the summer holidays… of the sun,
the South and enjoying a glass of ice-cold rosé amongst friends.
And that's why at MAISON CISSON they love chorizo.
Except that their version is made from wool!
Which means that it'll last forever,
ensuring that your holiday memories will never fade!
Hurry! Hang it in your kitchen alongside a pretty linen tea towel
or a garlic braid using a butcher's hooks.
With its eye-catching orangey wool and red Baker's twine,
MAISON CISSON's knitted spicey chorizo will surely stand
out in your kitchen.
***
Ahhh sehen Sie sich die wunderbar warme Farbe der scharfen Chorizo an!
Erinnert Sie das nicht an die Sommerferien... an die Sonne,
den Süden und genießt ein Glas eiskalten Rosé unter Freunden.
Und deshalb lieben sie bei MAISON CISSON Chorizo.
Nur dass ihre Version aus Wolle gemacht ist!
Was bedeutet, dass sie ewig halten wird,
damit Ihre Urlaubserinnerungen nie verblassen!
Beeilen Sie sich! Hängen Sie es
in Ihrer Küche neben ein hübsches Geschirrtuch aus Leinen.
oder ein Knoblauchgeflecht mit einem Fleischerhaken.
Mit seiner auffälligen orangefarbenen Wolle und dem roten Baker's Garn,
Die gestrickte Chorizo von MAISON CISSON wird sicher stehen
draußen in Ihrer Küche.
Brand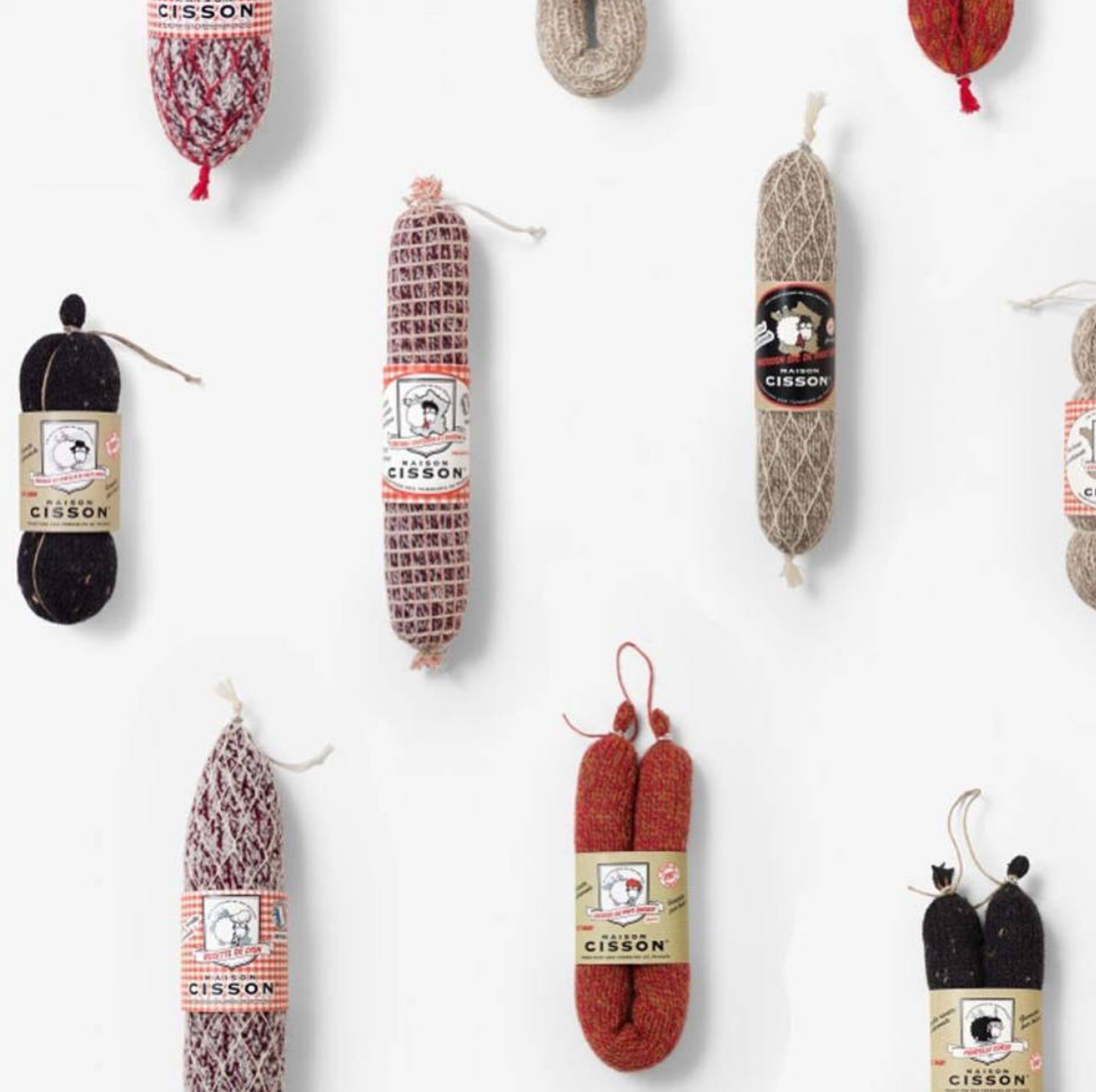 Maison Cisson
(EN) There are some things that simply do not make sense. For example knitted sausages in all variations. Nevertheless we could not resist. Too cool she is this charcuterie francaise !
Maison Cisson's aim is to make sausages so real that the illusion is preserved when you hang them on the walls. To create such small masterpieces, you have to be very careful when choosing wool, nets, ropes, clips and strings.
At Maison Cisson, they want to be faithful to their wonderful country, the production and woollen goods 100% French. Honestly, what would it look like to have French sausages made, even knitted, in a faraway country?
(DE) Es gibt Dinge die machen einfach keinen Sinn. Zum Bespiel gestrickte Würste in allen Varianten. Wir konnten trotzdem nicht Wiederstehen. Zu cool ist sie diese charcuterie francaise !
Maison Cissons Ziel ist es, Würstchen so echt zu machen, dass die Illusion erhalten bleibt, wenn man sie an die Wände hängt. Um solch kleine Meisterwerke zu erstellen, muss man bei der Auswahl von Wolle, Netzen, Seilen, Clips und Schnüren sehr vorsichtig sein.
Bei Maison Cisson wollen sie ihrem wunderbaren Land treu sein, die Herstellung und Wollwaren 100% französisch. Ehrlich gesagt, wie würde es aussehen, wenn man französische Würste in einem fernen Land herstellen, ja sogar stricken ließe?