Maison Cisson - 100% Knitted "La Chipolata" Sausage
---
Made in Europe
Small Producer
Approx 40cm
Knitted sausage in pink and white wool, red and white food string,
metal clips and Polyester filling.
Gestrickte Wurst in rosa und weißer Wolle, rote und weiße Lebensmittel Schnur,
Metallklammern und Polyester-Füllung.
Ahhh the chipolata, or as they're
called in France, "la chipo".
There's definitely a certain je ne sais quoi about them,
and this sausage is certainty synonymous with a barbeque.
Picture the summertime scene:
you're with all your friends, a rosé in hand,
and the sausages are sizzling away…
Hung up in your kitchen on a butcher's hook,
this string of sausages goes perfectly with
a crisp white linen tea towel and it's sure
to make your friends drool.

Ahhh die Chipolata, oder wie sie sind
in Frankreich "la chipo" genannt.
Es gibt definitiv ein gewisses je ne sais quoi bei ihnen,
und diese Wurst ist mit Sicherheit gleichbedeutend mit einem Barbecue.
Stellen Sie sich die Sommerszene vor:
Sie sind mit all Ihren Freunden, einen Rosé in der Hand,
und die Würstchen brutzeln davon...
In Ihrer Küche an einem Fleischerhaken aufgehängt,
diese Reihe von Würsten passt perfekt zu
ein knackiges weißes Leinen-Geschirrtuch und es ist sicher
um Ihre Freunde zum Sabbern zu bringen.
Brand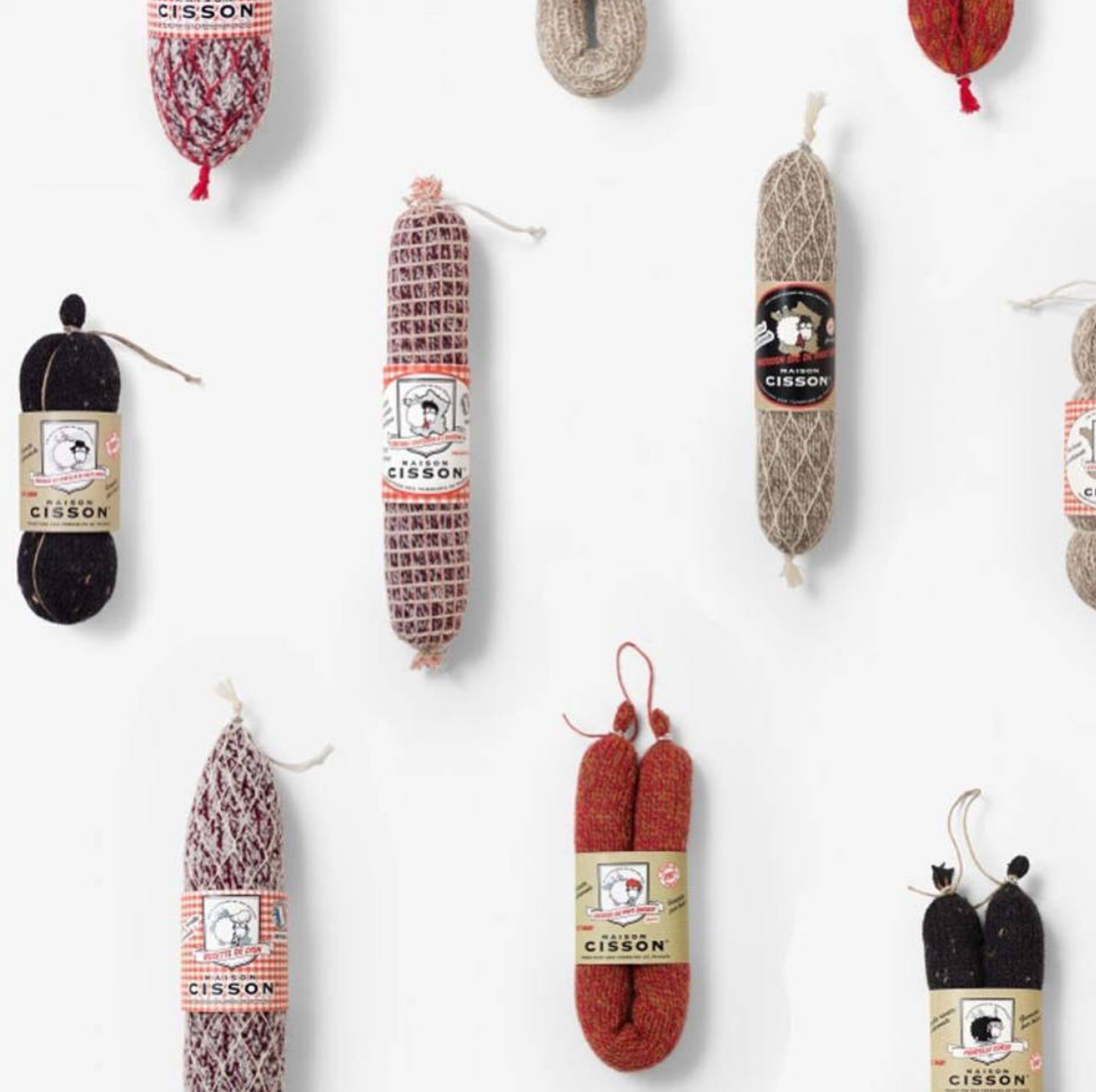 Maison Cisson
(EN) There are some things that simply do not make sense. For example knitted sausages in all variations. Nevertheless we could not resist. Too cool she is this charcuterie francaise !
Maison Cisson's aim is to make sausages so real that the illusion is preserved when you hang them on the walls. To create such small masterpieces, you have to be very careful when choosing wool, nets, ropes, clips and strings.
At Maison Cisson, they want to be faithful to their wonderful country, the production and woollen goods 100% French. Honestly, what would it look like to have French sausages made, even knitted, in a faraway country?
(DE) Es gibt Dinge die machen einfach keinen Sinn. Zum Bespiel gestrickte Würste in allen Varianten. Wir konnten trotzdem nicht Wiederstehen. Zu cool ist sie diese charcuterie francaise !
Maison Cissons Ziel ist es, Würstchen so echt zu machen, dass die Illusion erhalten bleibt, wenn man sie an die Wände hängt. Um solch kleine Meisterwerke zu erstellen, muss man bei der Auswahl von Wolle, Netzen, Seilen, Clips und Schnüren sehr vorsichtig sein.
Bei Maison Cisson wollen sie ihrem wunderbaren Land treu sein, die Herstellung und Wollwaren 100% französisch. Ehrlich gesagt, wie würde es aussehen, wenn man französische Würste in einem fernen Land herstellen, ja sogar stricken ließe?