Guitar Music of Western Kenya: 45s from the archive of Shem Tupe Limited Edition Cassette
Niedriger Bestand
SKU
GUITAR.MUSIC.WESTERN.KENYA.CS
Shem Tupe, Justo Osala, Enos Okola – Guitar Music of Western Kenya: 45s from the archive of Shem Tupe
Limited Edition Cassette
This Cassette is a selection of music from the archive of West African guitarist extraordinaire Shem Tupe (real name Shem Tupe Andayi) from the tiny village of Bunyore in Western Kenya. Shem plays in the guitar style called Omutibo, originated by George Mukabi in the fifties, in which a single guitar plays a melody, bass and rhythm line at the same time!
As a guitarist, one can but stand in awe of such prodigious technique but in the sixties and seventies Shem teamed up with his friend and neighbour Justus Osala Omufila on second guitar and Enos Okola playing percussion to expand the sound and they became the Abana Ba Nasery (Nursery Boys) Band.
According to Shem "… we played a Fanta bottle, an iron bar, and two guitars…" and I have to say they created a sound that cannot fail to bring a smile to your face.
They played the dance halls of Nairobi and went on to gain a reputation that took them to London and Europe. They made many recordings but were seemingly not treated well by the music industry in Africa and never received the financial rewards they deserved.
Shem did not succumb to the temptations of the rock and roll lifestyle, always returning to his home in Bunyore. Thankfully he kept an archive of all his recordings, mostly 45 rpm singles (remember them?) preserved in plastic bags and fraying newspaper and, in 2016, after being interviewed at length by Cyrus Moussavi, this selection was released on cassette as 'The Country Music of Western Kenya' before being restored for this CD release.
If you want to hear Omutibo in its relatively raw glory listen to "Khwakosa Sina." with its two minutes of breathtaking guitar and three joyous voices that will have you thinking of sunshine. During the seventies, Shem moved with the times and collaborated with other musicians in a move towards the Congolese Benga style.
'Namulia Ayileni Wangu' is a fine example of this more contemporary side to Shem's work, featuring wonderful reverb and echo-laden guitar and somewhat higher production values in the recording. For myself, I much prefer the unadorned rural style of 'William Mayoye Wefwe' with its intertwining guitars, simple percussion and voices.
Shem Tupe, Justo Osala, Enos Okola - Gitarrenmusik aus Westkenia: 45er aus dem Archiv von Shem Tupe
Kassette in limitierter Auflage
Diese Kassette ist eine Auswahl von Musik aus dem Archiv des westafrikanischen Ausnahmegitarristen Shem Tupe (richtiger Name Shem Tupe Andayi) aus dem kleinen Dorf Bunyore in Westkenia. Shem spielt den von George Mukabi in den fünfziger Jahren entwickelten Omutibo-Gitarrenstil, bei dem eine einzige Gitarre gleichzeitig eine Melodie, einen Bass und eine Rhythmuslinie spielt!
Als Gitarrist kann man vor solch einer erstaunlichen Technik nur Ehrfurcht haben, aber in den sechziger und siebziger Jahren tat sich Shem mit seinem Freund und Nachbarn Justus Osala Omufila an der zweiten Gitarre und Enos Okola am Schlagzeug zusammen, um den Sound zu erweitern, und sie wurden die Abana Ba Nasery (Nursery Boys) Band.
Laut Shem "... spielten wir mit einer Fantaflasche, einer Eisenstange und zwei Gitarren..." und ich muss sagen, dass sie einen Sound kreierten, der einem ein Lächeln ins Gesicht zauberte.
Sie spielten in den Tanzsälen von Nairobi und erlangten einen Ruf, der sie bis nach London und Europa führte. Sie machten viele Aufnahmen, wurden aber anscheinend von der Musikindustrie in Afrika nicht gut behandelt und erhielten nie die finanziellen Belohnungen, die sie verdient hätten.
Shem erlag nicht den Verlockungen des Rock'n'Roll-Lebensstils und kehrte immer wieder in sein Haus in Bunyore zurück. Glücklicherweise bewahrte er ein Archiv all seiner Aufnahmen auf, zumeist Singles mit 45 Umdrehungen pro Minute (erinnern Sie sich?), die in Plastiktüten und ausgefranstem Zeitungspapier aufbewahrt wurden. 2016 wurde diese Auswahl nach einem ausführlichen Interview mit Cyrus Moussavi als "The Country Music of Western Kenya" auf Kassette veröffentlicht, bevor sie für diese CD-Veröffentlichung restauriert wurde.
Wenn Sie Omutibo in seiner relativ unverfälschten Pracht hören wollen, hören Sie sich "Khwakosa Sina" an, mit seinen zwei Minuten atemberaubender Gitarre und drei fröhlichen Stimmen, die Sie an Sonnenschein denken lassen werden. In den siebziger Jahren ging Shem mit der Zeit und arbeitete mit anderen Musikern zusammen, um den kongolesischen Benga-Stil zu entwickeln.
Namulia Ayileni Wangu" ist ein schönes Beispiel für diese zeitgemäßere Seite von Shems Arbeit, mit wunderbarem Hall und echolastiger Gitarre und etwas höheren Produktionswerten in der Aufnahme. Ich persönlich bevorzuge den schlichten ländlichen Stil von "William Mayoye Wefwe" mit seinen ineinander verschlungenen Gitarren, einfachen Perkussionsinstrumenten und Stimmen.
Brand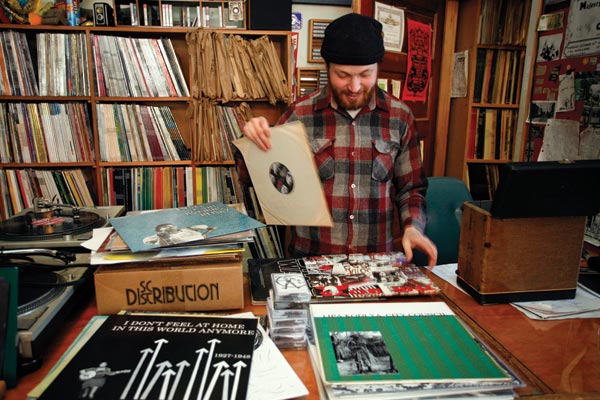 Mississippi Records
Selber waren wir leider noch nie bei Mississippi Records aber das Label hat sich in den letzten 12 Jahren ein Namen gemacht durch Veröffentlichungen von obskuren Raritäten, wunderbaren Blues & Folk Reissues und sensationellen Mix-Kasetten. Allesamt mit den grossartigsten Covers überhaupt. Mississippi Records-Releases werden nur auf Vinyl und oft in kleinsten Stückzahlen veröffentlicht.
EN: Unfortunately we have never been there ourselves at Mississippi Records but the label has made a name for itself over the past 12 years with releases of obscure rarities, wonderful Blues & Folk Reissues and sensational mix tapes. All with the greatest covers ever. Mississippi Records are released on vinyl only and often in small quantities.