Filippa K Drapey Shirt White
SKU
23008.DRAPEY.SHIRT_Weiss
Sale
CHF 89.90
Preis
CHF 149.00

Drapey Shirt von Filippa K.
100% Lyocell.
Made in Portugal.
A wardrobe staple and must have essential. Minimalistic shirt with a straight and neat fit in a ultra soft drapey tecel. Small sharp collar for a feminine look.
This style is designed to create minimal impact on our environment by using a sustainable material.
WHO MADE IT?
We believe that openness and transparency throughout the production chain plays an important role in modern, sustainable manufacturing. This is the supplier that helped us make this piece of garment:
Made in: Portugal
Supplier: J.Caetano & Filhas Lda
Address: Rua da Castica 18, Apartado 23, 4575-302 S. Miguel de Paredes, Porto, Portugal
Collaboration started: 2012
Number of Employees: 105 (8 men /97 women)
Visited by the Filippa K Supply Team
Factory: Radar do Sonho Confeccones Unipessoa
Address: Rua Nossa Senhora do Rosário 7, 4590-055 Carvalhosa, Portugal
Collaboration started: 2015
Number of Employees: 35 (34 men /1 woman)
Visited by the Filippa K Supply Team
Brand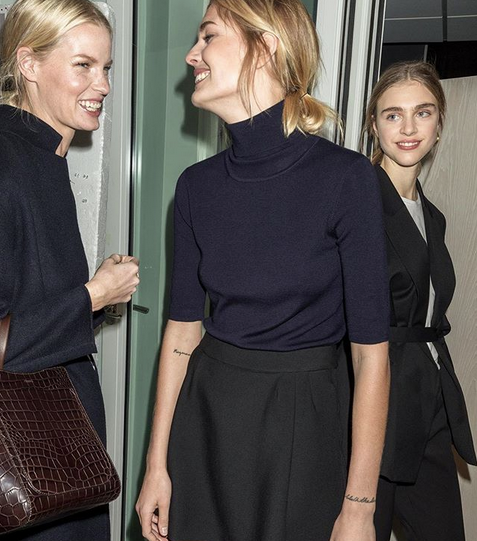 Filippa K
Neben H&M, Ikea und ABBA gehört das Modelabel Filippa K mit zu den bekanntesten Exporten aus Schweden. Zu verdanken ist der weltweite Erfolg der Kreativdirektorin Filippa Knutsson, die ihr Modehaus 1993 zusammen mit einem Geschäftspartner gegründet hatte. Selber aus einer traditionellen Textilfamilie stammend, ging die in London zur Designerin ausgebildete Knutsson von Beginn weg ihren eigenen modischen Weg. Und machte bald schon mit ihrer zeitlosen Mode für Frau und Mann auf sich aufmerksam. Bei Filippa K findet man nicht nur schöne Basicteile, coole Businessoutfits, sondern auch immer wieder schön verspielte, gemusterte Lieblingsstücke.
EN: Along with H&M, Ikea and ABBA, the fashion label Filippa K is one of the best-known exports from Sweden. The worldwide success is due to the creative director Filippa Knutsson, who founded her fashion house in 1993 together with a business partner. Born into a traditional textile family herself, Knutsson, who was trained as a designer in London, went her own fashion way right from the start. She soon attracted attention with her timeless fashion for men and women. At Filippa K you will not only find beautiful basic pieces, cool business outfits, but also beautifully playful, patterned favourite pieces.