Danner Boots - Men's Mountain 600 4.5" Brown/Red
SKU
62144.MOUNTAIN.600.INSULATED_BraunHell
US8 -      EU41.5
US8.5 -   EU42
US9 -      EU43
US9.5 -   EU43.5
US10 -    EU44
US10.5 - EU44.5
US11 -    EU45
US12 -    EU47
US13 -    EU48
Inspired by decades of legendary hiking boots,
Danner partnered with Vibram to forge a new path in hiking footwear.
The combination of the Vibram SPE midsole and Fuga outsole
gives an unparalleled grip on wet and dry surfaces
while providing superior cushioning without the weight.
Designed to withstand the climate and terrain of the Pacific Northwest,
Danner utilized a rugged, waterproof suede upper and Their own Dry waterproof protection.
The Mountain 600 defines a new category in hiking boots called Performance Heritage
- combining their classic styling with lightweight innovation.
Footbed: OrthoLite
Shank: Nylon
Lining: Waterproof
Liner: Danner® Dry
Outsole: Vibram® Fuga
Materials: Suede/Nubuck/Textile
***
Inspiriert durch jahrzehntelange legendäre Wanderschuhe,
hat sich Danner mit Vibram zusammengetan, um einen neuen Weg im Bereich der Wanderschuhe einzuschlagen.
Die Kombination aus der Vibram SPE-Zwischensohle und der Fuga-Außensohle
bietet einen unvergleichlichen Grip auf nassen und trockenen Oberflächen
und bietet gleichzeitig eine hervorragende Dämpfung bei geringem Gewicht.
Entwickelt, um dem Klima und dem Terrain des pazifischen Nordwestens zu trotzen,
Danner verwendet ein robustes, wasserdichtes Obermaterial aus Wildleder und den eigenen wasserdichten Dry-Schutz.
Der Mountain 600 definiert eine neue Kategorie von Wanderschuhen, die Performance Heritage
- Er kombiniert klassisches Design mit leichter Innovation.
-Fußbett: OrthoLite
Schenkel: Nylon
Innenfutter: Wasserdicht
Innenfutter: Danner® Dry
Laufsohle: Vibram® Fuga
Materialien: Wildleder/Nubuk/Textil
Brand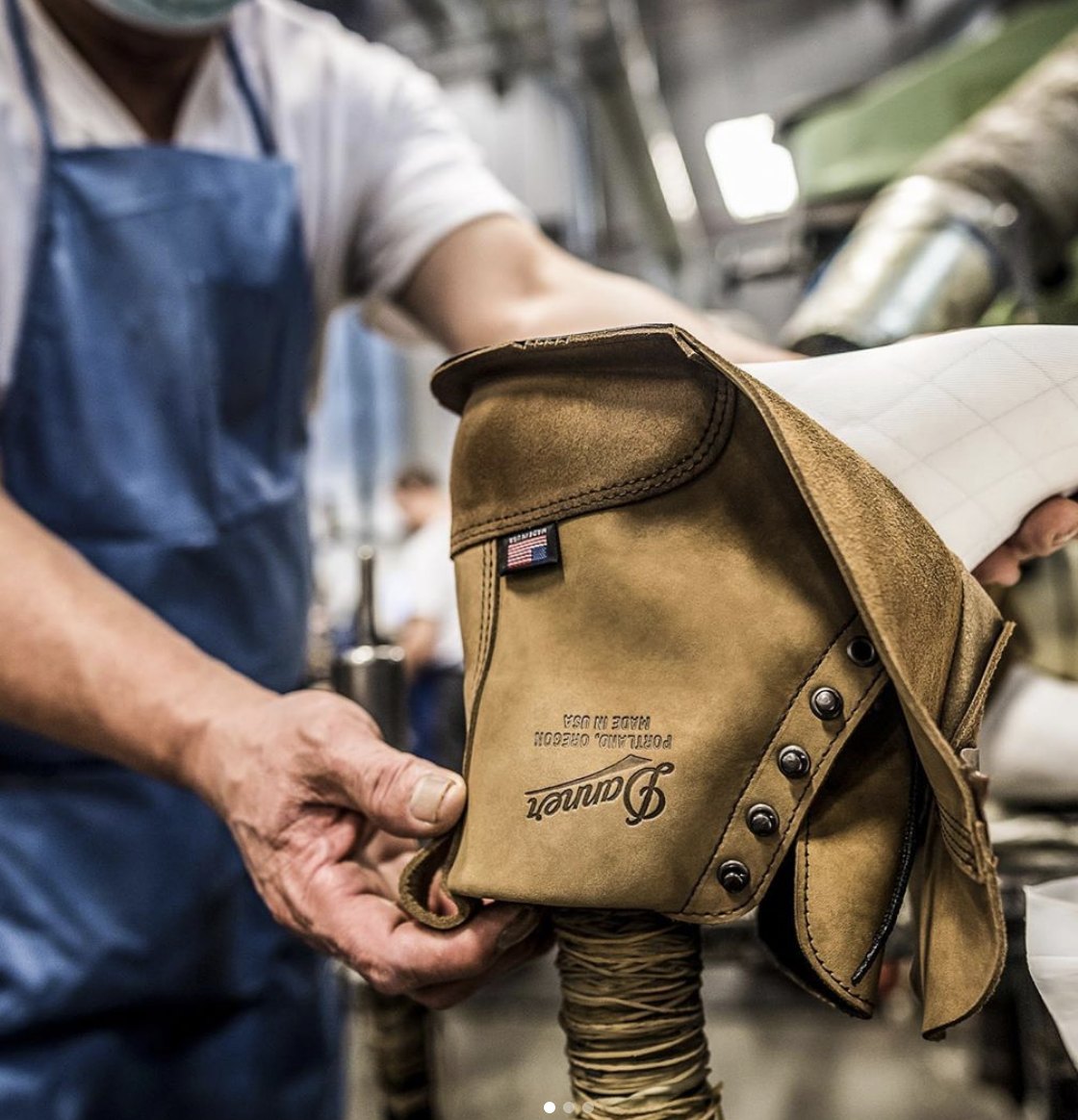 Danner boots
(EN) For nearly a century, Danner has crafted boots with purpose and integrity - footwear to equip those who choose the unlikely path, those who cut fresh trails, those who pioneer.

Charles Danner came west to build the best boots loggers had ever known, an effort that resulted in a long-standing heritage brand with a renegade spirit. A spirit that proudly lives on in each pair of Danner boots we make to this day. Charles Danner felt the pull to the wild of the Pacific Northwest, drawn by the promise of opportunity in the rugged unknown. He came with a commitment to quality craftsmanship and a deep respect for the uncompromising landscape.

From the gleaming alpine lakes and the plummeting river gorges, to the thick forests and the sweeping coastlines, Danner boots are of this place. To this day, the commitment to superior craftsmanship remains unchanged. Danner continues to craft high quality boots, using the best possible materials we can find, to create a product built to last.


(DE) Seit fast einem Jahrhundert fertigt Danner Stiefel mit Zweck und Integrität an - Schuhe, um diejenigen auszurüsten, die den unwahrscheinlichen Weg wählen, die neue Wege gehen, die Pioniere.
Charles Danner kam in den Westen, um die besten Stiefel zu bauen, die die Holzfäller je gekannt haben, eine Bemühung, die zu einer langjährigen Traditionsmarke mit abtrünnigem Geist führte. Ein Geist, der in jedem Paar Danner-Stiefel, das sie heute herstellen, mit Stolz weiterlebt. Charles Danner fühlte den Sog der Wildnis des pazifischen Nordwestens, angezogen von dem Versprechen, im rauen Unbekannten Möglichkeiten zu finden. Er kam mit einem Engagement für hochwertige Handwerkskunst und einem tiefen Respekt vor der kompromisslosen Landschaft.
Von den schimmernden Alpenseen und den herabstürzenden Flussschluchten bis hin zu den dichten Wäldern und den weitläufigen Küstenlinien sind Danner-Stiefel von diesem Ort. Bis heute ist unser Engagement für höchste Handwerkskunst unverändert. Sie stellen weiterhin hochwertige Stiefel her und verwenden die bestmöglichen Materialien, die wir finden können, um ein Produkt zu schaffen, das für eine lange Lebensdauer ausgelegt ist.