Dame Products Aer™ - Suction Toy - Lavender
Arousing Pulses/ Erregende Impulse
Medical Grade Silicone/ Silikon in medizinischer Qualität
Waterproof/ Wasserdicht
5 Patterns + 5 Intensities/ 5 Muster + 5 Intensitäten
Incl. charging cable/ Inklusive Ladekabel
A powerful arousal tool for fans of oral stimulation.
Aer creates thrilling pulses of air and a soft seal around your clitoris,
so you can go all the way, right away.
A breath of fresh air
Aer isn't a vibrator, it's a whole nother adventure.
Its pressure wave technology creates rhythmic pulses of air that'll give even the most savvy,
curious vibe users a unique thrill.
Lip service
Aer mimics the flutter of a tongue and the suction of a mouth—perfect if oral stimulation sends you over the edge.
Go all the way, right away
Aer keeps the focus on your orgasm by creating a soft seal around your clitoris.
If your arousal needs a kickstart, or if you just prefer a quick and intense peak,
Aer gets you there.
***
Ein kraftvolles Erregungswerkzeug für Fans der oralen Stimulation.
Aer erzeugt aufregende Luftimpulse und eine weiche Abdichtung um deine Klitoris,
damit Sie sofort in die Vollen gehen können.
Ein Hauch von frischer Luft
Aer ist kein Vibrator, er ist ein ganz anderes Abenteuer.
Seine Druckwellen-Technologie erzeugt rhythmische Luftstöße, die selbst den erfahrensten
neugierigen Vibrierenden einen einzigartigen Nervenkitzel verschaffen.
Lippenbekenntnisse
Aer ahmt das Flattern einer Zunge und das Saugen eines Mundes nach
- perfekt, wenn dich die orale Stimulation auf die Palme bringt.
Geh aufs Ganze, und zwar sofort
Aer konzentriert sich auf Ihren Orgasmus, indem er Ihre Klitoris sanft umschließt.
Wenn deine Erregung einen Kickstart braucht, oder wenn du einfach einen schnellen und intensiven Höhepunkt bevorzugst,
Aer bringt dich ans Ziel.
Brand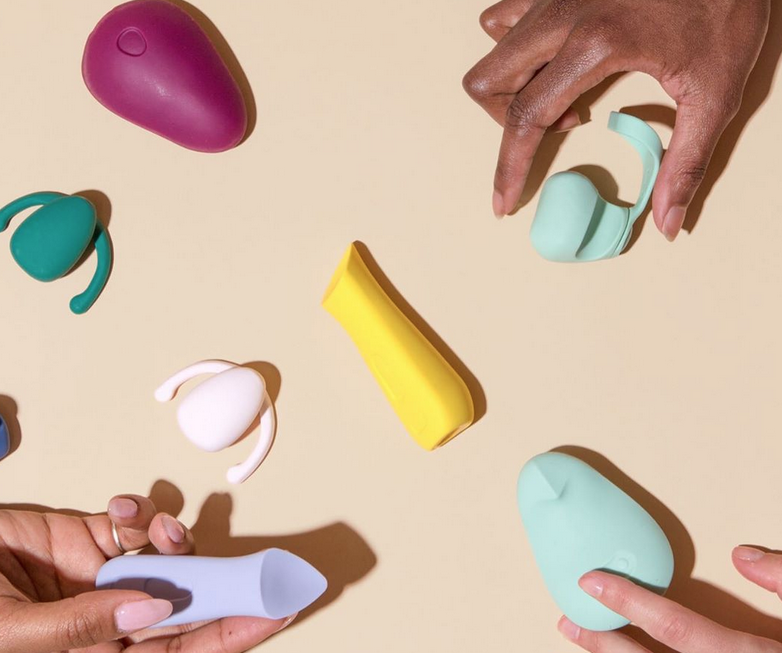 Dame Products
(EN) Dames mission — Making the world a happier place one vagina at a time.
Dame Products was founded by smart women with the purpose of making phenomenal sex toys. Their continuing mission: to design well-engineered sex toys, to heighten intimacy, and to openly empower the sexual experiences of humankind.
Behind Dame are Alex and Jenet.
Alex got her Masters in Clinical Psychology from Columbia University in 2011, focusing on her lifelong interest: sexuality. From volunteering with the Red Cross to hosting a sex talk radio show, she's always pursued opportunities to learn more about sexual health. Her experience at other consumer packaged goods startups gave her the know-how to start her own company.
Janet earned her mechanical engineering degree from MIT in 2007 before starting her career in product development, designing everything from dustpans to 3D printers. She worked for companies like Z Corp, Quirky, and Makerbot before deciding to turn her engineering efforts to the often-overlooked field of sex toys.
They believe sex toys should satisfy real women's needs. Instead of starting with a flashy feature or a kooky shape, they begin their design process with focus groups and scientific research. If it doesn't fit into your sex life, then it doesn't fit on their roadmap.

(DE) Dames Mission - Die Welt glücklicher zu machen, eine Vagina nach der anderen.
Dame Products wurde von intelligenten Frauen mit dem Ziel gegründet, phänomenales Sexspielzeug herzustellen. Ihre weitere Mission: ausgereiftes Sexspielzeug zu entwerfen, die Intimität zu erhöhen und die sexuellen Erfahrungen der Menschheit offen zu stärken.
Hinter Dame stehen Alex & Janet
Alex erwarb 2011 ihren Master in Klinischer Psychologie von der Columbia University und konzentrierte sich dabei auf ihr lebenslanges Interesse: Sexualität. Von der Freiwilligenarbeit beim Roten Kreuz bis hin zur Moderation einer Sex-Talk-Radiosendung hat sie immer nach Möglichkeiten gesucht, mehr über sexuelle Gesundheit zu erfahren. Ihre Erfahrung bei anderen Start-ups von Konsumgütern gab ihr das Know-how, ein eigenes Unternehmen zu gründen.
Janet hat 2007 am MIT Maschinenbau studiert, bevor sie ihre Karriere in der Produktentwicklung begann, wo sie von der Kehrschaufel bis zum 3D-Drucker alles entwarf. Sie arbeitete für Unternehmen wie Z Corp, Quirky und Makerbot, bevor sie sich entschied, ihre Ingenieurtätigkeit auf den oft übersehenen Bereich des Sexspielzeugs zu konzentrieren.
Sie glauben, dass Sexspielzeug die wahren Bedürfnisse der Frauen befriedigen sollte. Anstatt mit einem auffälligen Feature oder einer verrückten Form zu beginnen, beginnen sie ihren Designprozess mit Fokusgruppen und wissenschaftlichen Untersuchungen. Wenn es nicht in dein Sexualleben passt, dann passt es nicht auf ihre Roadmap.