Yope Shower Gel Boswella and Rosmary 400ml
SKU
SHOWER.GEL.400ML_*_2962-BOSWELLIA

Natural Firming Shower Gel
Scent: elegant blend of bold spice and fresh herbaceous notes.
It works: non-drying foaming agents in a pH-neutral formula are gentle on the skin but tough on impurities, while a complex of active plant-based ingredients keeps skin hydrated and happy. YOPE added frankincense to boost firmness and soothe irritation, as well as rosemary to fight inflammation. The result? Supple skin. And long showers.

93% natural and minimally processed ingredients
Aqua, Cocamidopropyl Betaine, Sodium Cocoamphoacetate, Lauryl Glucoside, Sodium Chloride, Sodium Lauroyl Methyl Isethionate, Citric Acid, Sorbitan Sesquicaprylate, Parfum, Glycerin, Rosmarinus Officinalis Leaf Extract, Boswellia Carterii Resin Extract, Sodium Benzoate, Potassium Sorbate, Linalool
400 ml



Natürliches, straffendes Duschgel
Duft: elegante Mischung aus kräftigen Gewürzen und frischen Kräuternoten.
Wie es funktioniert: Nichttrocknende Schaumbildner in einer pH-neutralen Formel sind hautfreundlich, aber unrein, während ein Komplex aus pflanzlichen Wirkstoffen die Haut feucht und glücklich macht. YOPE hat Weihrauch hinzugefügt, um die Festigkeit zu erhöhen und Reizungen zu lindern, sowie Rosmarin zur Bekämpfung von Entzündungen. Das Ergebnis? Geschmeidige Haut. Und lange Duschen.

93% natürliche und minimal verarbeitete Zutaten
Aqua, Cocamidopropylbetain, Natrium-Cocoamphoacetat, Laurylglucosid, Natriumchlorid, Natrium-Lauroyl-Methyl-Isethionat, Zitronensäure, Sorbitan-Sesquicaprylat, Parfum, Glycerin, Rosmarinus Officinalis-Blattextrakt, Boswellia Carterii-Harz-Extrakt, Natrium-Benzoat, Kaliumsorbat, Linalool
400ml
Brand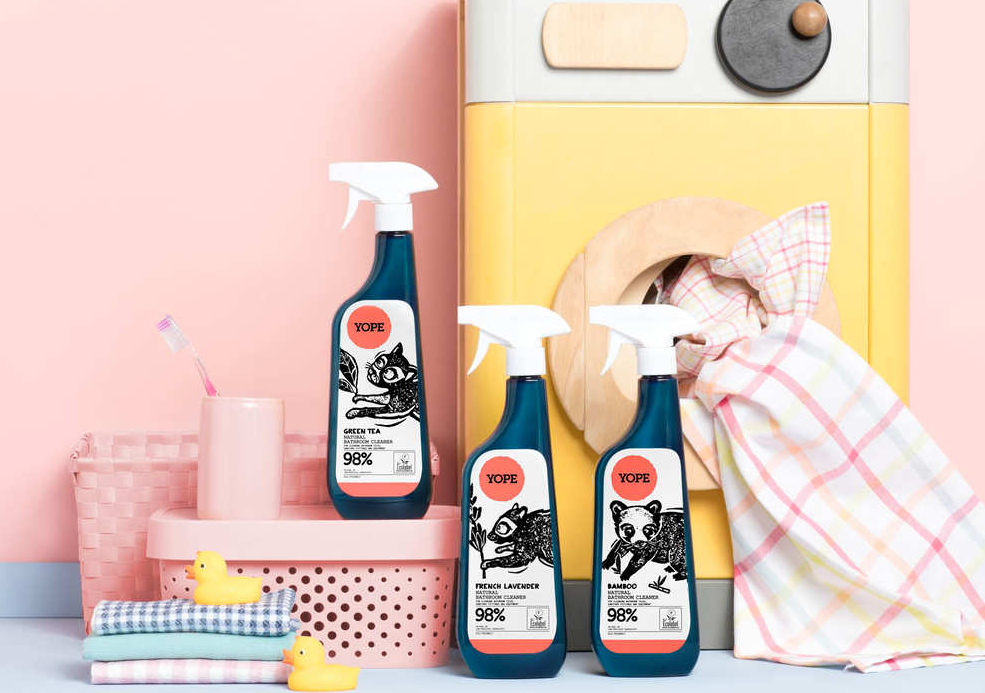 Yope
Yope does soaps and cleaning products mainly healthy for skin and environmentally-friendly. Yope washing cosmetics contain no mysterious and ultramodern mixtures and cocktails, artificial colourants, scents, preservatives, parabens, naphtha derivatives, SLS, SLES and thickeners. Instead they contain natural, vegetable extracts for healthcare and mild washing and aroma substances. All ingredients are safe even for sensitive skin. Thanks to know-how and experience of Yope cosmetologists and dermatologists. They helped Yope to develop extraordinary soaps which have short list of ingredients. Yope products contain only what is necessary for cosmetics to be good quality and safe for health. All substances were used in optimal proportions and in best concentration. They do not promise miracles but we are sure that our soaps and cleaning agents do their job well. Safe and healthy for skin. Can be used by children and people with sensitive skin. They have simple and effective composition. They do not contain enhancing substances: parabens; artificial colourants, preservatives, scents and foaming substances; SLS; and SLES. Everyone can afford them.