Yope Kitchen Hand Soap Honey and Bergamot 500ml
SKU
KITCHEN.HANDWASH.BOTTLE.500ML_*_2893-HONEY-BERGAMOT

Natural Kitchen Hand Soap

Scent: Sweet and refreshing
It works: with delicate yet effective cleansers and moisturisers plus neutralising agents to wash away aromas of fish, onions, garlic and other strong-smelling foods. Plant-based glycerine boosts smoothness and elasticity. Regenerating vitamin B5 and allantoin speed healing and soothe the skin. Yope added organic honey extract, rich in proteins, AHA acids and vitamins B6, B12 and C for a nourishing boost. The result? Hands that smell as good as they feel.
Composition
98% natural and minimally processed ingredients
Aqua, Cocamidopropyl Betaine, Lauryl Glucoside, Glyceryl Laurate, Saccharomyces Ferment Filtrate, Glycerin, Sodium Sunflowerseedamphoacetate, Honey Extract, Parfum, Panthenol, Allantoin, Citric Acid, Sodium Benzoate, Potassium Sorbate,Linalool, Limonene Capacity: 500 ml
Natürliche Küchen-Handseife

Duft: Süß und erfrischend
Es wirkt: mit zarten, aber wirksamen Reinigungs- und Feuchtigkeitsspendern sowie Neutralisationsmitteln, um Aromen von Fisch, Zwiebeln, Knoblauch und anderen stark riechenden Lebensmitteln zu entfernen. Pflanzliches Glycerin erhöht die Geschmeidigkeit und Elastizität. Regenerierendes Vitamin B5 und Allantoin beschleunigen die Heilung und beruhigt die Haut. Yope hat organischen Honigextrakt hinzugefügt, reich an Proteinen, AHA-Säuren und den Vitaminen B6, B12 und C für einen nährenden Schub. Das Ergebnis? Hände, die so gut riechen, wie sie sich fühlen.
Zusammensetzung 98% natürliche und minimal verarbeitete Zutaten Aqua, Cocamidopropylbetain, Laurylglucosid, Glyceryllaurat, Saccharomyces Ferment Filtrat, Glycerin, Natrium-Sonnenblumenkernamphoacetat, Honigextrakt, Parfum, Panthenol, Allantoin, Zitronensäure, Natriumbenzoat, Kaliumsorbat, Linalool, Limonene Fassungsvermögen: 500 ml
Brand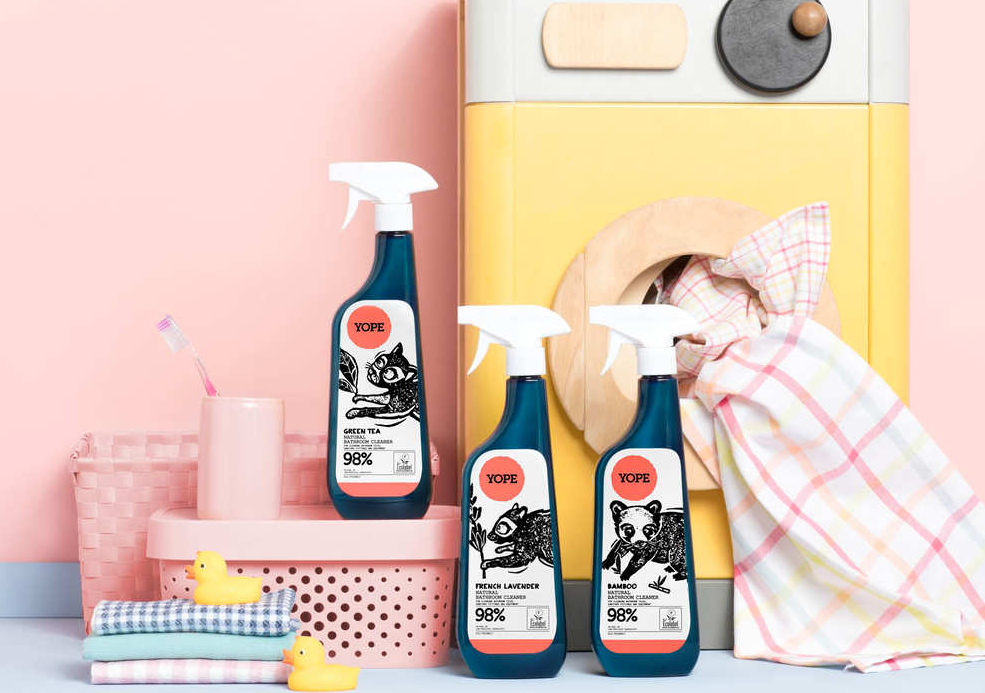 Yope
Yope does soaps and cleaning products mainly healthy for skin and environmentally-friendly. Yope washing cosmetics contain no mysterious and ultramodern mixtures and cocktails, artificial colourants, scents, preservatives, parabens, naphtha derivatives, SLS, SLES and thickeners. Instead they contain natural, vegetable extracts for healthcare and mild washing and aroma substances. All ingredients are safe even for sensitive skin. Thanks to know-how and experience of Yope cosmetologists and dermatologists. They helped Yope to develop extraordinary soaps which have short list of ingredients. Yope products contain only what is necessary for cosmetics to be good quality and safe for health. All substances were used in optimal proportions and in best concentration. They do not promise miracles but we are sure that our soaps and cleaning agents do their job well. Safe and healthy for skin. Can be used by children and people with sensitive skin. They have simple and effective composition. They do not contain enhancing substances: parabens; artificial colourants, preservatives, scents and foaming substances; SLS; and SLES. Everyone can afford them.