Ylumi Energy Kapseln: Energy Boost
---
Sustainable
Vegan
Made in Europe
Small Producer
Die in den ENERGY KAPSELN verwendeten und sorgfältig ausgesuchten Inhaltsstoffe wie u.a.
Cordyceps, Chlorella, Spirulina, Grüner Tee und Ginseng werden in der traditionellen chinesischen Kräuterlehre
wegen ihrer zahlreichen positiven Eigenschaften geschätzt.
Das Produkt enthält außerdem natürliches Guarana.
ENERGY BOOST
- Zur Anregung des Energiestoffwechsels und Steigerung der Leistungsfähigkeit*
- Hochwertige Kräuter, geprüfte Vitalpilze wie Cordyceps, Chlorella, Spirulina, Grüner Tee und Ginseng in Kombination mit essentiellen Vitaminen und Guarana
- Mit Vitamin B12, Riboflavin, Guarana und vielen sekundären Pflanzenstoffen
- Entwickelt mit einem Team von TCM-Experten und Ernährungswissenschaftlern unter Berücksichtigung höchster Qualitätsstandards
- Geprüfte und zertifizierte Inhaltsstoffe, ohne Zucker, ohne Zusatzstoffe, 100% vegan
The carefully selected ingredients used in the ENERGY CAPSULES,
such as Cordyceps, Chlorella, Spirulina, Green Tea and Ginseng, among others,
are valued in traditional Chinese herbalism for their numerous positive properties.
The product also contains natural guarana.
ENERGY BOOST
- To stimulate energy metabolism and increase performance*
- High-quality herbs, tested vital mushrooms such as cordyceps, chlorella, spirulina, green tea and ginseng in combination with essential vitamins and guarana
- With vitamin B12, riboflavin, guarana and many secondary plant substances
- Developed with a team of TCM experts and nutritional scientists under consideration of the highest quality standards
- Tested and certified ingredients, no sugar, no additives, 100% vegan
Brand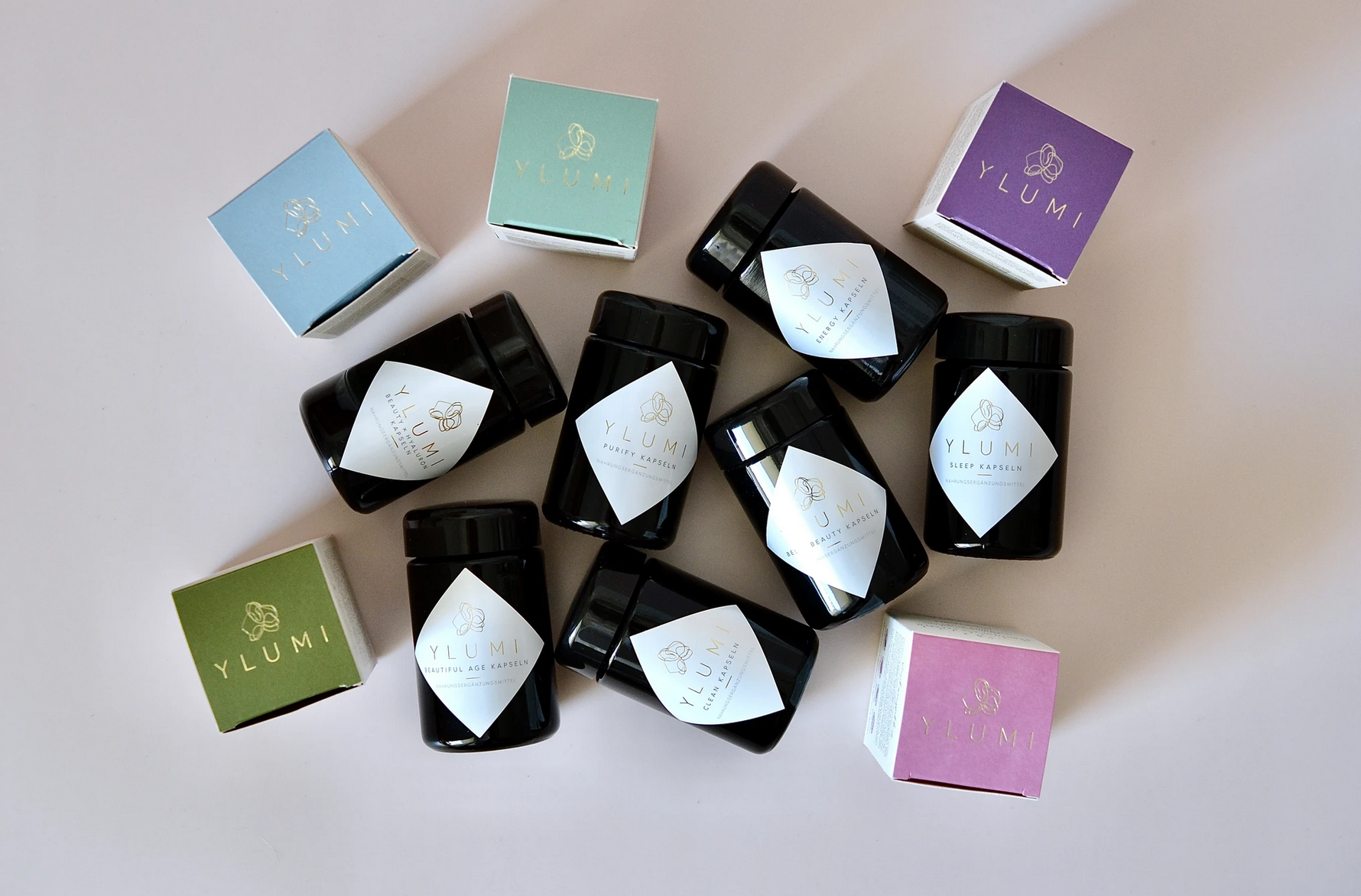 Ylumi
(EN) YLUMI are 100% vegan food supplements inspired by Traditional Chinese Herbalism.
The YLUMI products combine tested traditional Chinese herbs and vital mushrooms, valuable minerals, essential vitamins to unique recipes.
Created for all who are looking for more glow, well-being, more energy and inner balance.
All YLUMI products are produced, processed & tested in Germany and are subject to constant quality controls. This means that all YLUMI products contain the highest possible purity of ingredients and therefore guaranteed premium quality for our customers.
(DE) YLUMI sind 100% vegane Nahrungsergänzungsmittel inspiriert von der Traditionellen Chinesischen Kräuterlehre.
Die YLUMI Produkte vereinen geprüfte traditionelle chinesische Kräuter und Vitalpilze, wertvolle Mineralstoffe, essentielle Vitamine zu einzigartigen Rezepturen.
Geschaffen für alle, die nach mehr Glow, Wohlbefinden, mehr Energie und innerer Balance suchen.
Alle Produkte von YLUMI werden in Deutschland produziert, verarbeitet & geprüft und unterliegen ständigen Qualitätskontrollen. Das bedeutet für alle YLUMI-Produkte größtmögliche Reinheit der Inhaltsstoffe und somit garantierte Premium-Qualität für unsere Kunden.