Ylumi Belly Beauty Kapseln: Darmflora & Verdauung
---
Vegan
Made in Europe
Sustainable
Small Producer
Die BELLY BEAUTY KAPSELN enthalten zertifizierte Kräuter und Vitalpilze,
Inulin aus der Zichorie Pflanze (Präbiotika) sowie eine hochwirksame Bakterienmischung aus 15 klinisch geprüften lebensfähigen Milchsäurebakterien à 5 Milliarden CFU
(10 Milliarden koloniebildende Einheiten pro Tagesdosis) und machen sie so zu einer einzigartigen Formel,
die den Darm und somit auch die Haut von innen heraus pflegt und das Immunsystem stärkt.
Außerdem enthalten sind wertvolles natürliches Vitamin B2 zur Erhaltung der Darmschleimhaut sowie Zink für den Stoffwechsel von Makronährstoffen.
DARMFLORA & VERDAUUNG
- Für eine ausgeglichene Darmflora und Verdauung sowie zur Stärkung der Immunabwehr*
- Mit einer hochwirksamen Bakterienmischung aus 15 geprüften lebensfähigen Milchsäurebakterien - die ideale tägliche Dosis an probiotischen Bakterien, um Verdauung und Darmflora täglich zu unterstützen
- Wertvolle Kräuter und Vitalpilze wie Bio-Hericium Erinaceus, Bio-Triphala und Bio-Brahmi sowie Inulin aus Zichorie, Vitamin B2, Selen und Zink
- Monatskur mit 60 veganen Kapseln für 30 Tage
- Entwickelt mit einem Team von TCM-Experten und Ernährungswissenschaftlern unter Berücksichtigung höchster Qualitätsstandards
- Geprüfte und zertifizierte Inhaltsstoffe, ohne Zucker, ohne Zusatzstoffe, 100% vegan
The BELLY BEAUTY CAPSULES contain certified herbs and vital mushrooms, inulin from the chicory plant
(prebiotics) and a highly effective bacterial mixture of 15 clinically tested viable lactic acid bacteria at 5 billion CFU each
(10 billion colony-forming units per daily dose), making them a unique formula that cares for the intestine and thus also the skin from within
and strengthens the immune system. It also contains valuable natural vitamin B2 to maintain the intestinal mucosa and zinc for the metabolism of macronutrients.
INTESTINAL FLORA & DIGESTION
- For a balanced intestinal flora and digestion and to strengthen the immune system*.
- With a highly effective bacteria mixture of 15 tested viable lactic acid bacteria - the ideal daily dose of probiotic bacteria to support digestion and intestinal flora on a daily basis
- Valuable herbs and vital mushrooms such as organic Hericium Erinaceus, organic Triphala and organic Brahmia as well as inulin from chicory, vitamin B2, selenium and zinc
- Monthly cure with 60 vegan capsules for 30 days
- Developed with a team of TCM experts and nutritional scientists under consideration of the highest quality standards
- Tested and certified ingredients, no sugar, no additives, 100% vegan
Brand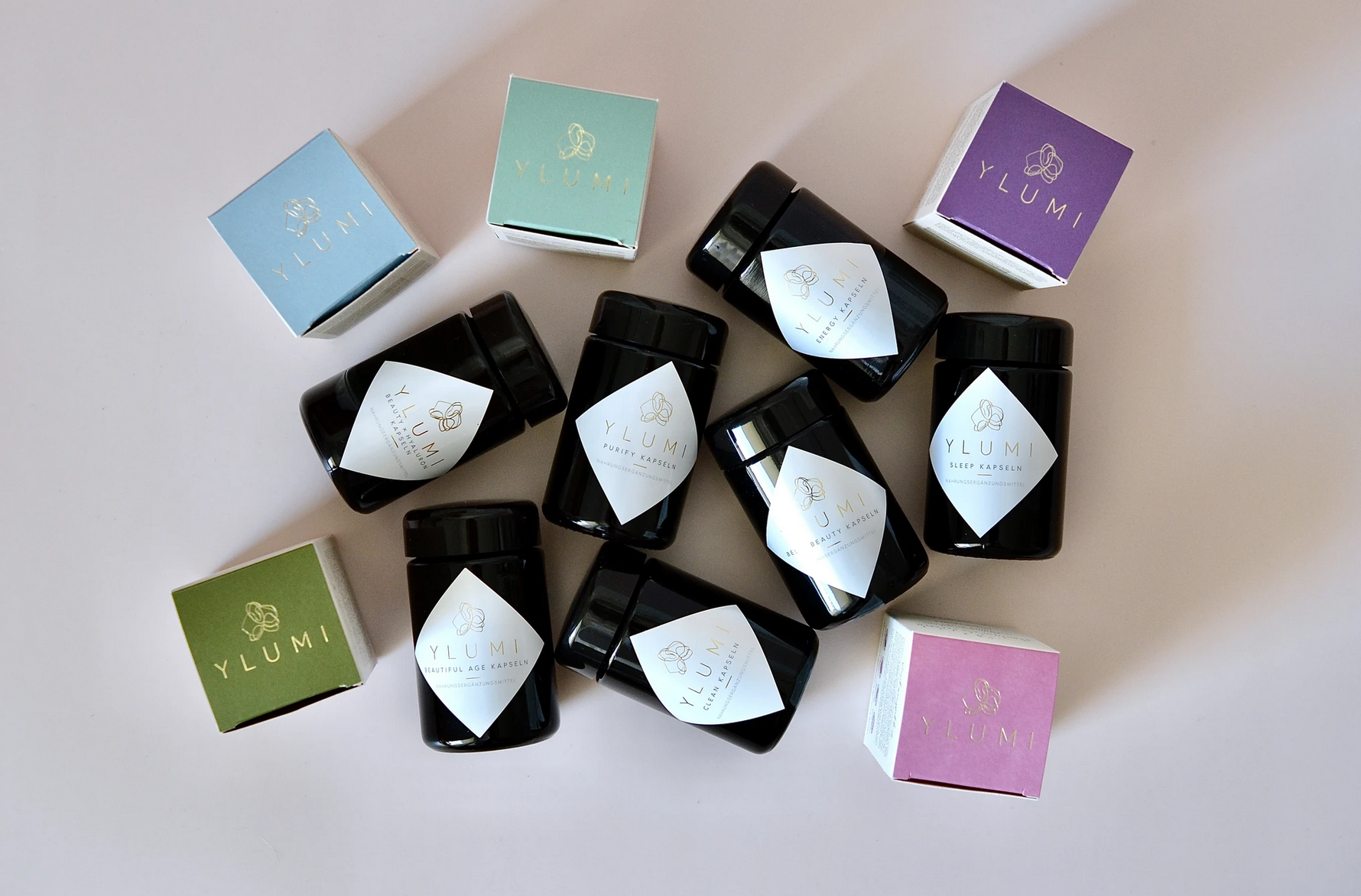 Ylumi
(EN) YLUMI are 100% vegan food supplements inspired by Traditional Chinese Herbalism.
The YLUMI products combine tested traditional Chinese herbs and vital mushrooms, valuable minerals, essential vitamins to unique recipes.
Created for all who are looking for more glow, well-being, more energy and inner balance.
All YLUMI products are produced, processed & tested in Germany and are subject to constant quality controls. This means that all YLUMI products contain the highest possible purity of ingredients and therefore guaranteed premium quality for our customers.
(DE) YLUMI sind 100% vegane Nahrungsergänzungsmittel inspiriert von der Traditionellen Chinesischen Kräuterlehre.
Die YLUMI Produkte vereinen geprüfte traditionelle chinesische Kräuter und Vitalpilze, wertvolle Mineralstoffe, essentielle Vitamine zu einzigartigen Rezepturen.
Geschaffen für alle, die nach mehr Glow, Wohlbefinden, mehr Energie und innerer Balance suchen.
Alle Produkte von YLUMI werden in Deutschland produziert, verarbeitet & geprüft und unterliegen ständigen Qualitätskontrollen. Das bedeutet für alle YLUMI-Produkte größtmögliche Reinheit der Inhaltsstoffe und somit garantierte Premium-Qualität für unsere Kunden.