Ylumi Beauty X Hyaluron Kapseln: Inner Skin Glow Formel
SKU
BEAUTY.HYALURON.KAPSELN
---
Sustainable
Vegan
Made in Europe
Small Producer
100% vegan, made in Germany,
-30 Day/Tage (60 capsules/Kapseln)
The YLUMI BEAUTY X HYALURONAN CAPSULES are premium beauty supplements inspired by traditional chinese herbalism.
The unique and innovative blend is carefully formulated and includes premium hyaluronic acid
as well as certified ingredients such as reishi, camu camu, cordyceps, schisandra, ashwagandha and ginseng
which are all well-known for their well-being and beauty-promoting attributes.
INNER GLOW FORMULA
-30 days glow treatment to boost natural collagen production and firm skin, hair and nails, support beauty, balance, well-being & glow from within.*
-With certified traditional herbs and vital mushrooms such as cordyceps, ashwagandha, camu camu, ginseng, schisandra and reishi and 100% vegan hyaluronic acid
-Vitamin C, vitamin A, vitamin B12, biotin, zinc and secondary plant extracts
-Approved and certified ingredients, no sugar, no additives,
***
Die YLUMI BEAUTY X HYALURONAN CAPSULES sind hochwertige Nahrungsergänzungsmittel für die Schönheitspflege,
die von der traditionellen chinesischen Kräuterkunde inspiriert sind. Die einzigartige und innovative Mischung ist sorgfältig formuliert und enthält erstklassige Hyaluronsäure sowie zertifizierte Inhaltsstoffe wie
Reishi, Camu Camu, Cordyceps, Schisandra, Ashwagandha und Ginseng, die alle für ihre wohltuenden und schönheitsfördernden Eigenschaften bekannt sind.
FORMEL FÜR INNERES LEUCHTEN
-30 Tage Glühbehandlung zur Förderung der natürlichen Kollagenproduktion und zur Festigung von Haut, Haaren und Nägeln, zur Unterstützung von Schönheit, Gleichgewicht, Wohlbefinden & Glühen von innen heraus.*
-Mit zertifizierten traditionellen Kräutern und Vitalpilzen wie Cordyceps, Ashwagandha, Camu Camu, Ginseng, Schisandra und Reishi und 100% veganer Hyaluronsäure
-Vitamin C, Vitamin A, Vitamin B12, Biotin, Zink und sekundäre Pflanzenextrakte
-zugelassene und zertifizierte Zutaten, kein Zucker, keine Zusatzstoffe,
Brand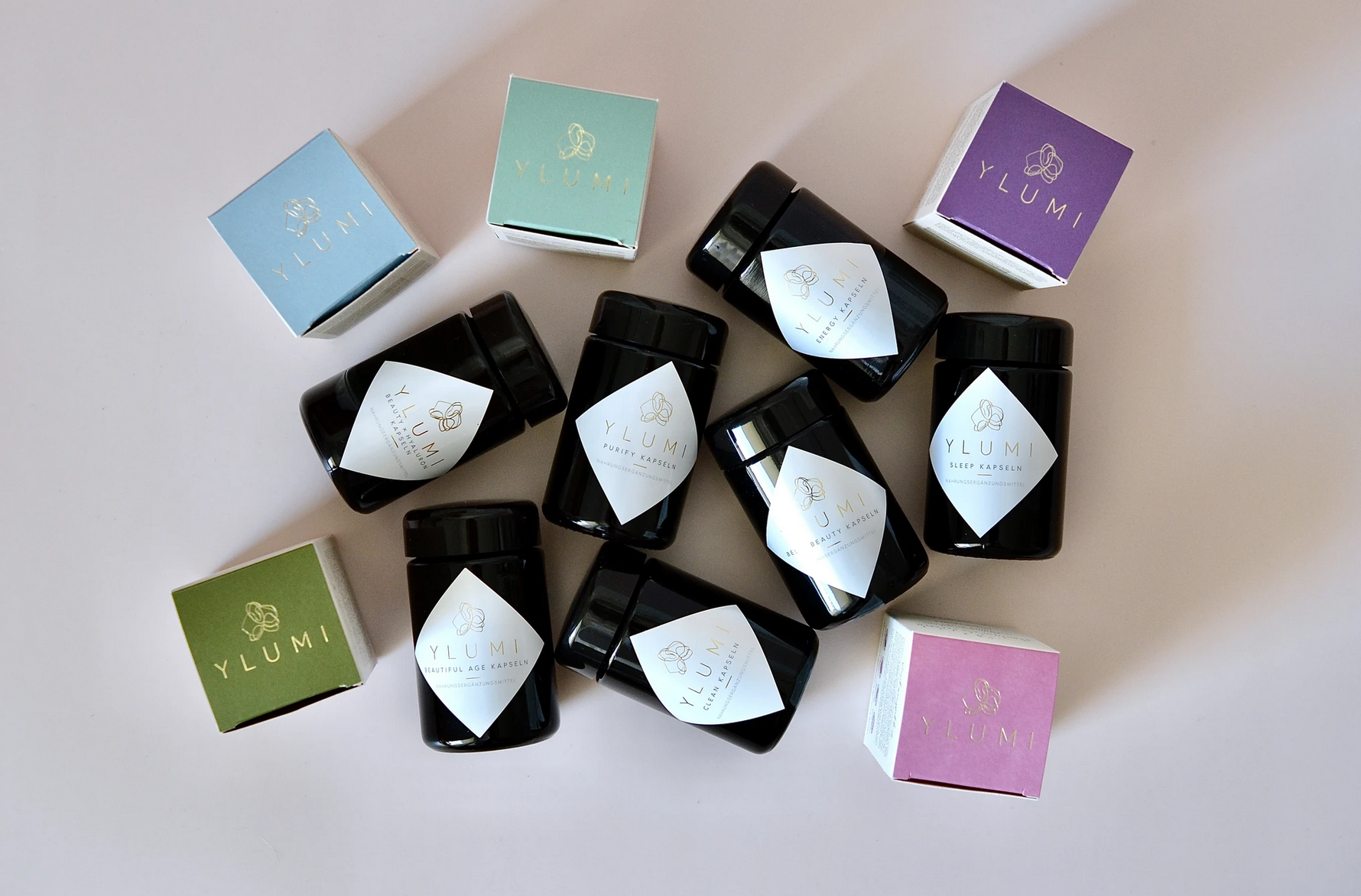 Ylumi
(EN) YLUMI are 100% vegan food supplements inspired by Traditional Chinese Herbalism.
The YLUMI products combine tested traditional Chinese herbs and vital mushrooms, valuable minerals, essential vitamins to unique recipes.
Created for all who are looking for more glow, well-being, more energy and inner balance.
All YLUMI products are produced, processed & tested in Germany and are subject to constant quality controls. This means that all YLUMI products contain the highest possible purity of ingredients and therefore guaranteed premium quality for our customers.
(DE) YLUMI sind 100% vegane Nahrungsergänzungsmittel inspiriert von der Traditionellen Chinesischen Kräuterlehre.
Die YLUMI Produkte vereinen geprüfte traditionelle chinesische Kräuter und Vitalpilze, wertvolle Mineralstoffe, essentielle Vitamine zu einzigartigen Rezepturen.
Geschaffen für alle, die nach mehr Glow, Wohlbefinden, mehr Energie und innerer Balance suchen.
Alle Produkte von YLUMI werden in Deutschland produziert, verarbeitet & geprüft und unterliegen ständigen Qualitätskontrollen. Das bedeutet für alle YLUMI-Produkte größtmögliche Reinheit der Inhaltsstoffe und somit garantierte Premium-Qualität für unsere Kunden.