Danner Boots - Women' Light Cascade
SKU
30451.WS.MOUNTAIN.LIGHT_Braun-1
Built in the golden era of backpacking, the original Danner Light
was constructed to be rugged, water resistant, and stable on any terrain.
The new Danner Light Cascade holds true to those same principles and is made in the Portland, Oregon, factory.
Updated with a full-grain, Sienna Cache leather, they've added a Dri-Lex lining for added
breathability and a Vibram Kletterlift outsole for lightweight functionality.
The classic stitchdown construction provides stability underfoot and
a timeless design that looks as good as the trails it follows.

Erbaut in der goldenen Ära des Rucksacktourismus, wurde die ursprüngliche Danner Light
so konstruiert, dass sie robust, wasserdicht und stabil auf jedem Gelände ist.
Die neue Danner Light Cascade entspricht diesen Prinzipien und wird in der Fabrik in Portland, Oregon, hergestellt.
Aktualisiert mit einem vollnarbigem Sienna Cache Leder, haben sie ein Dri-Lex Futter für zusätzliche Atmungsaktivität
und eine Vibram Kletterlift Laufsohle für leichte Funktionalität hinzugefügt.
Die klassische Steppkonstruktion sorgt für Stabilität unter den Füßen und ein zeitloses Design,
das so gut aussieht wie die Spuren, denen es folgt.
Brand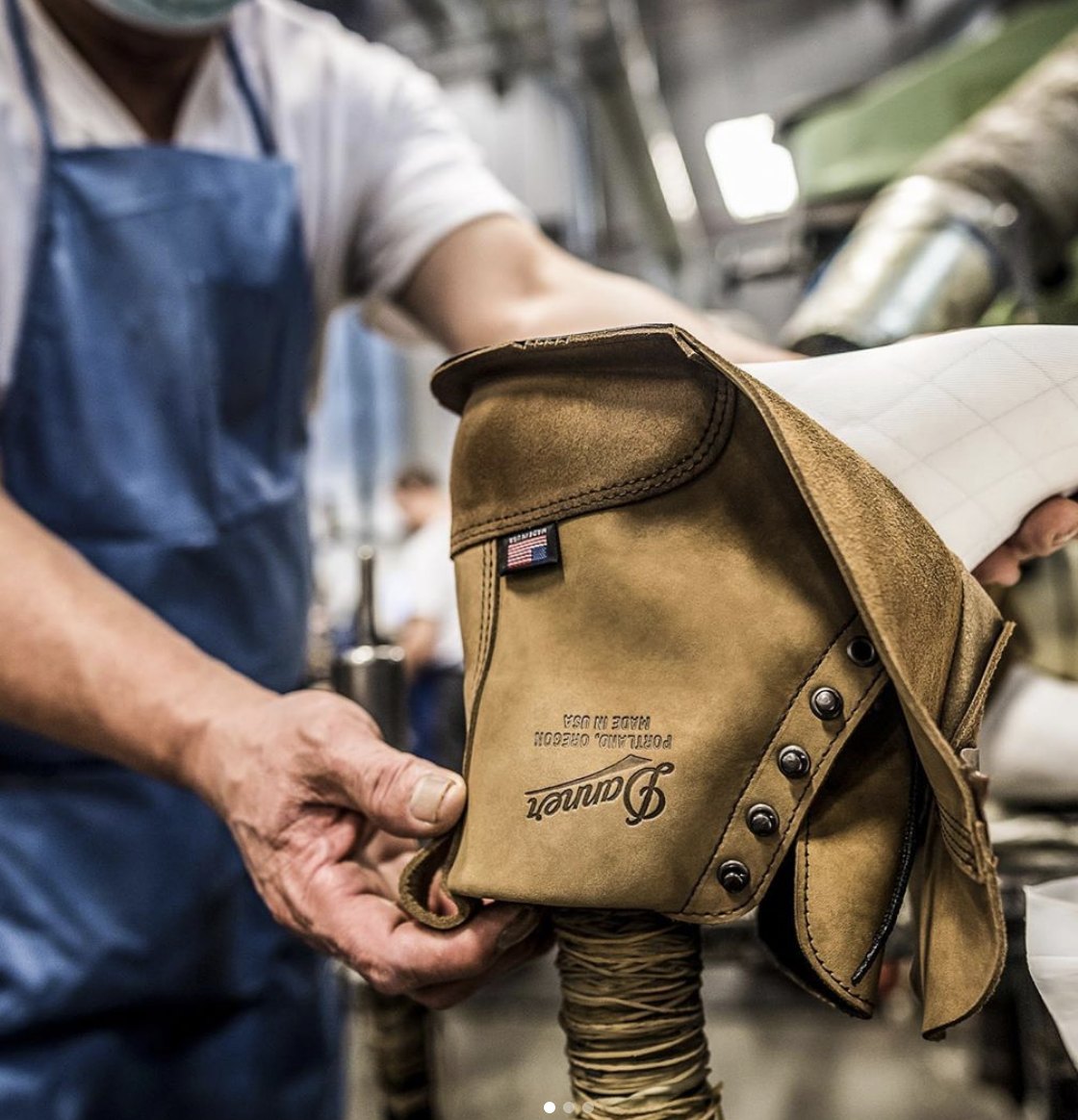 Danner boots
(EN) For nearly a century, Danner has crafted boots with purpose and integrity - footwear to equip those who choose the unlikely path, those who cut fresh trails, those who pioneer.

Charles Danner came west to build the best boots loggers had ever known, an effort that resulted in a long-standing heritage brand with a renegade spirit. A spirit that proudly lives on in each pair of Danner boots we make to this day. Charles Danner felt the pull to the wild of the Pacific Northwest, drawn by the promise of opportunity in the rugged unknown. He came with a commitment to quality craftsmanship and a deep respect for the uncompromising landscape.

From the gleaming alpine lakes and the plummeting river gorges, to the thick forests and the sweeping coastlines, Danner boots are of this place. To this day, the commitment to superior craftsmanship remains unchanged. Danner continues to craft high quality boots, using the best possible materials we can find, to create a product built to last.


(DE) Seit fast einem Jahrhundert fertigt Danner Stiefel mit Zweck und Integrität an - Schuhe, um diejenigen auszurüsten, die den unwahrscheinlichen Weg wählen, die neue Wege gehen, die Pioniere.
Charles Danner kam in den Westen, um die besten Stiefel zu bauen, die die Holzfäller je gekannt haben, eine Bemühung, die zu einer langjährigen Traditionsmarke mit abtrünnigem Geist führte. Ein Geist, der in jedem Paar Danner-Stiefel, das sie heute herstellen, mit Stolz weiterlebt. Charles Danner fühlte den Sog der Wildnis des pazifischen Nordwestens, angezogen von dem Versprechen, im rauen Unbekannten Möglichkeiten zu finden. Er kam mit einem Engagement für hochwertige Handwerkskunst und einem tiefen Respekt vor der kompromisslosen Landschaft.
Von den schimmernden Alpenseen und den herabstürzenden Flussschluchten bis hin zu den dichten Wäldern und den weitläufigen Küstenlinien sind Danner-Stiefel von diesem Ort. Bis heute ist unser Engagement für höchste Handwerkskunst unverändert. Sie stellen weiterhin hochwertige Stiefel her und verwenden die bestmöglichen Materialien, die wir finden können, um ein Produkt zu schaffen, das für eine lange Lebensdauer ausgelegt ist.