Wilder Botanics Organic Face Oil - Day
SKU
WB0009.ORGANIC.DAY.FACE.OIL
---
Organic
Sustainable
Vegan
Made in Europe
Fair
Small Producer
This luxurious blend of exceptional botanical oils has been formulated especially for everyday use, naturally protecting the skins moisture barrier keeping your skin hydrated with a youthful healthful glow whilst softening fine lines, protecting the skin from outside irritants such as UV rays and pollution
Wilder Day Organic Botanical Face Oil
This luxurious blend of exceptional botanical oils has been formulated especially for everyday use, naturally protecting the skins moisture barrier keeping your skin hydrated with a youthful healthful glow whilst softening fine lines, protecting the skin from outside irritants such as UV rays and pollution
Argan oil
A nourishing oil thats easily absorbed, perfect for everyday use and for every skin type not too heavy or too light , full of omegas such as linoleic acid that protects & hydrates without clogging pores .
Baobab seed oil
The tree of life -Baobab is richly abundant in Vitamin C & polyphenols, protecting the skin from free radical damage.Its one of the few oils that contain all the omegas helping to keep the skins natural elasticity & youthfulness .
Grape Seed Oil
Light but highly moisturising Grape seed oil gently tones and helps to tighten the skin helping to reduce fine lines .
Vitamin E oil
A little Vitamin E oil has been added to protect the skin from free radical damage whilst increasing the overall moisturising synergy of our Wilder Day oil
Prickly Pear oil
This extremely rich but none pore clogging oil is packed full of essential fatty acids, polyphenols & Vitamin K making this oil a powerful skin tonic which absorbs easily into the skin . The high quantities of Betalains found in Prickly pear support youthful ageing of the skin, brightening ,repairing & protecting from free radical damage
Camellia Oil
This deeply hydrating oil protecting & nourishing, rich in Vitamins A B C & E working as a nutritious daily oil for the skin
Meadow Foam oil
Rich in fatty acids, high in triglycerides assisting in protecting the moisture barrier whilst helping to protect the skin from everyday pollutants & UV damage.
Arctic Blackcurrant CO2 extract
Rich in omegas, antioxidants & polyphenols, deeply hydrating whilst assisting with the skins overall collagen production improving the overall appearance & youthfulness of the skin .
Neroli extract
This citrusy floral extract from the orange blossom is so very gentle in refreshing the skin & the spirit whilst helping to minimise pores and even skin tone .
Sandalwood extract
This creamy woody scented extract helps to soften the skin , protecting & supporting throughout the day .
Red Mandarin extract
Sweet citrusy & uplifting extract clarifying & toning to the skin whilst holding & protecting the nervous system throughout the day .
Ingredients
Argan oil Argania spinosa , Baobab Andansonia digitata, Prickly Pear Seed Oil Opuntia ficus indica , Grape Seed Oil Vitis vinifera , Meadowfoam Seed oil Limnanthes alba,Camellia oil Camellia oleifera seed oil , Arctic Blackcurrant Co2 extract Ribes nigrum ,Sunflower seed oil Helianthus annus , Sandalwood extract Santalum spicatum Neroli extract Citrus aurantium amara Red Mandarin extract Citrus nobilis peel oil , Naturally occurring citral , geraniol , linalool , citronellol , limonene , farnesol, Rosemary leaf extract Rosmarinus officinalis extract .
Net weight:
30ml
How to use:
Add a few drops to your finger tips , massage and press around the temples , forehead check bones and decolletage each morning on cleansed skin .
Wilder Tag Bio-Botanisches Gesichtsöl
Diese luxuriöse Mischung außergewöhnlicher pflanzlicher Öle wurde speziell für den täglichen Gebrauch formuliert. Sie schützt auf natürliche Weise die Feuchtigkeitsbarriere der Haut, hält die Haut mit einem jugendlichen, gesunden Glanz feucht, mildert feine Linien und schützt die Haut vor äußeren Reizungen wie UV-Strahlen und Umweltverschmutzung.
Arganöl
Ein nährendes Öl, das leicht einzieht, perfekt für den täglichen Gebrauch und für jeden Hauttyp, weder zu schwer noch zu leicht, voller Omegas wie Linolsäure, die schützt und Feuchtigkeit spendet, ohne die Poren zu verstopfen.
Affenbrotbaumsamen-Öl
Der Baum des Lebens - Baobab ist reich an Vitamin C und Polyphenolen, die die Haut vor Schäden durch freie Radikale schützen und eines der wenigen Öle, das alle Omega-Fettsäuren enthält, die die natürliche Elastizität und Jugendlichkeit der Haut erhalten.
Traubenkernöl
Leichtes, aber stark feuchtigkeitsspendendes Traubenkernöl strafft und festigt die Haut und hilft, feine Linien zu reduzieren.
Vitamin E-Öl
Ein wenig Vitamin E-Öl wurde hinzugefügt, um die Haut vor Schäden durch freie Radikale zu schützen und gleichzeitig die allgemeine feuchtigkeitsspendende Synergie unseres Wildnis-Öls zu erhöhen.
Kaktusfeigenöl
Dieses extrem reichhaltige, aber nicht porenverstopfende Öl ist vollgepackt mit essentiellen Fettsäuren, Polyphenolen und Vitamin K, die dieses Öl zu einem kraftvollen Hauttonikum machen, das leicht in die Haut einzieht. Die hohen Mengen an Betalainen, die in der Feigenkaktusfeige enthalten sind, unterstützen die jugendliche Hautalterung, hellen die Haut auf, reparieren sie und schützen sie vor Schäden durch freie Radikale.
Kamelienöl
Dieses zutiefst feuchtigkeitsspendende, schützende und nährende Öl ist reich an Vitamin A, B, C und E und wirkt als nahrhaftes, tägliches Öl für die Haut.
Wiese Schaumöl
Reich an Fettsäuren und mit einem hohen Anteil an Triglyceriden, die die Feuchtigkeitsbarriere schützen und gleichzeitig helfen, die Haut vor alltäglichen Schadstoffen und UV-Schäden zu bewahren.
Arktische Schwarze Johannisbeere CO2-Extrakt
Reich an Omegas, Antioxidantien und Polyphenolen, tief hydratisierend, unterstützt die allgemeine Kollagenproduktion der Haut und verbessert das allgemeine Aussehen und die Jugendlichkeit der Haut.
Neroli-Extrakt
Dieser zitrusartige Blütenextrakt aus der Orangenblüte erfrischt die Haut und den Geist auf sehr sanfte Weise und hilft gleichzeitig, die Poren zu verkleinern und den Hautton zu verbessern.
Sandelholz-Extrakt
Dieser cremige, holzig duftende Extrakt hilft, die Haut weicher zu machen, schützt und unterstützt den ganzen Tag.
Roter Mandarinenextrakt
Ein süßer, zitrusartiger und belebender Extrakt, der die Haut klärt und strafft, während er das Nervensystem den ganzen Tag über hält und schützt.
Inhaltsstoffe
Arganöl Argania spinosa , Baobab Andansonia digitata , Feigenkaktusöl Opuntia ficus indica , Traubenkernöl Vitis vinifera , Wiesenschaumkrautsamenöl Limnanthes alba , Kamelienöl Kameliensamenöl Camellia oleifera , Arktische Schwarze Johannisbeere Co2-Extrakt Ribes nigrum , Sonnenblumenkernöl Helianthus annus , Sandelholzextrakt Santalum spicatum Neroli Extrakt Citrus aurantium amara Roter Mandarinenextrakt Citrus nobilis Schalenöl, natürlich vorkommendes Citral, Geraniol, Linalool, Citronellol, Limonen, Farnesol, Rosmarinblattextrakt Rosmarinus officinalis Extrakt .
Nettogewicht:
30ml
Wie man es benutzt:
Ein paar Tropfen auf die Fingerspitzen geben, massieren und um die Schläfen, Stirn, Knochen und Dekolleté jeden Morgen auf die gereinigte Haut drücken.
Brand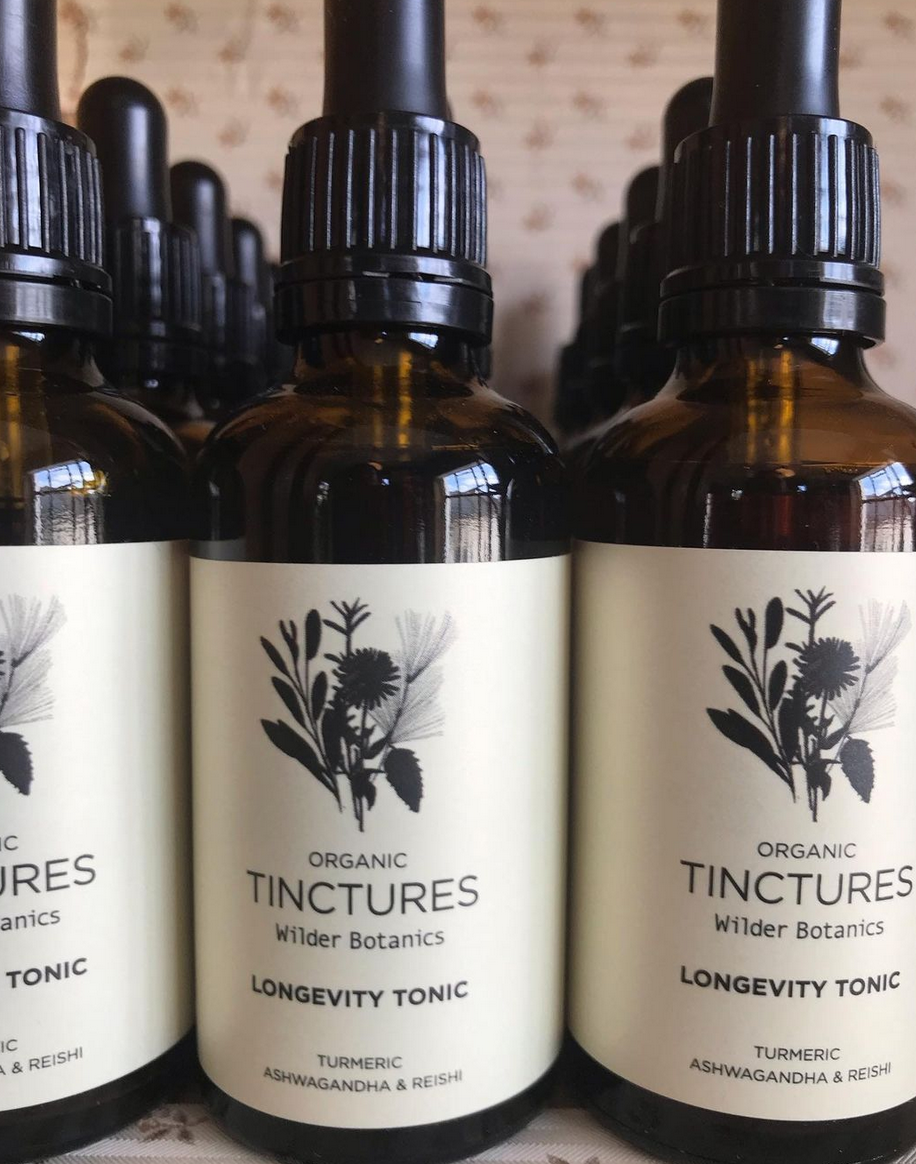 Wilder Botanics
(EN) At Wilder they have a heartfelt love of herbs. The products are created from the finest organic wild crafted energetic ingredients, completely sustainable and recyclable. There are no chemicals or preservatives, just pure natural products for your body . All Wilder products are lovingly hand blended in small batches and we're passionate about every bottled product . A family run business a husband and wife team working together with awareness, on a journey with so many ideas for loving self care that is Wilder. (DE) Wilder lieben Kräuter. Die Produkte werden aus den feinsten organischen, wilden, handwerklich hergestellten, energetischen Zutaten hergestellt, die vollständig nachhaltig und wiederverwertbar sind. Es gibt keine Chemikalien oder Konservierungsstoffe, nur reine Naturprodukte für Ihren Körper. Alle Wilder-Produkte werden in kleinen Chargen liebevoll von Hand gemischt, und jedes Produkt in der Flasche ist unsere Leidenschaft. Ein Familienunternehmen, ein Team von Mann und Frau, das bewusst zusammenarbeitet, auf einer Reise mit so vielen Ideen für liebevolle Selbstpflege, das ist Wilder.