Wilder Botanics Tea Infusion Cleanse & Refresh
SKU
WB0002.CLEANS.REFRESH.TEA
Don't let this organic delicate tasting blend fool you!
...its mineral rich with an earthy scent helping to cleanse and refresh the whole body system.
It's a daily multi vitamin & mineral supplement .
Wilder-Botanics love this nourishing infusion,
they often make up a big pot drinking it throughout the day,
rich in antioxidants and an excellent tonic for the whole body.
Organic Red Clover blossom : restoring & balancing.
Red Clover is a great detoxifier especially to the lungs and skin ,
but this beautiful blossom also cleanses the emotional self helping to restore balance and harmony.
Organic Nettle leaf : Nourishing & strengthening
Nettle leaf is another wonderful detoxifier and tonic herb
rich in vitamins and minerals supporting
the bodies eliminative organs improving resilience and strength.
Organic Dandelion leaf : Cleansing & eliminating
Dandelion leaf is rich in potassium and a balancer
to the digestive system working to purify the body helping to strengthen,
restore and balance.
Ingredients:
Red Clover blossom Trifolium pratense,
Nettle leaf Urtica dioica,
Dandelion leaf Taraxacum officinalis.
***
Lassen Sie sich von dieser zart schmeckenden Bio-Mischung nicht täuschen!
... seine Mineralien reich mit einem erdigen Duft hilft zu reinigen und erfrischen den ganzen Körper System.
Es ist eine tägliche Multivitamin- und Mineralienergänzung.
Wilder-Botaniker lieben diesen nährenden Aufguss,
sie machen sich oft einen großen Topf und trinken ihn über den Tag verteilt,
reich an Antioxidantien und ein hervorragendes Tonikum für den ganzen Körper.
Bio-Rotkleeblüte: wiederherstellend & ausgleichend.
Rotklee ist ein großartiges Entgiftungsmittel, besonders für die Lunge und die Haut ,
aber diese schöne Blüte reinigt auch das emotionale Selbst und hilft, Gleichgewicht und Harmonie wiederherzustellen.
Bio-Brennnesselblatt : Nährend & stärkend
Brennnesselblätter sind ein weiteres wunderbares Entgiftungs- und Stärkungsmittel
reich an Vitaminen und Mineralien, die die
unterstützt die Ausscheidungsorgane des Körpers und verbessert die Widerstandsfähigkeit und Stärke.
Bio-Löwenzahnblatt : Reinigend & ausscheidend
Löwenzahnblätter sind reich an Kalium und wirken ausgleichend
für das Verdauungssystem, das den Körper entschlackt und stärkt,
wiederherzustellen und auszugleichen.
Zutaten:
Rotkleeblüte Trifolium pratense,
Brennnesselblatt Urtica dioica,
Löwenzahnblatt Taraxacum officinalis.
Brand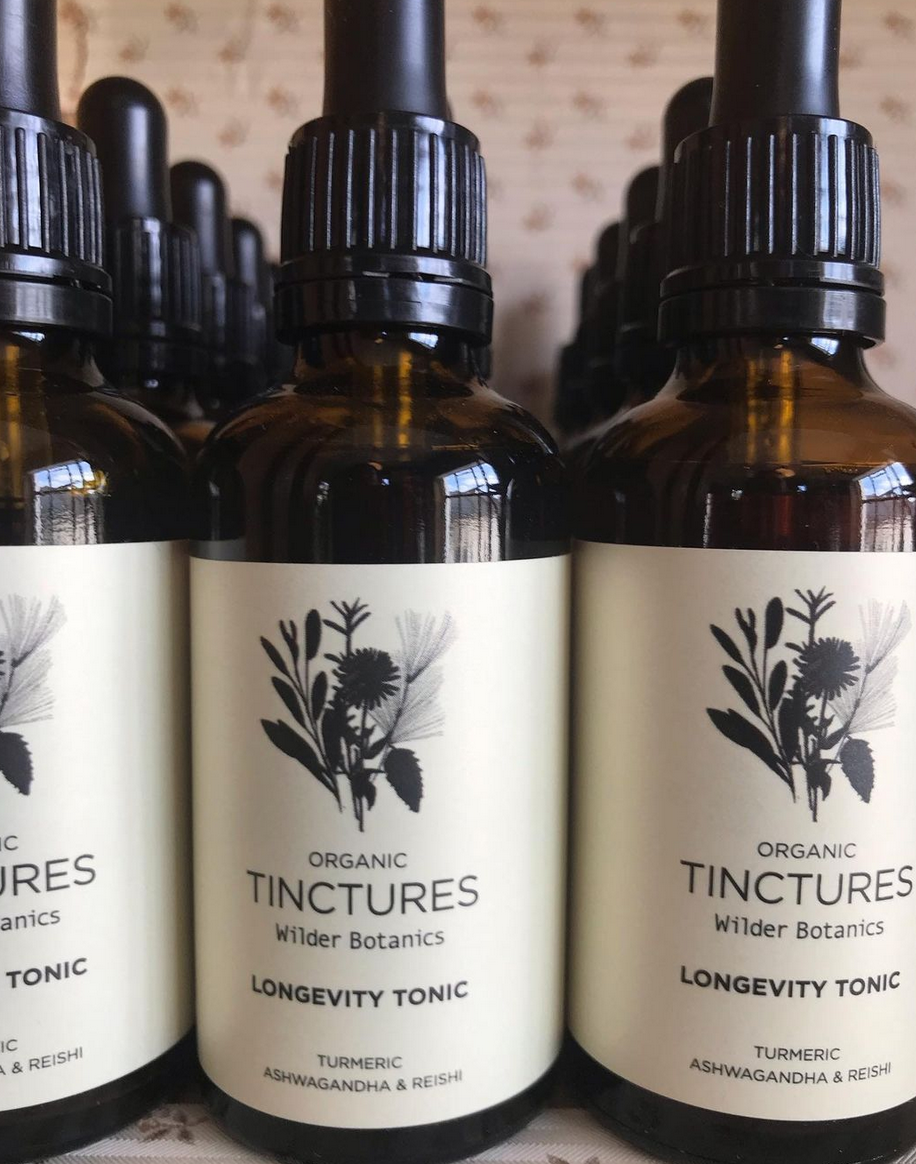 Wilder Botanics
(EN) At Wilder they have a heartfelt love of herbs. The products are created from the finest organic wild crafted energetic ingredients, completely sustainable and recyclable. There are no chemicals or preservatives, just pure natural products for your body . All Wilder products are lovingly hand blended in small batches and we're passionate about every bottled product . A family run business a husband and wife team working together with awareness, on a journey with so many ideas for loving self care that is Wilder. (DE) Wilder lieben Kräuter. Die Produkte werden aus den feinsten organischen, wilden, handwerklich hergestellten, energetischen Zutaten hergestellt, die vollständig nachhaltig und wiederverwertbar sind. Es gibt keine Chemikalien oder Konservierungsstoffe, nur reine Naturprodukte für Ihren Körper. Alle Wilder-Produkte werden in kleinen Chargen liebevoll von Hand gemischt, und jedes Produkt in der Flasche ist unsere Leidenschaft. Ein Familienunternehmen, ein Team von Mann und Frau, das bewusst zusammenarbeitet, auf einer Reise mit so vielen Ideen für liebevolle Selbstpflege, das ist Wilder.