Wilder Botanics Tea Infusion Calm & Support
SKU
WB0001.CALM.SUPPORT.TEA
This beautifully scented organic infusion
helps to support the body through modern day life.
Drink this blend when you're feeling particularly stretched,
when you know you need extra support to get you through,
or even just a good nights sleep.
Organic Oat flowering tops : protecting & restoring
Oat flowering tops are highly nutritious to the nervous system
helping to support the body from the inside out especially when exhausted ,
helping to restore balance within us all.
Organic Chamomile : Calming & supporting
Chamomile was believed by the ancient Egyptians to restore the wholeness back to oneself
This fragrant flower soothes a fraught stressed out nervous system
and irrational irritability often a byproduct of stress.
Organic Lemon Balm : Relaxing & uplifting
Lemon Balm is a wonderful restorative herb that gives a sense of peace ,
clarity and harmony strengthening our vital energy.
And a little organic Lavender : Uplifting & soothing
A little Lavender adds the sweet uplifting taste
and scent of Summer helping to ease anxiety and any feelings of fatigue.
Ingredients:
Oatstraw Avena sativa,
Balm Melissa officinalis,
Chamomile Matricaria recutita,
Lavender Lavender Angustifolia.
***
Dieser wunderbar duftende Bio-Aufguss
hilft, den Körper durch den modernen Alltag zu unterstützen.
Trinken Sie diese Mischung, wenn Sie sich besonders angestrengt fühlen,
wenn Sie wissen, dass Sie zusätzliche Unterstützung brauchen, um durchzukommen,
oder auch nur für einen guten Schlaf.
Bio-Haferblüten: schützend & wiederherstellend
Haferblüten sind sehr nahrhaft für das Nervensystem
Sie helfen, den Körper von innen heraus zu unterstützen, besonders bei Erschöpfung,
Sie helfen, das Gleichgewicht in uns allen wiederherzustellen.
Bio-Kamille : Beruhigend & unterstützend
Die alten Ägypter glaubten, dass Kamille die Ganzheit in uns wiederherstellt.
Diese duftende Blume beruhigt ein angespanntes Nervensystem
und irrationale Reizbarkeit, die oft ein Nebenprodukt von Stress ist.
Bio-Zitronenmelisse : Entspannend & aufbauend
Zitronenmelisse ist ein wundervolles, erholsames Kraut, das ein Gefühl von Frieden ,
Klarheit und Harmonie gibt und unsere Lebensenergie stärkt.
Und ein wenig Bio-Lavendel : Erhebend & beruhigend
Ein wenig Lavendel fügt den süßen, erhebenden Geschmack
und Duft des Sommers und hilft, Ängste und Müdigkeit zu lindern.
Zutaten:
Haferstroh Avena sativa,
Melisse Melissa officinalis,
Kamille Matricaria recutita,
Lavendel Lavendel Angustifolia.
Brand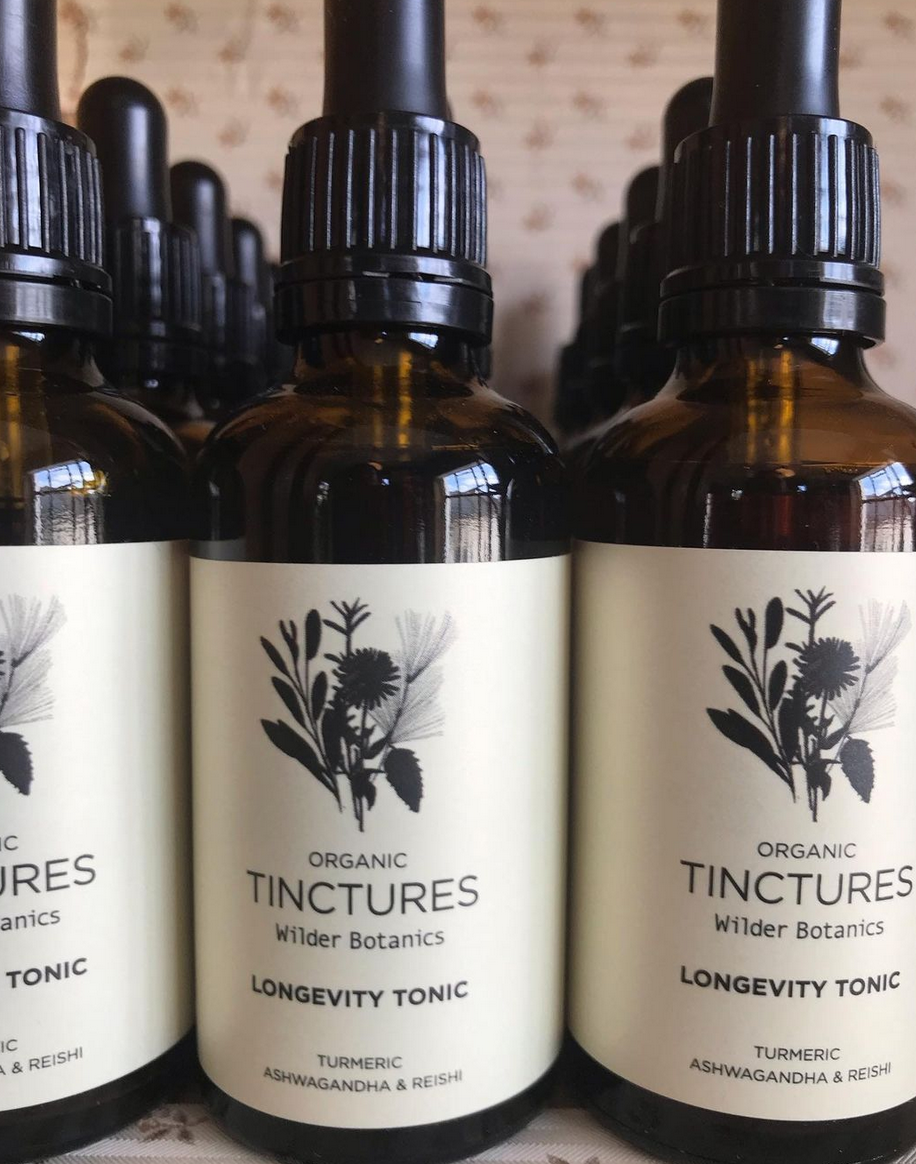 Wilder Botanics
(EN) At Wilder they have a heartfelt love of herbs. The products are created from the finest organic wild crafted energetic ingredients, completely sustainable and recyclable. There are no chemicals or preservatives, just pure natural products for your body . All Wilder products are lovingly hand blended in small batches and we're passionate about every bottled product . A family run business a husband and wife team working together with awareness, on a journey with so many ideas for loving self care that is Wilder. (DE) Wilder lieben Kräuter. Die Produkte werden aus den feinsten organischen, wilden, handwerklich hergestellten, energetischen Zutaten hergestellt, die vollständig nachhaltig und wiederverwertbar sind. Es gibt keine Chemikalien oder Konservierungsstoffe, nur reine Naturprodukte für Ihren Körper. Alle Wilder-Produkte werden in kleinen Chargen liebevoll von Hand gemischt, und jedes Produkt in der Flasche ist unsere Leidenschaft. Ein Familienunternehmen, ein Team von Mann und Frau, das bewusst zusammenarbeitet, auf einer Reise mit so vielen Ideen für liebevolle Selbstpflege, das ist Wilder.