The Humble Co. Dental Floss - Charcoal 50m
SKU
DENTAL.FLOSS__CHARCOAL
---
Sustainable
Plastic free
Vegan
For a good cause
floss like a boss.
Keeping your grill clean has never been easier, or tastier!
The refreshingly flavoured and candelilla wax covered, slightly textured thread,
is carefully designed to gently remove the hidden nasties and leave your mouth feeling so fresh and so clean.
✔️ environmentally friendly packaging
✔️ vegan
✔️ cruelty free
✔️ xylitol enriched

Zahnseide wie ein Chef.
Ihren Grill sauber zu halten, war noch nie einfacher und geschmackvoller!
Der erfrischend aromatisierte und mit Candelilla-Wachs überzogene, leicht strukturierte Faden wurde sorgfältig entwickelt,
um die versteckten Unreinheiten sanft zu entfernen und ein so frisches und sauberes Mundgefühl zu hinterlassen.
✔️ umweltfreundliche Verpackung
✔️ vegan
✔️ frei von Grausamkeit
✔️ Xylit angereichert
Brand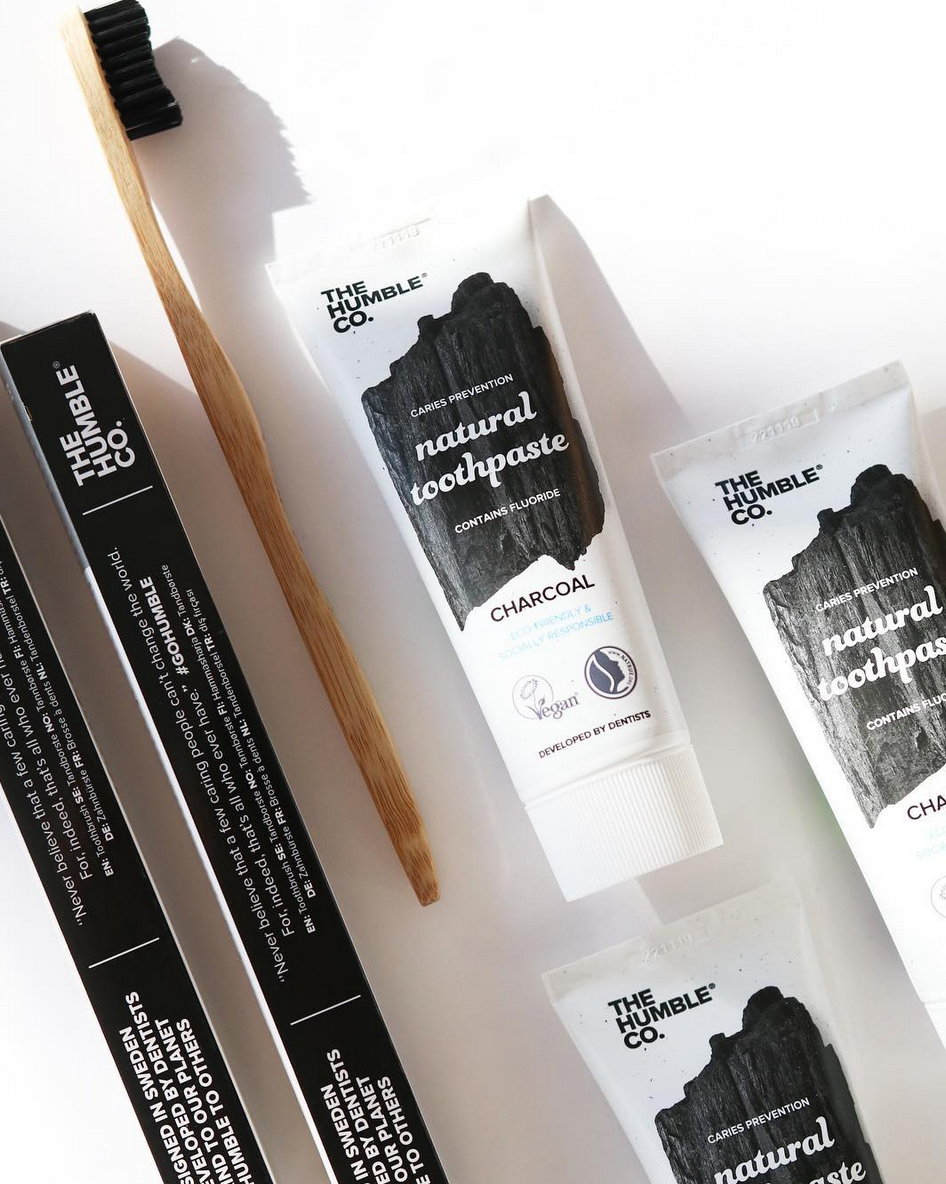 The Humble co.
the humble vision!

"When we are lucky enough to be born in an affluent part of the world it should be our duty to take care of the less fortunate. Many children will never own any oral care products and we're depleting natural resources and filling up the oceans with used products.
Can we change our ways of production and consumption? Can we help provide oral care products to those that need it most? The answer is yes!"

As a dentist, The Humble Co. was founded to create products that are good for you and kind to our planet. Every Humble purchase goes towards funding projects for the benefit of children in need.

Humble co. are a bulldog in the fight against the plastic toothbrushes. Humble choose to call it a fight since the world consumes more than 3.6 billion plastic toothbrushes every year – most of which end up in landfills and oceans! With a beautiful and simple design, Humble Brush is a serious alternative to regular plastic toothbrushes. No disadvantages! Why would you ever want to buy a plastic toothbrush again? Stop plastics. Be Humble.