Tangent organic stain remover 500ml FIR
SKU
TGC043.FIR.STAIN.REMOVER.500ML
---
Made in Europe
Sustainable
Fair
Small Producer
Organic
TGC043 fir stain remover
TGC043 stain remover – with fir perfume – works effectively on most fabrics. Delicate garments should be washed by hand. Be sure to test first for colourfastness. Follow the manufacturer's washing instructions carefully. Organic and vegan. Cruelty and fossil free. Made in Sweden.
Volume
500 ml, 16.9 fl.oz.
Ingredients
>30% Aqua, 15-30% Anionic Surfactant, Perfume (Limonene), Phenoxyethanol.
Brand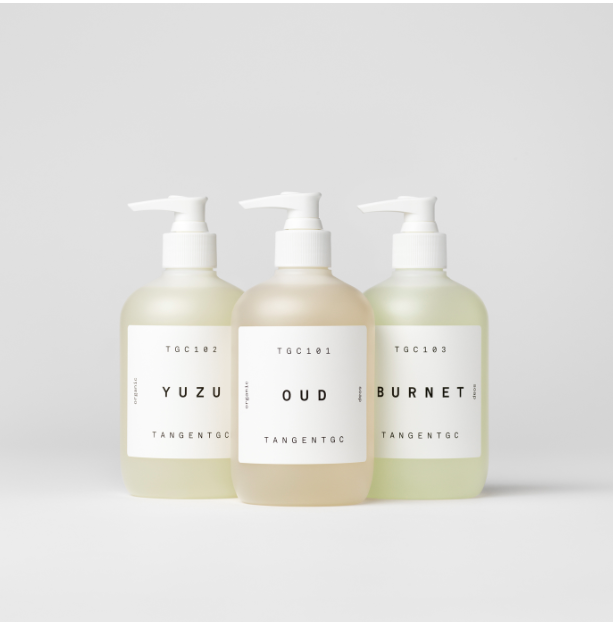 Tangent GC
(EN)Tangent Garment Care manufactures high-quality skin and garment care products from finest natural ingredients.
The Swedish company draws inspiration from co-founder David Samuelsson's grandfather, who used to work as a chimney sweeper – despite his profession, he paid great attention to his appearance and took meticulous care of his wardrobe.
Tangent GC's aim is to provide a range of products that help to lengthen the lifespan of shoes and clothes naturally without synthetic chemicals.
What's more, the collection features stylish, contemporary packaging.

The French made soap is prepared with natural ingredients only. Pure vegetable oils, cellulose gum, salt and water. No colour, no preservatives, no petrochemicals. Once the soap is ready a selection of perfume oils is infused, one for each variety.


(DE) Tangent Garment Care produziert hochwertige Haut- und Bekleidungspflegeprodukte aus besten natürlichen Inhaltsstoffen. Inspiriert wird das schwedische Unternehmen vom Großvater des Mitbegründers David Samuelsson, der früher als Schornsteinfeger arbeitete - trotz seines Berufs achtete er sehr auf sein Aussehen und kümmerte sich sorgfältig um seine Garderobe. Das Ziel von Tangent GC ist es, eine Reihe von Produkten anzubieten, die dazu beitragen, die Lebensdauer von Schuhen und Kleidung auf natürliche Weise ohne synthetische Chemikalien zu verlängern. Darüber hinaus bietet die Kollektion eine stilvolle, zeitgemäße Verpackung.

Die französische Seife wird nur mit natürlichen Zutaten hergestellt. Reine Pflanzenöle, Zellulosegummi, Salz und Wasser. Keine Farbstoffe, keine Konservierungsmittel, keine Petrochemikalien. Sobald die Seife fertig ist, wird eine Auswahl von Parfümölen hinzugefügt, eines für jede Sorte.