Moroccan rugs
In the early 20th century, Moroccan carpets fascinated artists such as Wassily Kandinsky and Le Corbusier and today bring images of Mark Rothko or Cy Twombly to mind.
In 1990 on my first journey outside Europe without my parents I traveled by train to Tangier and further on to Fes, Casablanca and Essauira.
I was 17 years old by this time and Morocco was a wild and difficult place for young European teenager girl. I came home from this journey with several things I never intended to buy like two carpets. I was easy prey for the marketeer in the souks. One of them I really never wanted, I didn't even like it! But I was told that, according to some souk law, I would have to buy it. The other one, I can remember very vividly was hanging high up in a carpet shop I was forced to enter. I remember sitting in this riad in the Medina of Fez being served tea and shown carpets.
The dusty light falling in from high above and me sitting there wondering how on earth I coud get out go this place without buying a carpet I could not afford nor transport home. I didn't . They soon realised that I kept looking at this violet carpet hanging high up in the courtyard and before I could say something ... they got it down.
Little did I know back then about the art of bargaining in souks. I probably made every mistake you can make. Really wanting this carpet was certainly the biggest. I never regretted buying this carpet though. I think it was probably a Azilal, a very beautiful one. It stayed with me until it got stolen some 20 years later.
My passion for berber rugs was ignited. I did not come back to Morocco for more then 20 years. 3 years ago when we came to Marrakech for a fashion shoot I fell in love with this country and it's wonderful people. Strolling the souks and bargaining has become so much relaxter. So it seemed only natural to bring home a selection and make them available to our customers. Since then we travel once or twice a year to Marrakech to source these wild beauties and bring them home for you. sarah huber
---
About moroccan carpets
Originally these carpets were made for personal and domestic use by the different ethnic groups of mainly Berber, rarely Arabic, origin within Morocco, most of whom were semi-nomadic. The carpets were normally used as bedding or blankets and were made by the women for their own families, who passed weaving techniques down through the generations. The way in which these carpets were woven made them easily adaptable to any climate: in the mountains, they are made with a high pile and are more loosely knotted so as to provide protection against the cold, whereas in warmer climes a lower pile height and a finer weave is employed.
MIDDLE ATLAS
The mountainous regions of the Middle Atlas reach heights of up to 3200m in the most northern part around the Jebel bou Iblane and have the most severe climate in Morocco during the winter. Thus the region's rugs have a high pile height of up to four centimetres with a course structure executed either in a symmetric or a Berber knot. In the north-eastern part, white (or cream) ground carpets dominate among the tribes of the Beni Ouarain confederation, the Beni Alaham, the Marmoucha and the Ait Seghrouchène. This tradition of white (or cream) ground carpets also seems to have existed among the Ait Youssi, Beni Mguild, Zemmour and Guerrouane from the central and western part of the Middle Atlas but apparently vanished in the early 20th century.
SOUTHERN MOROCCO AND HIGH ATLAS
The carpets from the southern Moroccan Jebel Siroua region and the Pre-Sahara are in general the finest examples of Moroccan rural weaving. In the past they have been traded under a quiet misleading attribution to the "High Atlas" while the carpets from the Azilal province – really originating from the High Atlas – have been almost unknown to the market until the late 1990s. As the climatic circumstances on the northern end of the Sahara and the central High Atlas are far less severe than in the more northern mountainous regions, the carpets from southern Morocco tend to have a fine structure and a more noble appearance due to their extremely lustrous wool and an almost cloth-like touch.
HAOUZ
The Haouz is a landscape of hills and plains situated between the Middle Atlas and the Atlantic ocean mostly inhabited by Arabic groups and arabised Berbers.In the region around Boujad, in the eastern part of the Haouz, carpets come close to the ones from the Middle Atlas in their coarse structure, but designs do not seem to follow traditional rules. Even if the very basic formal canon of simple lozenges, squares or triangles is seen, the freedom of each individual weaver dominates the composition in a very personal pictorial language. Free floating forms and often rather sharp colours are said to be preferred by the rural Arabic taste. The region seems to be a melting pot of small migrations that took place during the French Protectorate and the last decades.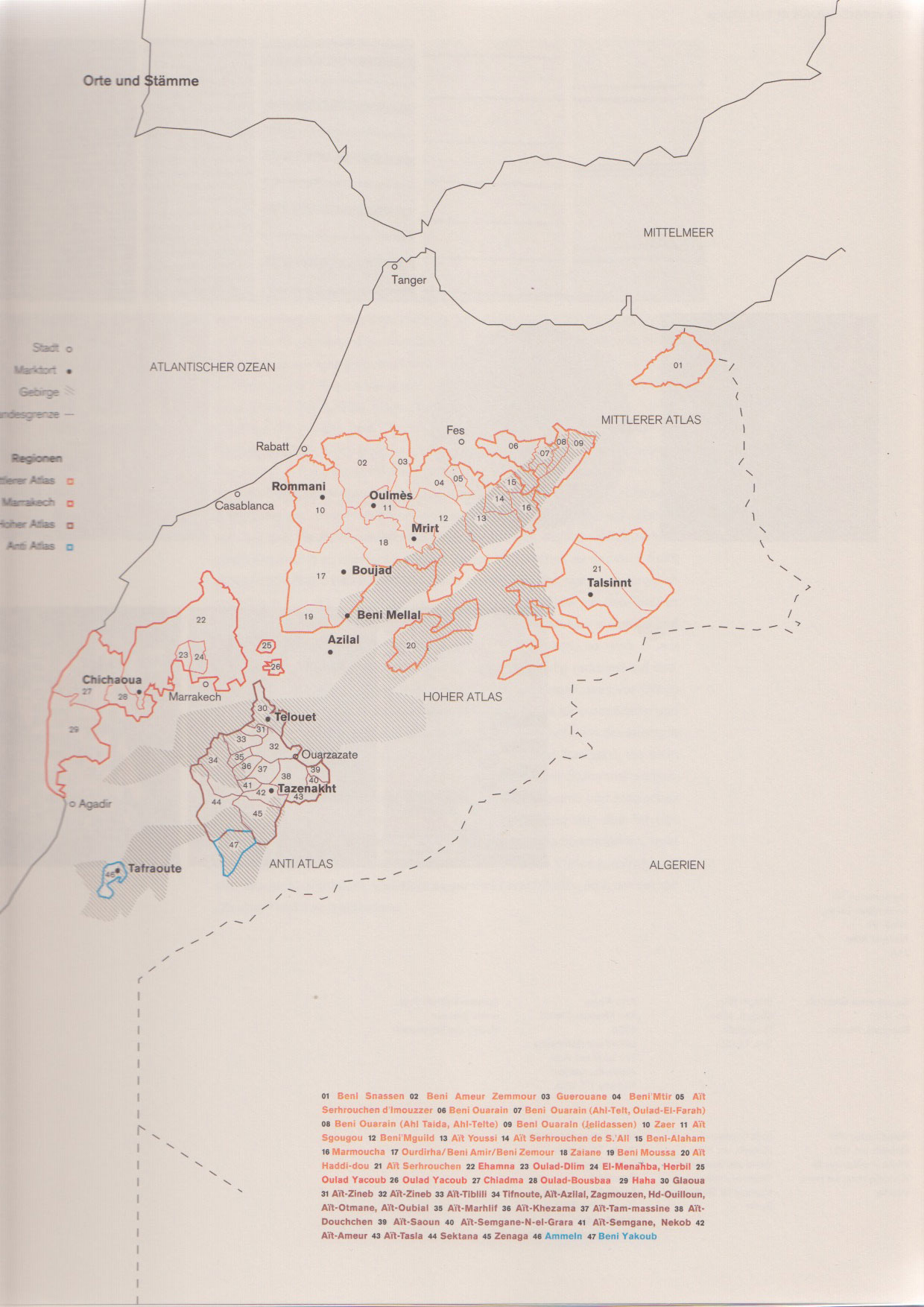 ---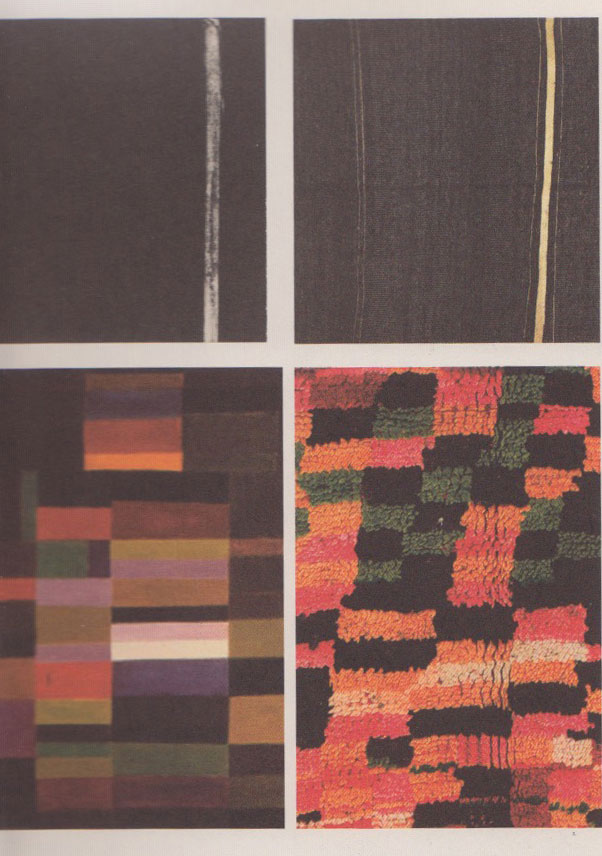 oben
Barnett Newman 1963
Ait Ouaouzguite 1970
unten
Johannes Itten 1965
Boujad 1950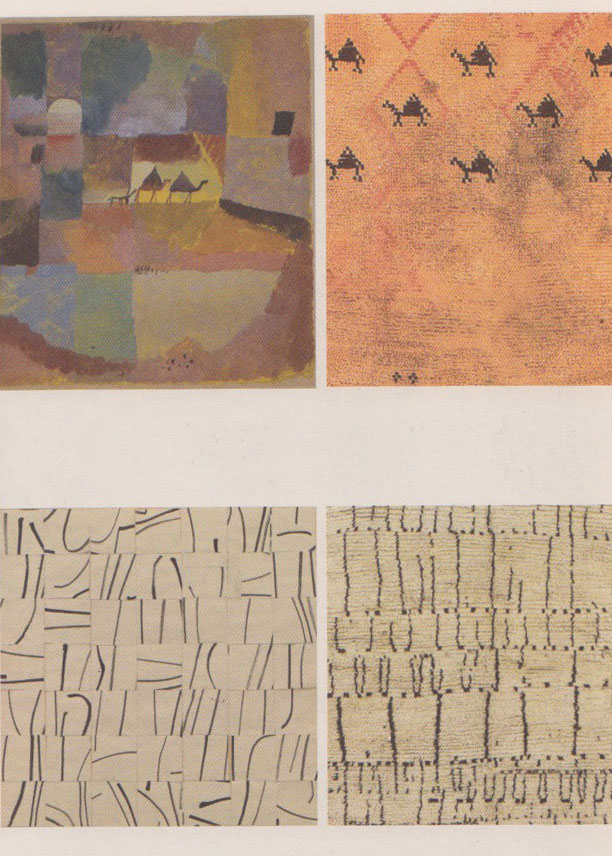 oben
Paul Klee 1919
Ait Ouaouzguite 1935 - 40
unten
Ellsworth Kelly 1951
Azilal 1940
Morocco rugs and modern art
Moroccan carpets are always woven by woman. Produced for the own need they are expression of the live, struggle or joy of the woman weaving them. They are named by the region or the place they come from or by the name of the tribe the waver comes from.
In the early 20th century, Moroccan carpets fascinated artists such as Wassily Kandinsky and Le Corbusier and today bring images of Mark Rothko or Cy Twombly to mind. In other words, an enquiry into the Islamically influenced culture of North Africa in general and carpets from Morocco in particular leads us to the roots of European avant-garde art.
The Islamic prohibition on depictions of the human being led among the Maghreb Berbers to a radical form of abstraction and a completely free and in our eyes very modern approach to color and shape. In the age of globalization and the increasing dominance of purely Western notions, on the one hand, and the radicalization of Islam, on the other, it is so very important to focus on the intellectual linkages and cultural interchange between the Orient and the Occident.
In 2013 the "Sammlung der Moderne" in Munich held a exhibition displaying the carpet collection of the architect professor Jürgen Adam, by juxtaposing these Moroccan carpets with Western art by Rothko, Newman, and others, Adam was doing considerably more than showing the pre-modern roots of Abstract Expressionism, valuable as that is as an exercise in neglected art history. In thoroughly analysing the ties between Maghreb textile design and abstract art in the West, he was offering a challenge to all current Western designers .
The conclusion that it's only berber woman with their strong desire for freedom that lead to these wild and abstract patterns can not be confirmed. The arabic tribes in the region of boujad are also known for their desire of freedom which reflects in their carpets that are known as "tapis fou ou tapis sauvage"
Let's look at some of the most common styles:
Boucherouite
An extraordinary trend in the last 30 years has been the production of carpets and blankets made with a mix of recycled fabrics like wool, cotton, polyester ete. Thin stripes of recycled fabrics and cloth can be bough per kilogram on each market. With these materials the women produce some extraordinary works.
Boujad
An Arab urban center with both Arab and Arabized Berber tribes in the Haouz plains region east of Marrakech (between the Middle Atlas and Atlantic Ocean) named after the town of Boujad, which has an important carpet souk. Reds, oranges and pinks tend to dominate in rich, complex geometric patterns of squares and diamonds.
Azilal
Azilal rugs or Azilals, as their name suggests, originate from the craggy and steep Azilal region, located in the remote and hard to reach High Atlas mountains, in the south of the city of Beni Mellal, about 180 km North-East Marrakech.
Only performed by women of this region, Azilal rugs are made from virgin raw wool by alternating composed patterns of one single knotted line and one or two woven lines, according to a cultural ritual that mothers are passing down to daughters for generations.
Azilal rugs are often associated with another name " Ourika rugs " to actually refer to all the rugs that are produced a little further south by the High Atlas mountains tribes: from Demnat North to Imlil south, covering thus the entire mountainous region of Ait Ourir , Ourika Valley and the Oukaimden park. These rugs feature great creativity in terms of design; they combine irregular and abstract patterns with numerous Berbers symbols and diamonds based graphics. They are often decorated with colored materials such as wool and cotton tainted with vegetable dye or threads of recycled cloth of different colors. Azilal rugs' background is ivory /cream, made of naturel virgin wool. Each Azilal rug contains a tale of its weaver, in a kind of pictorial and creative design.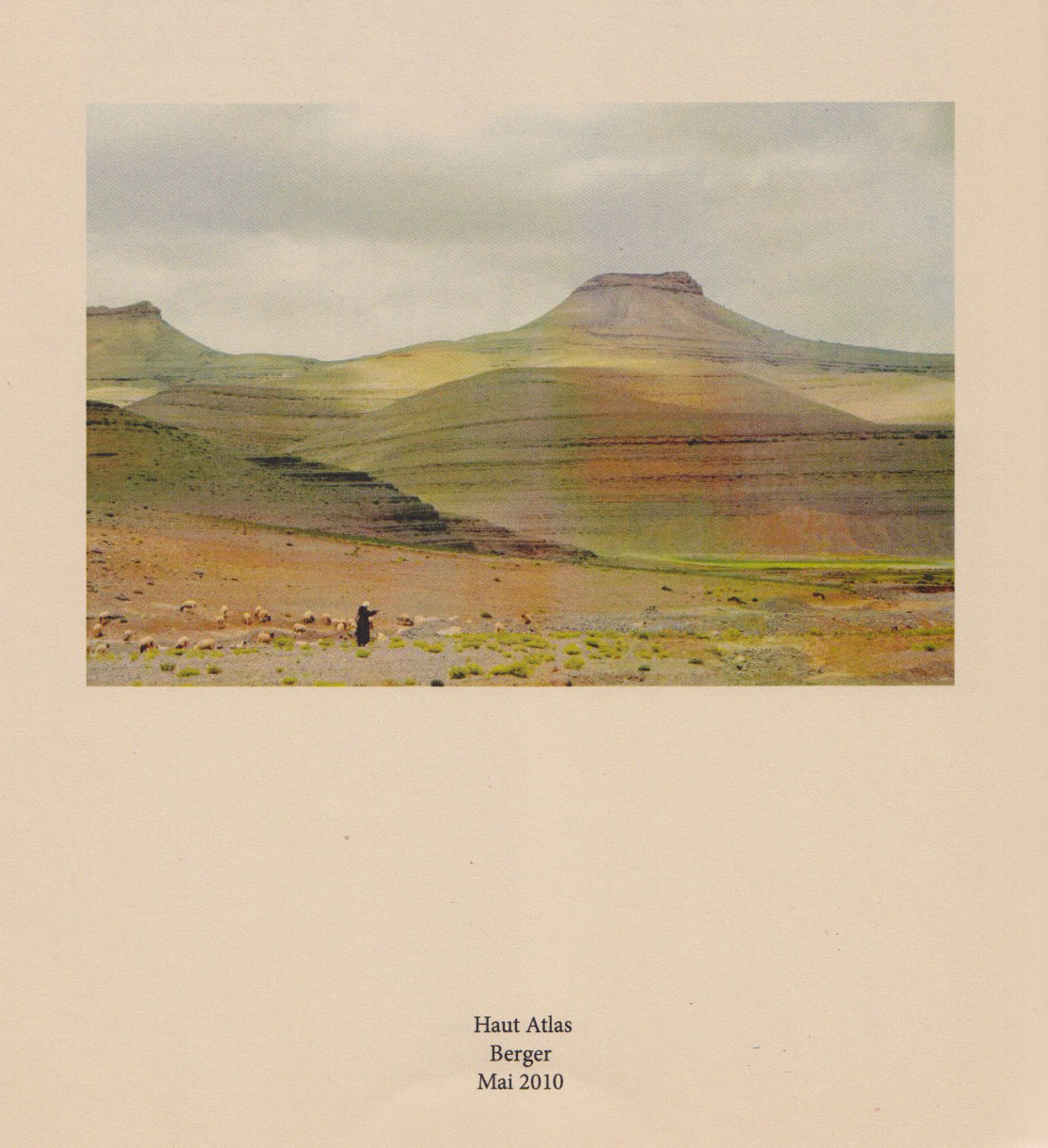 Beni Ouarain
Beni Ouarain rugs are modern looking, featuring minimalist designs of diamonds, triangles or naive figures in black on a white or cream background. Their abstract simplicity made them attractive to famous modernist architects in the 1920's and 30's, such as Le Corbusier and Alvar Aalto.
Zanafi
The bold, graphic style of the black and ivory pattern is a signature design of the Berber Zanafi tribe. Hand weaved and embroidered with a wooden needle, the rug preserves cultural presence, dynamic symbolism and a vibrant color palette. The zanafi tribe is from the hight atlas, ouest of ouarzazate.
---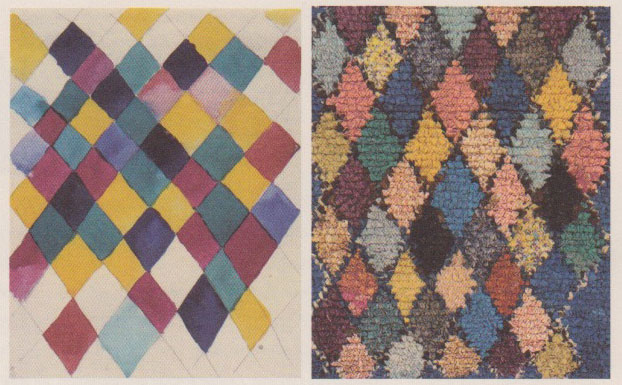 Wassily Kandinsky 1913
Boucherouite 1990 hight atlas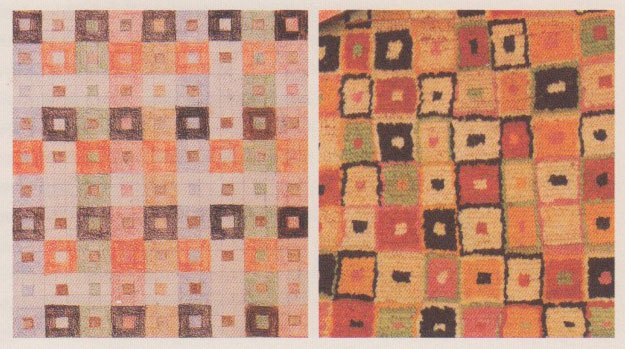 Kitty Fischer 1929 / 32
Boujad 1950-70
---
Vintage carpets & modern design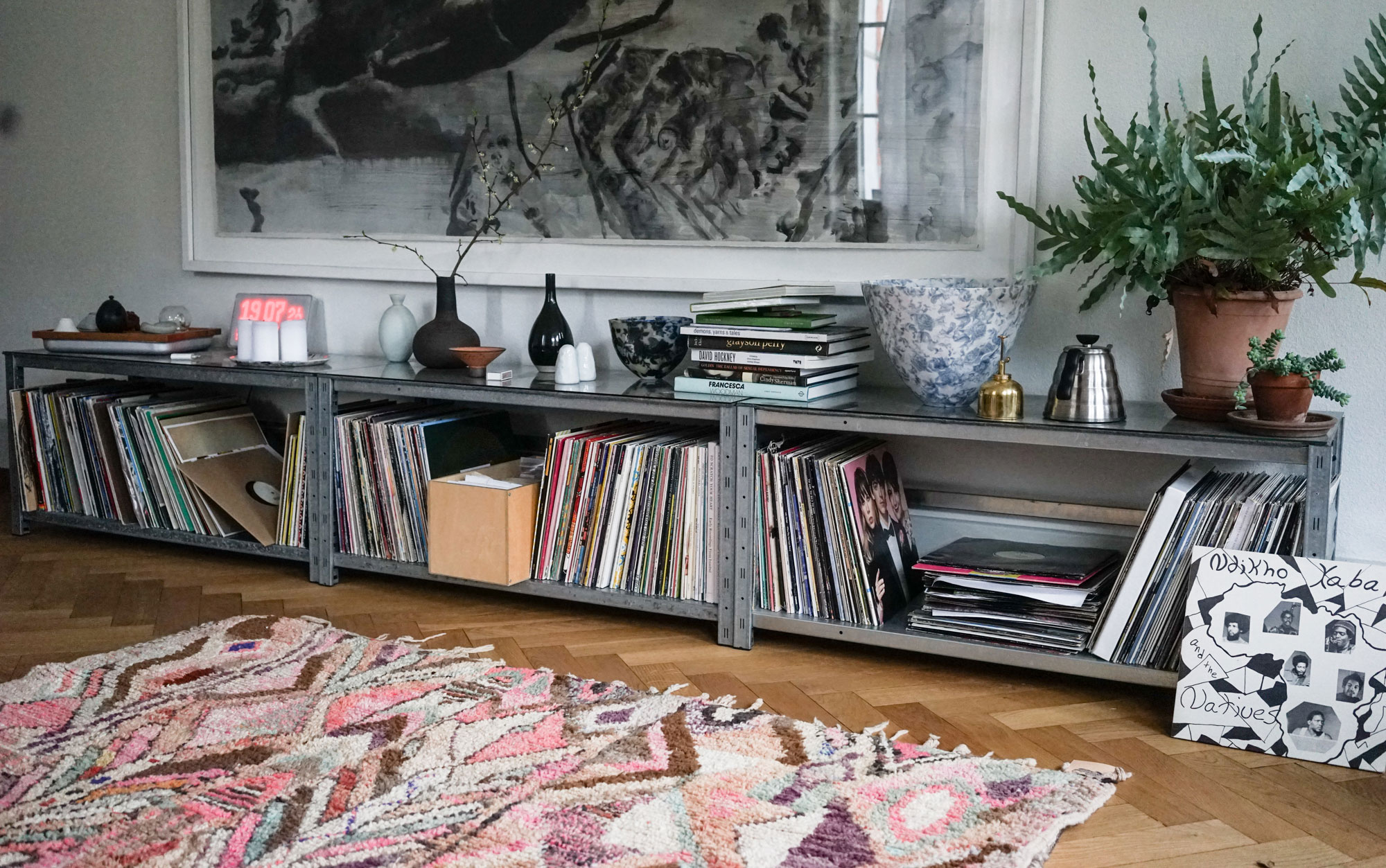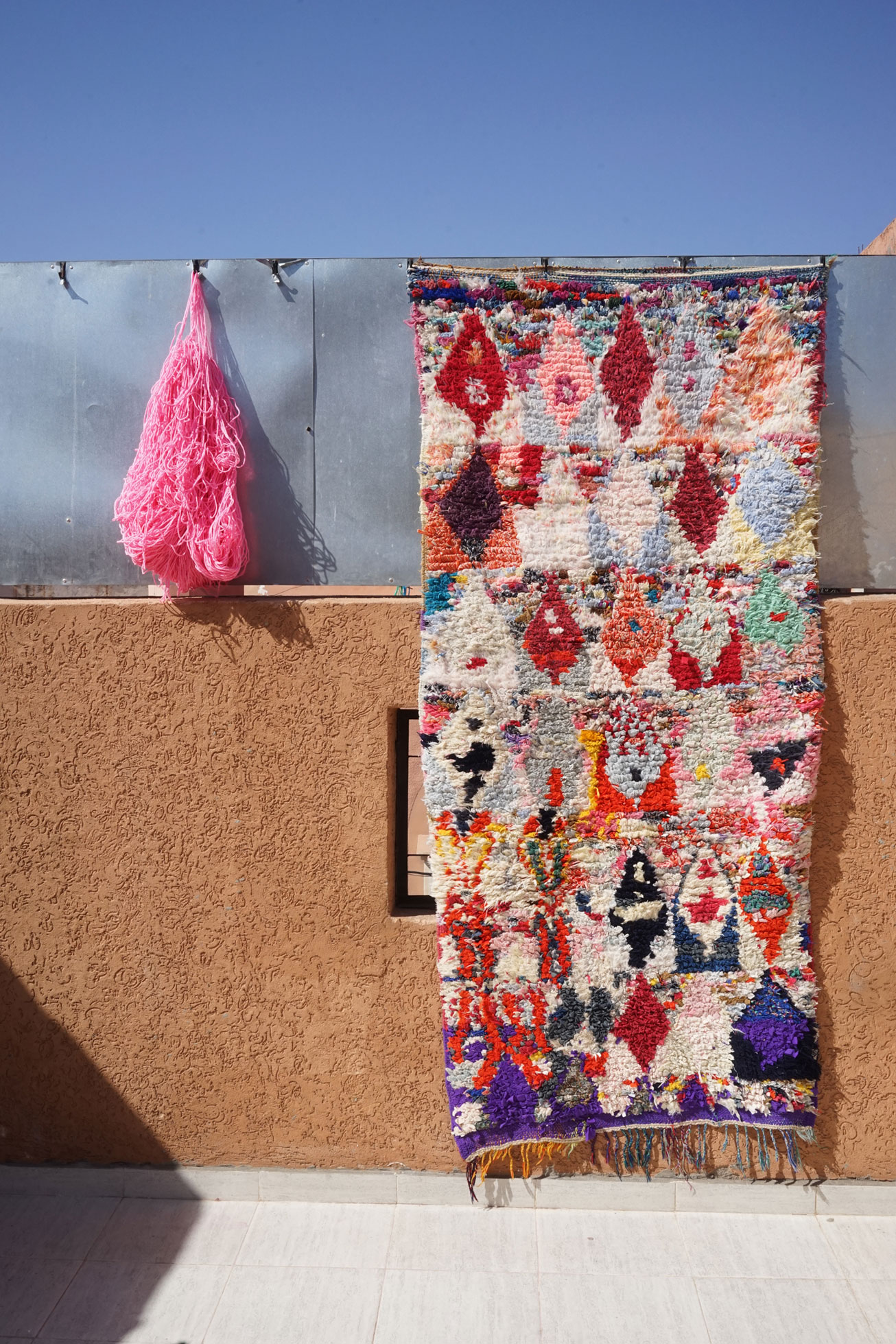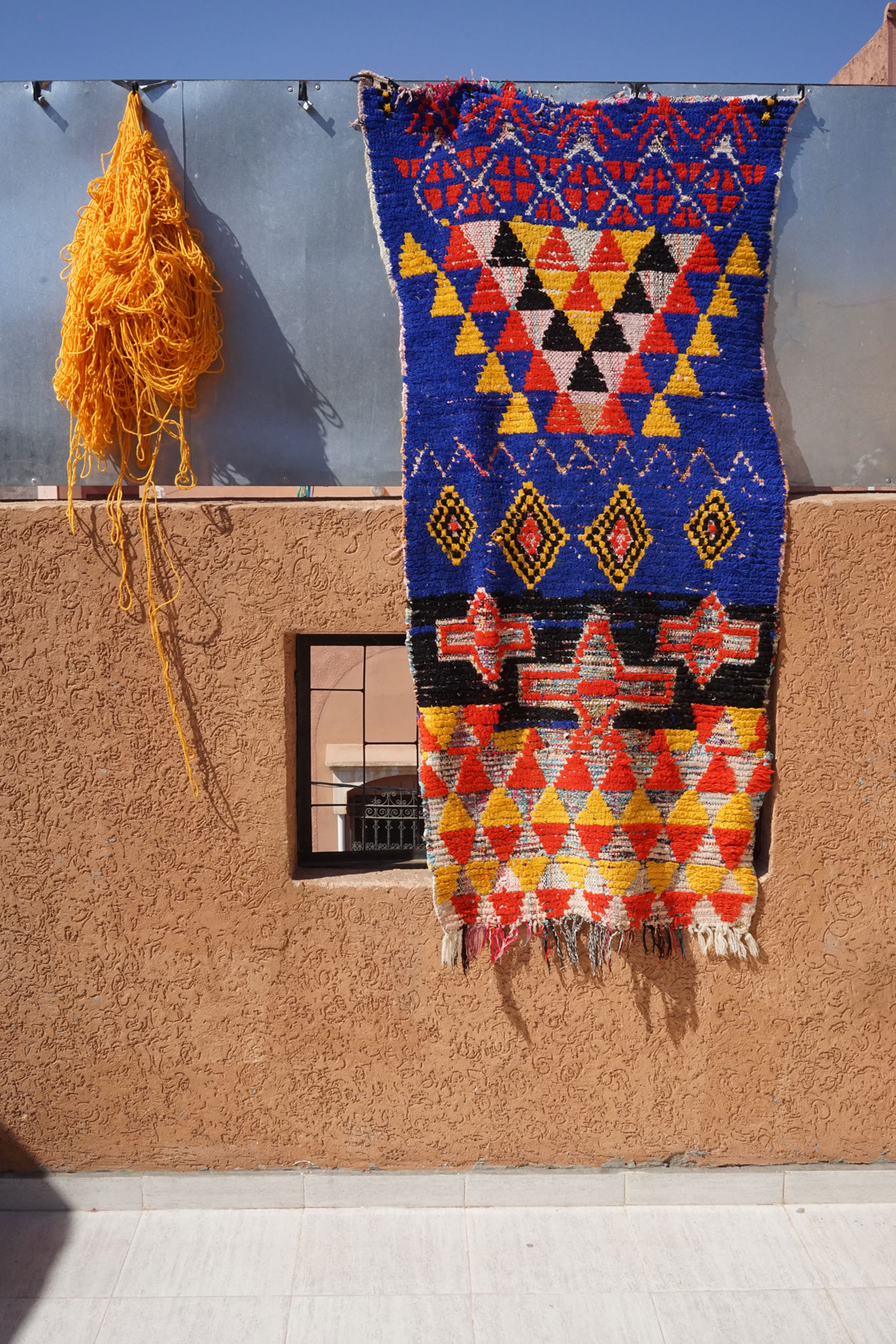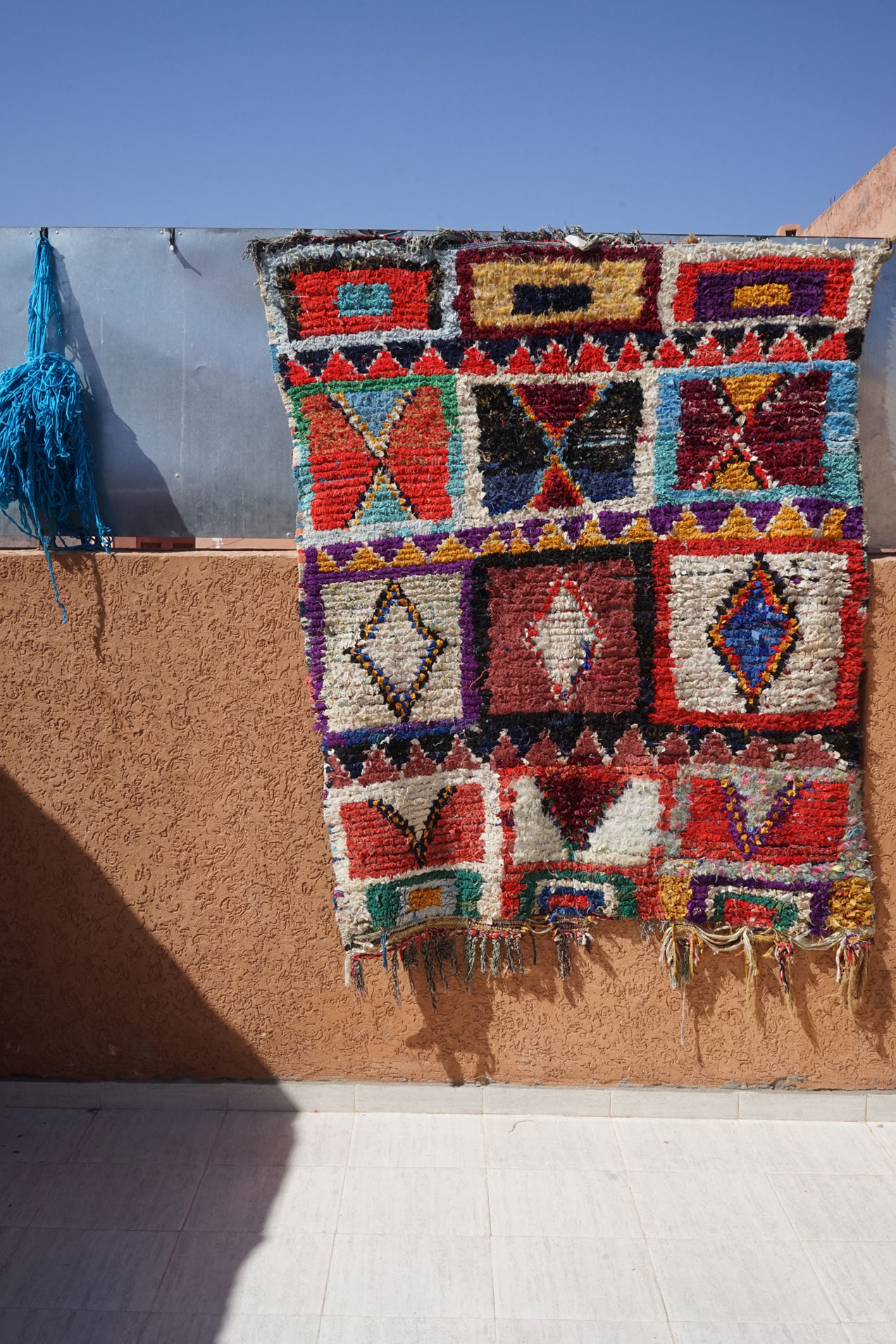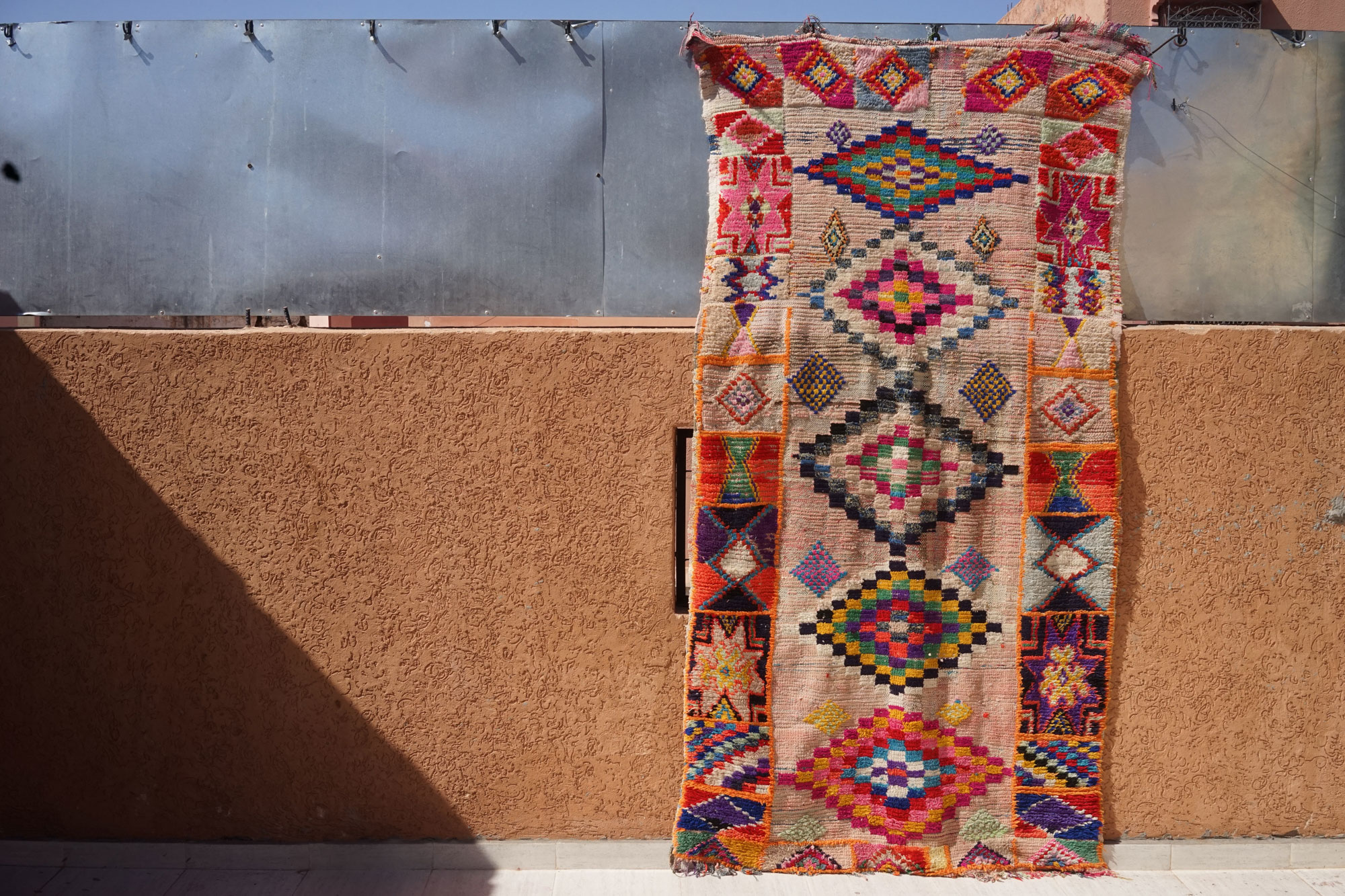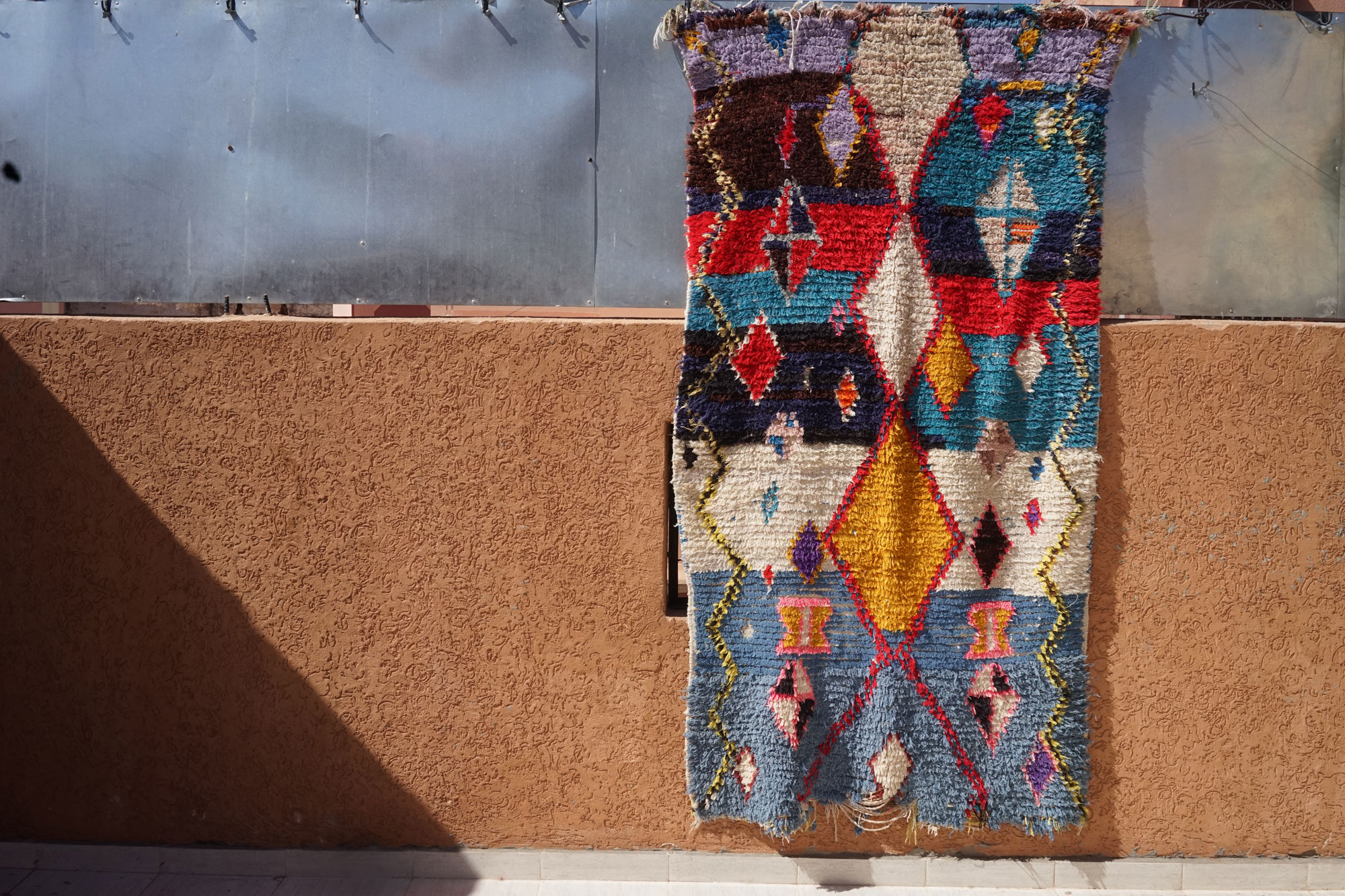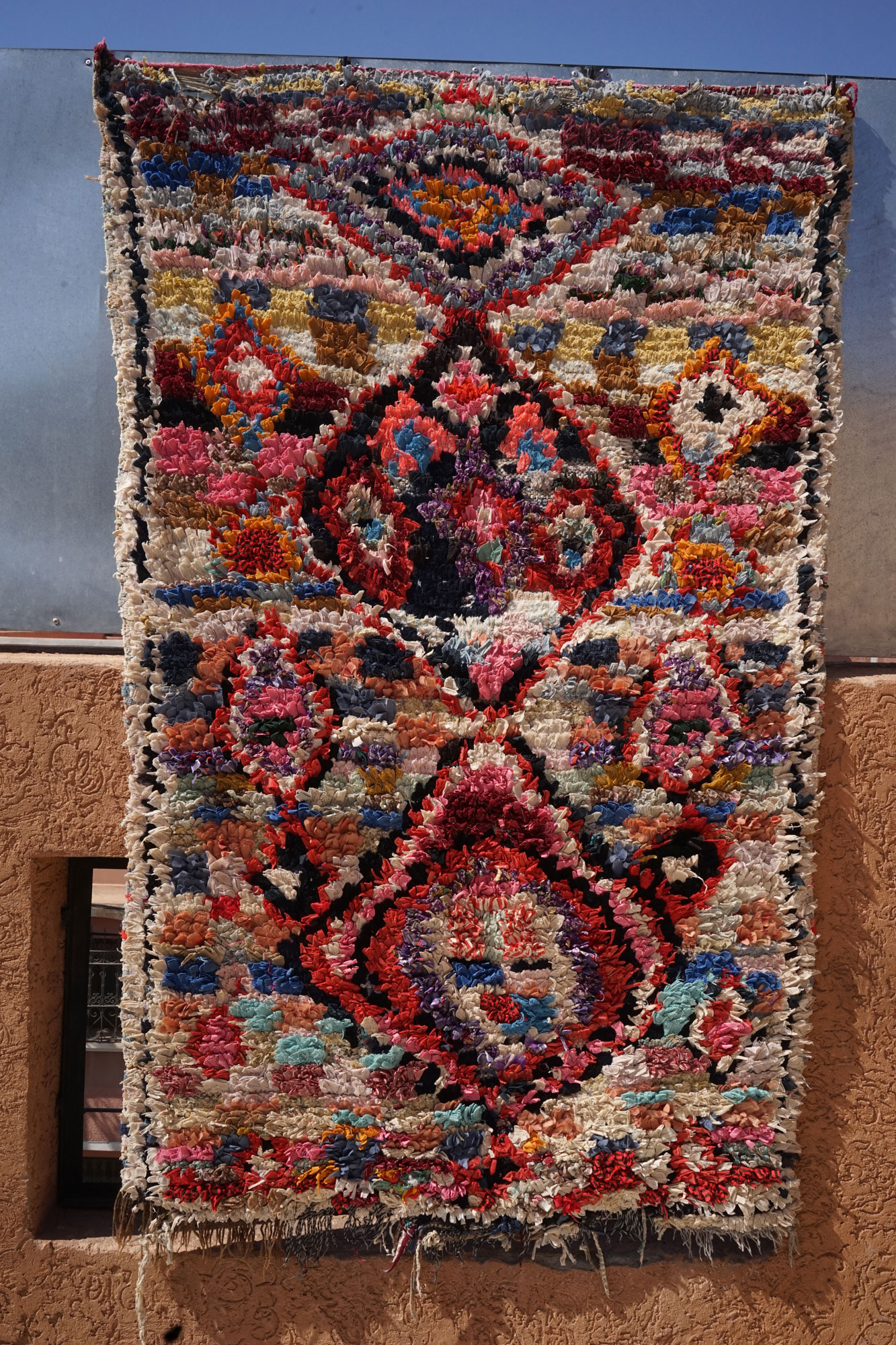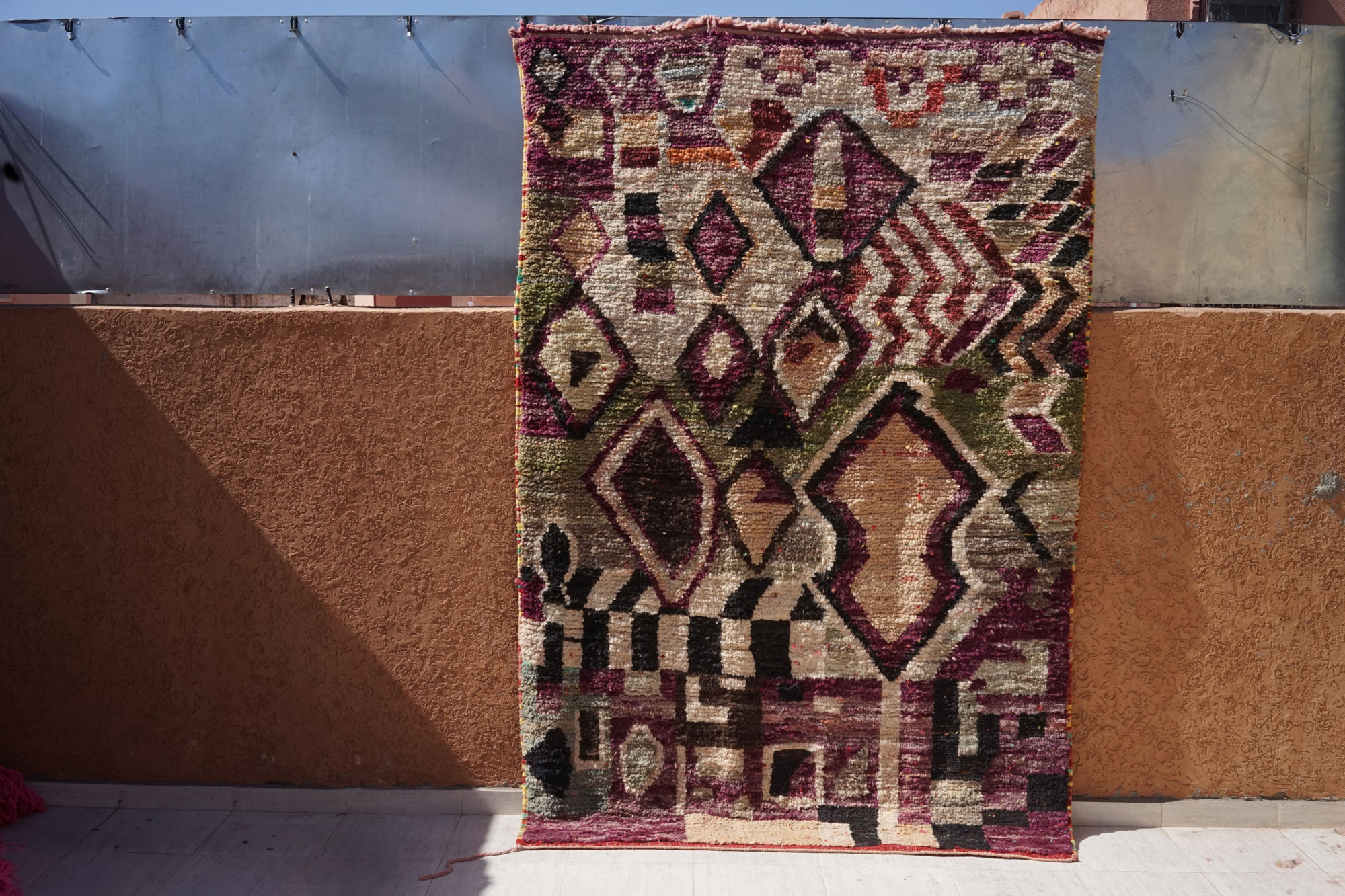 These vintage carpets look stunning in modern homes.