Savon Stories Thermowood Soap Dish
SKU
DSH.TWD.THERMOWOOD.SOAP.DISH
---
Organic
Sustainable
Made in Europe
Fair
Small Producer
11.5 x 7.2 cm.
100% Natural heat treated ash wood.
100% Natürliches wärmebehandeltes Eschenholz.
A Wood for Life
Water-resistant, durable & sustainable
100% Natural Ash Wood
Gently Baked
Water resistant & durable
This sustainable piece of ash wood was gently baked to make it resistant to water/dampness and hence mold & fungi.
An age-old method used by the ancients to protect wood, before modern chemical coatings,
it also gives to the wood its distinctively beautiful dark brown finish and a lasting durability.
Here is a wood for life. Beautiful things should be.
***
Ein Holz fürs Leben
Wasserbeständig, langlebig & nachhaltig
100% natürliches Eschenholz Schonend gebrannt Wasserbeständig & langlebig
Dieses nachhaltige Stück Eschenholz wurde schonend gebrannt, um es resistent gegen Wasser/Feuchtigkeit und damit gegen Schimmel & Pilze zu machen.
Eine uralte Methode, die von den Alten zum Schutz des Holzes verwendet wurde, bevor moderne chemische Beschichtungen eingesetzt wurden,
Sie verleiht dem Holz außerdem sein unverwechselbar schönes dunkelbraunes Finish und eine dauerhafte Beständigkeit.
Hier ist ein Holz fürs Leben. Schöne Dinge sollten sein.
Brand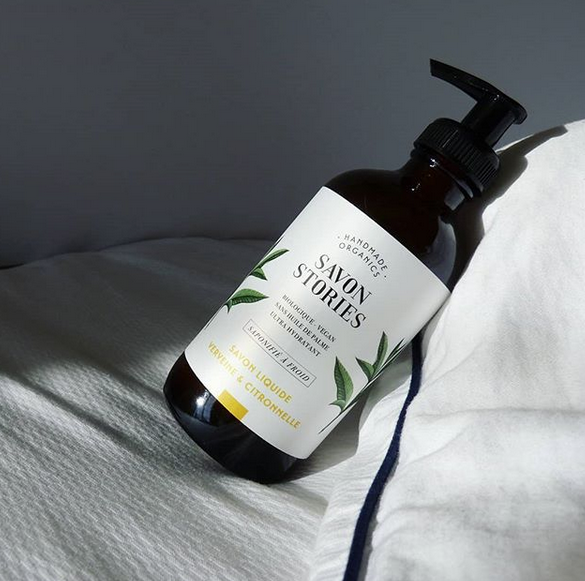 Savon Stories
"nurture the best of good green earth & to be rich with less than more. We call it "raw minimalism" and it defines everything we do. "

Handgemachte, biologische Kosmetik hergestellt in Surrey, England.
Savon Stories ist der Ansicht, unsere Haut sei unser zweiter Magen. Aus reichhaltigen, rohen, rein natürlichen und kaum veränderten Zutaten stellen sie ihre mehrfach ausgezeichneten Produkte her.
Eines unserer Lieblingsprodukte ist die "Bodylotion Bar". Sie hat die Konsistenz einer Seife, verteilt sich aber wunderbar, wenn sie aufgetragen wird. Und am Security-Check am Flughafen geht sie locker im Handgepäck durch, da sie keine Flüssigkeit enthält.

Aber auch das Arganöl oder die Rassoul-Tonerde möchten wir in unserem Badezimmer nicht mehr missen.
"nurture the best of good green earth & to be rich with less than more. We call it "raw minimalism" and it defines everything we do. "
Handmade, organic cosmetics made in Surrey, England.
Savon Stories believes our skin is our second stomach. From rich, raw, purely natural and hardly changed ingredients, they produce their multi-award winning products.One of our favorite products is the "Body Lotion Bar". It has the consistency of a soap, but spreads wonderfully when applied. And at the security check at the airport, it easily gets through in the hand luggage as it does not contain any liquid.But we also do not want to miss the argan oil or the rassoul clay in our bathroom.
Erhältlich bei:
Kitchener Bern
Kitchener Plus Zürich