Savon Stories N°1 Green Clay Soap
---
Vegan
Made in Europe
Sustainable
Fair
Small Producer
Organic
100g - with lavender, patchouli & rose geranium
Totally organic, vegan & cruelty-free, palm-free & handmade in England.
100% biologisch, vegan & tierversuchsfrei, palmfrei & handgemacht in England.
An "earthly-floral" aroma with the herbal tones of patchouli,
the floral hints of lavender and the soothing calm of rose geranium.
Added jojoba oil helps soothe irritation, delivers sebum balancing nutrients,
and leaves skin naturally moisturised after wash.
Enriched with French green clay, this soap takes on the mineral's rich properties
- an excellent detoxifier that draws out impurities.
The silky smooth feel of the clay also makes this an effective shaving bar.
***
Ein "erdig-blumiges" Aroma mit den krautigen Tönen von Patchouli,
den blumigen Noten des Lavendels und der beruhigenden Ruhe der Rosengeranie.
Zugesetztes Jojobaöl hilft, Irritationen zu lindern, liefert talgausgleichende Nährstoffe
und versorgt die Haut nach dem Waschen mit natürlicher Feuchtigkeit.
Angereichert mit französischer grüner Tonerde, nimmt diese Seife die reichhaltigen Eigenschaften des Minerals auf
- ein ausgezeichnetes Entgiftungsmittel, das Unreinheiten herauszieht.
Das seidig-weiche Gefühl der Tonerde macht sie auch zu einem effektiven Rasierseifenstück.
Brand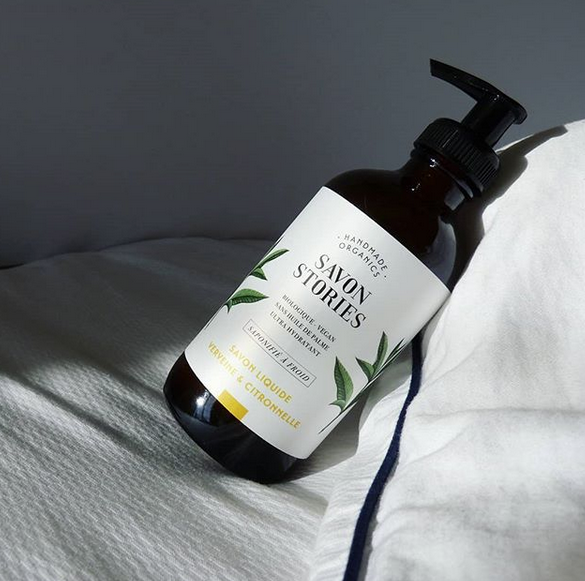 Savon Stories
"nurture the best of good green earth & to be rich with less than more. We call it "raw minimalism" and it defines everything we do. "

Handgemachte, biologische Kosmetik hergestellt in Surrey, England.
Savon Stories ist der Ansicht, unsere Haut sei unser zweiter Magen. Aus reichhaltigen, rohen, rein natürlichen und kaum veränderten Zutaten stellen sie ihre mehrfach ausgezeichneten Produkte her.
Eines unserer Lieblingsprodukte ist die "Bodylotion Bar". Sie hat die Konsistenz einer Seife, verteilt sich aber wunderbar, wenn sie aufgetragen wird. Und am Security-Check am Flughafen geht sie locker im Handgepäck durch, da sie keine Flüssigkeit enthält.

Aber auch das Arganöl oder die Rassoul-Tonerde möchten wir in unserem Badezimmer nicht mehr missen.
"nurture the best of good green earth & to be rich with less than more. We call it "raw minimalism" and it defines everything we do. "
Handmade, organic cosmetics made in Surrey, England.
Savon Stories believes our skin is our second stomach. From rich, raw, purely natural and hardly changed ingredients, they produce their multi-award winning products.One of our favorite products is the "Body Lotion Bar". It has the consistency of a soap, but spreads wonderfully when applied. And at the security check at the airport, it easily gets through in the hand luggage as it does not contain any liquid.But we also do not want to miss the argan oil or the rassoul clay in our bathroom.
Erhältlich bei:
Kitchener Bern
Kitchener Plus Zürich