Savon Stories Organic Argan Oil / with Rose and Kashmir Lavender
SKU
ARG.ROS.ARGAN.OIL.ROSE.LAVENDE
---
Organic
Sustainable
Made in Europe
Fair
Small Producer
Argan Oil / with Rose and Kashmir Lavender
For face, body & hair with a hint of rose & Kashmir lavender 100% Organic • Cold Pressed • Unfiltered 
Highly Moisturising • Absorbs rapidly
Handmade in England • 60ml / 2 fl. oz
Properties
Hand-harvested in the region of our old family farm, argan oil is produced from the kernels of the ancient and protected argan tree, which grows only in Morocco. The oil is especially renowned for its rapid absorbency, leaving no greasy residue. Whilst the pure oil is usually heavily diluted or strongly filtered to remove its deep, earthy aroma, ours is left raw & unfiltered to retain all of its exceptional skin protecting antioxidants and regenerative carotenes & micronutrients. Maximal effectiveness in minimal use. Enriched with a hint of organic essential oils: highly replenishing and skin healing damascene rose, oil balancing rose geranium, and Kashmir lavender, grown several thousand feet on the high altitude Himalayan slopes with exceptional skin repairing properties.
Use
DAILY USE: With a single small squirt, massage into hands, neck and face, finishing with the ends of the hair to tame frizz and delicately shine if needed. Massage appropriate amount for rest of body, if needed. SPECIFIC AREAS: For hands, nails & cuticles allow only a few drops. A little goes a long way. TAME FRIZZ & SHINE HAIR: Rub a few drops or small squirt into palm & apply to damp or dry hair, especially split ends & strands, or roots. REJUVENATING FACIAL OIL: High content of vitamin E, carotenes & omega 3 makes for a powerful rejuvenator, especially overnight. DANDRUFF/DRY SCALP: Massage into hair and scalp in circular motion. Ideally leave overnight. For regular hot oil treatment alternative, wrap head with steamed towel after applying and rinse with hot water after 30-50 mins. Softens hair, leaving a sleek shiny finish. Exceptional in not leaving a greasy residue. LEAVE-IN CONDITIONER: Massage few drops into hair. When used in shower, leave on for few mins then rinse. Apply on cotton ball or directly from.
Ingredients
98% organic argan oil (argania spinosa kernel); 2% organic essential oils of lavender Kashmir, rose geranium &damascene rose (lavendula augustifolia, geranium rosat, and rose damask - essential oils contain naturally occurring citral, geraniol, limonene & linalool).
Brand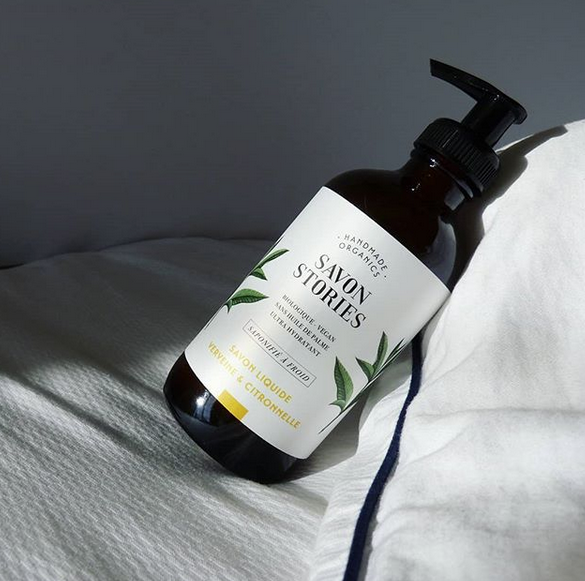 Savon Stories
"nurture the best of good green earth & to be rich with less than more. We call it "raw minimalism" and it defines everything we do. "

Handgemachte, biologische Kosmetik hergestellt in Surrey, England.
Savon Stories ist der Ansicht, unsere Haut sei unser zweiter Magen. Aus reichhaltigen, rohen, rein natürlichen und kaum veränderten Zutaten stellen sie ihre mehrfach ausgezeichneten Produkte her.
Eines unserer Lieblingsprodukte ist die "Bodylotion Bar". Sie hat die Konsistenz einer Seife, verteilt sich aber wunderbar, wenn sie aufgetragen wird. Und am Security-Check am Flughafen geht sie locker im Handgepäck durch, da sie keine Flüssigkeit enthält.

Aber auch das Arganöl oder die Rassoul-Tonerde möchten wir in unserem Badezimmer nicht mehr missen.
"nurture the best of good green earth & to be rich with less than more. We call it "raw minimalism" and it defines everything we do. "
Handmade, organic cosmetics made in Surrey, England.
Savon Stories believes our skin is our second stomach. From rich, raw, purely natural and hardly changed ingredients, they produce their multi-award winning products.One of our favorite products is the "Body Lotion Bar". It has the consistency of a soap, but spreads wonderfully when applied. And at the security check at the airport, it easily gets through in the hand luggage as it does not contain any liquid.But we also do not want to miss the argan oil or the rassoul clay in our bathroom.
Erhältlich bei:
Kitchener Bern
Kitchener Plus Zürich