Salt-Water Sandals Retro Slide Tan
SKU
6605.RETRO.SLIDE.ADULT.BLK_Beige
---
Sustainable
Fair
Small Producer
100% Waterproof in Fresh and Salty-Sea-Water
100% wasserdicht in Süß- und Salzwasser
As with all of other Salt-Water Sandal styles the Retro Slide is
made from signature 100% waterproof leather and can be hand washed using warm water and a gentle detergent.
Originally sold in the USA in the 1970s, Salt-Water have updated the classic Retro
from the archive collection into a modern and practical slider sandal.
The Retro Slide in tan is a great every day slider and works with all outfits
- from boho chic to everyday officewear.
***
Wie alle anderen Salt-Water-Sandalen-Modelle ist auch die Retro Slide
aus 100% wasserfestem Leder gefertigt und kann mit warmem Wasser und einem sanften Reinigungsmittel von Hand gewaschen werden.
Ursprünglich in den USA in den 1970er Jahren verkauft, hat Salt-Water den klassischen Retro
aus der Archiv-Kollektion in eine moderne und praktische Slider-Sandale verwandelt.
Die Retro Slide in hellbraun ist ein großartiger Alltagsschuh und passt zu allen Outfits
- vom Boho-Chic bis zur alltäglichen Bürokleidung.
Brand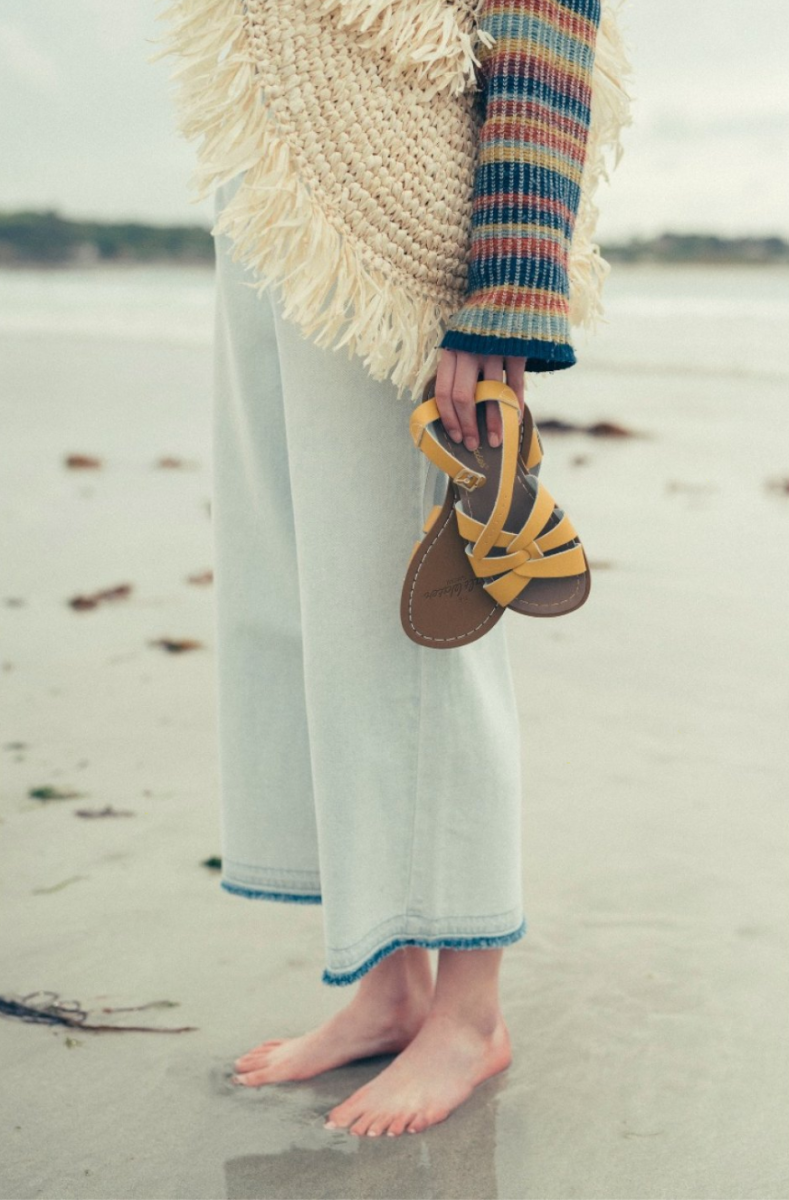 Salt-Water-Sandals
(EN) An original design dating to the 1940's, Salt-Water Sandals were originally made from scrap leather as a way to cope with leather shortages in World War II. Walter Hoy used the scraps to create a pair for his daughter, Marjorie.
Word soon spread and before long families from all over St. Louis were asking if Walter could make sandals for their children.
Now, over 75 years on and Hoy shoes' classic designs continue to deliver durable leather comfort with a fashion savvy attitude.
Combined with rust-proof metal tongue buckles and produced in a wide choice of colours and designs, the enduring quality & proven heritage of their sandals is unquestionable.
Salt-Water Sandals are defined by their tough little-way stitched rubber sole, whilst the Sun-San range is built upon a more bouncy urethane bonded base.
Both ranges are made form 100% leather which is coated with a water resistant sealant and they all mould to the user's feet with repeated wear. The rust proof brass buckles allow straps to be adjusted for narrow or wide feet.
They are great for running in and out of the ocean (or even splashing in puddles!) and can be handwashed with a gentle detergent - the perfect summer sandal for adults and kids, to be worn in both wet or dry conditions.
(DE) Die Salzwasser-Sandalen, deren ursprünglicher Entwurf aus den 1940er Jahren stammt, wurden ursprünglich aus Altleder hergestellt, um mit der Lederknappheit im Zweiten Weltkrieg fertig zu werden. Walter Hoy benutzte die Lederreste, um ein Paar für seine Tochter Marjorie herzustellen.
Das sprach sich bald herum, und schon bald fragten Familien aus ganz St. Louis, ob Walter Sandalen für ihre Kinder herstellen könne.
Heute, mehr als 75 Jahre später, bieten die klassischen Designs von Hoy-Schuhen nach wie vor dauerhaften Lederkomfort mit modischem Gespür.
Kombiniert mit rostfreien Zungenschnallen aus Metall und hergestellt in einer großen Auswahl an Farben und Designs, ist die beständige Qualität und das bewährte Erbe ihrer Sandalen unbestreitbar.
Die Salzwassersandalen zeichnen sich durch ihre robuste, in kleinen Bahnen genähte Gummisohle aus, während die Sun-San-Reihe auf einer federnderen, urethangebundenen Basis aufgebaut ist.
Beide Produktreihen bestehen zu 100 % aus Leder, das mit einer wasserfesten Versiegelung beschichtet ist, und passen sich bei wiederholtem Tragen an die Füße des Benutzers an. Die rostfreien Messingschnallen ermöglichen die Anpassung der Riemen an schmale oder breite Füße.
Sie eignen sich hervorragend zum Laufen im und aus dem Meer (oder sogar zum Plantschen in Pfützen!) und können mit einem sanften Reinigungsmittel von Hand gewaschen werden - die perfekte Sommersandale für Erwachsene und Kinder, die sowohl bei nassen als auch bei trockenen Bedingungen getragen werden kann.

Übersetzt mit www.DeepL.com/Translator (kostenlose Version)