Mawena Rose Bamboo - Moisturising Floral Essence 100ml
SKU
ROSE.BAMBOO.ESSENCE.HYDRANTE
A moisturizing flower essence in the form of a very light mist to supply the skin with moisture and regenerate with hyaluronic acid.100% natural - Made in France Ideal for all skin types. 100ml
It contains valuable ingredients:
LYCHEE WATER, BAMBOO, ROSE, LEMON: To give your skin a new look, these 100% pure flower waters help to smooth the skin, tighten the pores and make the complexion more radiant. Sometimes moisturising, sometimes cleansing, they are ideal for cleansing and refreshing tired or sensitive skin.
ALOE VERA: Aloe Vera moisturizes, softens, protects and nourishes the skin in its depth and balances its pH value. Astringent (tightens the pores of the skin), it is also rich in vitamins, amino acids and minerals with moisturising, anti-inflammatory and soothing properties.
HYALURONIC ACID: Hyaluronic acid is a natural moisturizer in the skin and is produced by fermenting wheat with non-genetically modified yeasts. We offer it as a treatment, because with increasing age its amount gradually decreases and the skin loses its recoil.
Eine feuchtigkeitsspendende Blumenessenz in Form eines sehr leichten Nebels, um die Haut mit Feuchtigkeit zu versorgen und mit Hyaluronsäure zu regenerieren. 100% natürlich - Hergestellt in Frankreich Ideal für alle Hauttypen. 100ml
Es enthält wertvolle Inhaltsstoffe:
LYCHEE-WASSER, BAMBUS, ROSE, ZITRONE: Um Deiner Haut einen neuen Look zu verleihen, helfen diese 100% reinen Blumenwässer, das Hautbild zu glätten, die Poren zu straffen und den Teint strahlender zu machen. Manchmal feuchtigkeitsspendend, manchmal reinigend, sind sie ideal, um müde oder empfindliche Haut zu reinigen und zu erfrischen.
ALOE VERA: Aloe Vera spendet Feuchtigkeit, macht sie weich, schützt und pflegt die Haut in ihrer Tiefe und gleicht ihren pH-Wert wieder aus. Adstringierend (strafft die Poren der Haut), ist sie auch reich an Vitaminen, Aminosäuren und Mineralien mit feuchtigkeitsspendender, entzündungshemmender und lindernder Wirkung.
HYALURONSÄURE: Hyaluronsäure ist ein natürlicher Feuchtigkeitsspender in der Haut und wird durch Fermentierung von Weizen mit nicht gentechnisch veränderten Hefen hergestellt. Wir bieten es als Behandlung an, denn mit zunehmendem Alter nimmt seine Menge allmählich ab und die Haut verliert ihren Rückstoß.
Brand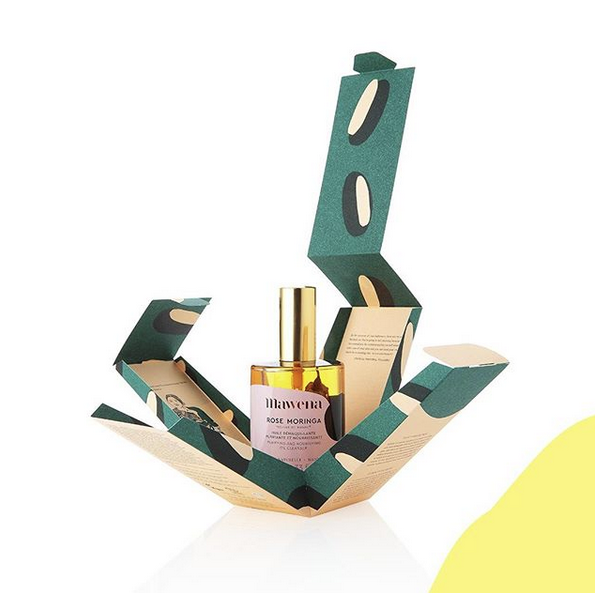 Mawena
(EN) Mawena uses Mayan women's beauty rituals and ingredients such as mimosa tenuiflora bark, a powerful ingredient known for its anti-inflammatory, soothing, protective, moisturizing and antioxidant properties. As well as the amazing formulas and packaging, the brand also strives to achieve a positive effect by donating €2 for every purchase of its product to the Maya Cooperative, which supplies the ingredients, they are also ECOCERT, vegan and cruelty free.
MAWENA is composed of a short range of organic cosmetics formulated with the principle of layering in mind: a cleansing oil, a gel cleanser, a mist and a face oil.
Just what it takes to make your skin radiant and beautiful. With complex formulations created by nature, those luxurious organic facial treatments combine naturalness and effectiveness: there are up to 25 active ingredients for the face oil!
The MAWENA experience begins with the packaging that opens up like water lilies and reveals the faces of Maya women without whom the brand could not have been created.The products have also ultra-sensory smells and textures for a moment of pleasure and relaxation.
All MAWENA products are vegan and without synthetic dyes, artificial preservatives, parabens, mineral oils, triclosan, EDTA,
palm oils, PEG, phthalates, GMO, alcohol, gluten, perfume...
(DE) Mawena nutzt Schönheitsrituale und Inhaltsstoffe der Maya-Frauen wie die Mimosa tenuiflora-Rinde: ein starker Wirkstoff, der für seine entzündungshemmenden, beruhigenden, schützenden, feuchtigkeitsspendenden und antioxidativen Eigenschaften bekannt ist. Nicht nur die Formeln und Verpackungen sind aussergewöhnlich, auch die Marke ist bestrebt, einen positiven Effekt zu erzielen, indem sie 2 € für jeden Kauf ihres Produkts an die Maya-Kooperative spendet, die die Zutaten liefert. Mawena sind auch ECOCERT, vegan und cruelty free.
MAWENA besteht aus einer Reihe von Bio-Kosmetika, die mit dem Prinzip der Schichtenbildung formuliert sind: ein Reinigungsöl, ein Reinigungsgel, ein Spray und ein Gesichtsöl. Genau das Richtige, um Ihre Haut strahlend und schön zu machen. Mit komplexen, von der Natur kreierten Formeln verbinden diese luxuriösen biologischen Gesichtsbehandlungen Natürlichkeit und Wirksamkeit: Es gibt bis zu 25 Inhaltsstoffe für das Gesichtsöl!
Das MAWENA-Erlebnis beginnt mit der Verpackung, die sich wie Seerosen öffnet und die Gesichter von Maya-Frauen enthüllt,
ohne die die Marke nicht existieren würde, und mit ultra-sensorischen Düften und Texturen für einen Moment des Genusses und der Entspannung.
Alle MAWENA-Produkte sind vegan und ohne synthetische Farbstoffe, künstliche Konservierungsmittel, Parabene, Mineralöle, Triclosan, EDTA, Palmöle, PEG, Phthalate, GMO, Alkohol, Gluten, Parfüm.....