Awesome Tapes from Africa Professor Rhythm Prof.3 LP
Niedriger Bestand
SKU
ATFA32.PROFESSOR.RHYTHM.PROF.3

"If you could imagine living in a time where you were barred from doing much, the only way one could unite masses without the government thinking a group of Africans was up to no good was to celebrate in dance and music via discos and music festivals… and shoo did we pull a crowd!"

Professor Rhythm's 1991 recording Professor 3 is a vivid reflection of urban South Africa as apartheid was ending. Thami Mdluli's production project had young and old dancing to a sound that sought to unite Blacks within Southern Africa. The late 1970's and 80's had been trying times for people of color. Thammi says, "During these times, we as a country were experiencing apartheid segregation, very much similar to the segregation in the States. We couldn't express ourselves how we really felt; it was a matter of being creative with your lyrics. It really wasn't like today where you could say what you wanted to say provided it was radio-ready. In our times, we had to really watch what we put out there, as we were in fear of being jailed or not having our music played at all if we stepped onto the government's toes. If you were a musician in these times, one had to be a master of words as politics was force-fed unto us. Our music gave hope to the hopeless."

Mdluli's third instrumental album (which contains some background vocals, to be exact), portrays the moment when the dominant mbaqanga and American R&B-based bubblegum sounds being produced in Johannesburg and other urban centers were transforming into house and hip-hop-inspired kwaito. The pop of the 80's and all that went with it—from the models of synths and drum machines to the lyrical style—gave way to a changing melodic emphasis and new, much slower tempi using a completely different rhythmic skeleton. Upbeat, chipper bubblegum, often with double-time breakdowns and upstroke syncopations, faded and the sounds began to more closely resemble those of contemporary Black America—where hip-hop was slowing down and the bass-lines and melodies were getting moodier, darker in general. At the same time house music had briefly reached mainstream acceptance in the States and that popularity continued to feed into awareness overseas. These two influences blended with the burgeoning house music scenes in Johannesburg and Pretoria as Professor Rhythm 3 was being produced in March 1991 (the same year apartheid ended). Mdluli explains, "We were Influenced by foreign bands and so people updated their sound."

According to Mdluli, the evolving sound was bolstered by widening availability of house and rap records from abroad while, most importantly, an increasing sense that apartheid might soon be finished was met with a new positivity vibe society. "1991, '92, '93… Mandela was released. People were upbeat, they were happy, the music was good."

Professor 3 came out on vinyl as the LP business was dying in South Africa and sold around 20,000 copies. It was mainly distributed on tape, which sold closer to 100,000. With the help of engineer Fab Rosso, the recording features backing vocalists from Mango Groove.

This wasn't Mdluli's first success in music. He had been a known quantity in the industry for many years prior to making Professor Rhythm records, starting in the late 80's. Early in his career he was part of the Hot Soul Singers, who recorded a handful of 7" singles and opened for the O'Jays during their tour of South Africa in 1981. On various shows where international names like Two Tons O' Fun, Gene Chandler ("Duke of Earl") and Clarence Carter, were performing in South Africa, Mdluli and his crew were the curtain raisers for the packed shows.

The early career experience and burgeoning producing skills gleaned from his work with the Hot Soul Singers proved crucial. The group split and formed the new band called Sound Bust, working as a studio band for Ali Katt and Benjamin Ball's disco-reggae album, Flash A Flashlight. Other group's followed for Thami – including stints with the legendary CJB and Taboo, both of which provided the young musician with a real flair and taste for mbaqanga township pop music. By the mid-80's, he was working behind-the-scenes on albums for CJB as well as the group Sox whose 1988 album Don't Call Me sold more than 200,000 copies.

In the late 80's Mdluli moved from Eric Frisch Productions (where he had worked as a producer for a few years) to Tusk Records where he enjoyed a stunning rise in his career—a career which included a solo, township instrumental pop album of his own under the name Professor Rhythm. After making a half-dozen records as Professor Rhythm, Mdluli once again shifted his focus musically. By the mid-90's he had veered off gospel music—and left playing in bands and started making his own solo recordings. His enormous success in the gospel realm in the years since is a remarkable story in its own right, but for now we are only dancing.
Brand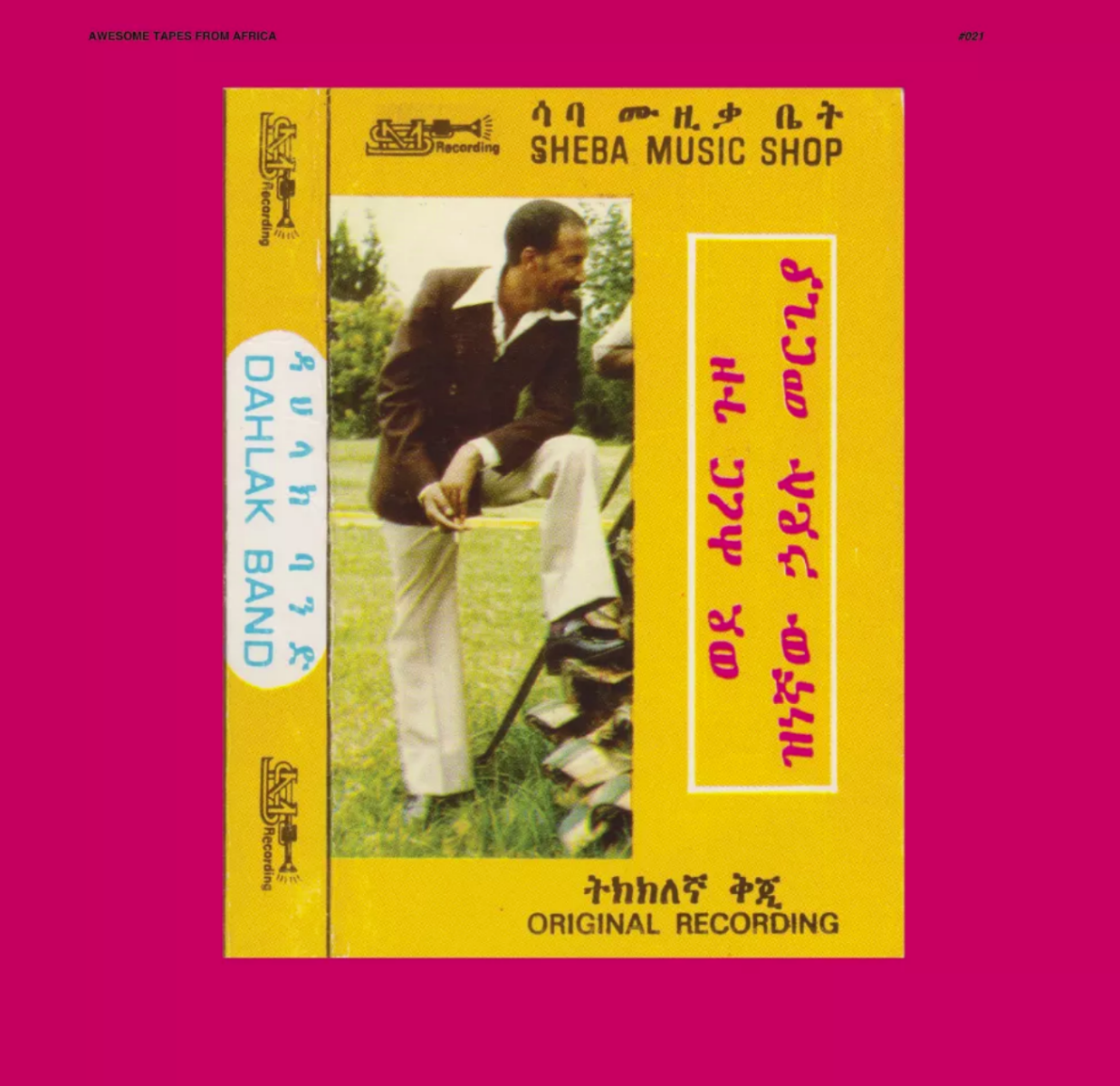 Awesome Tapes from Africa
Awesome Tapes From Africa is a record label and web site operated by Brian Shimkovitz.
The site was founded in 2006 in Brooklyn, New York.
The site was created as a way for Shimkovitz to share music he had come across while on a scholarship in Ghana.
He was interested in the variety of genres and artists he found, distributed largely on cassette tapes at markets, but that he had not come across outside West Africa.
In 2011 he transitioned the site from just a blog with posted recordings of collected tapes posted without the artists' permission to a commercial record label.
The goal of the company is to seed and expand an audience for the artists presented as well as provide opportunities to sell albums and tour.
Artists are paid every six months and receive 50% of the profits from an album.
Tapes presented on Awesome Tapes come from a variety of sources: gathered in Ghanaian street markets, purchased in stores in the US, or sent by others over the internet.
In addition to the website, Shimkovitz DJ's concerts, clubs and at festivals as Awesome Tapes From Africa, as well as hosts a show on Dublab.
Most Awesome Tapes From Africa releases are official rereleases of out-of-print cassettes from African musicians and bands.
SK Kakraba's Songs of Paapieye is the first album to consist of a new release. Although music is distributed in Africa via MP3 on mobile phones, Shimkovitz says the widest variety of music in West Africa is still available on cassette tape.
In the journal Public Culture, Awesome Tapes From Africa, along with record labels Sublime Frequencies and Parallel World, is discussed as being emblematic of "World Music 2.0" for combining the "open source ethics of online networks with long-standing countercultural networks of circulation" within cassette culture and music distribution in developing nations.