Soeder Natural Lubricant 100ml
---
Organic
Sustainable
Plastic free
Vegan
Local
Made in Europe
Fair
Small Producer
Natural, water-based and bio-degradable Lubricant made of only natural ingredients. Holy thistle takes on the performance effect of silicone in our natural formulation. Essential oils from tea-tree, lavender and thyme naturally preserve the product, and natural acids ensure a high skin-tolerance and provide an antibacterial effect. The PH-value of the product is adjusted to the PH-value of the vagina. Means, apart from ensuring lot's of natural fun our lube also reduces the risks of a fungal, bacterial or viral infection.

Thanks to the essential oils and the natural formulation, this natural lubricant does not only have a very nice scent but its edible and has a really good taste.
Safety indication on Thyme:
The medicinal use of Thyme should be paused overall during pregnancy. Therefore we advise not to use our natural lubricant during the time of pregnancy. Thyme is known for a stimulating effect on the inner female genital organs and specially known for its stimulating effects on the womb.
Gleitmittel auf Wasserbasis, aus rein pflanzlichen Bestandteilen (vegan) und biologisch abbaubar. Mariendistel übernimmt in der Rezeptur den Performance-Effekt von Silikon, während ätherische Öle aus Teebaum, Lavendel und Thymian das Gleitmittel haltbar machen. Natürliche Säuren sorgen für eine hautverträgliche und antibakterielle Wirkung sowie einen pH-Wert, der demjenigen der Vagina entspricht. Doch egal in welcher Position, die Möglichkeit einer Pilz-, Bakterien- oder Virusinfektion wird ebenfalls reduziert.
Dank der ätherischen Öle riecht das Gleitmittel zudem nicht nur anregend, es schmeckt auch.

SICHERHEITSHINWEIS THYMIAN:
Während einer Schwangerschaft sollte die medizinische Verwendung von Thymian gänzlich ausgelassen werden. Thymian wird eine stimulierende Eigenschaft auf die inneren weiblichen Geschlechtsorgane nachgesagt, insbesondere auf die Gebärmutter. Wir empfehlen deshalb, dieses Produkt während der Schwangerschaft nicht zu nutzen.
Brand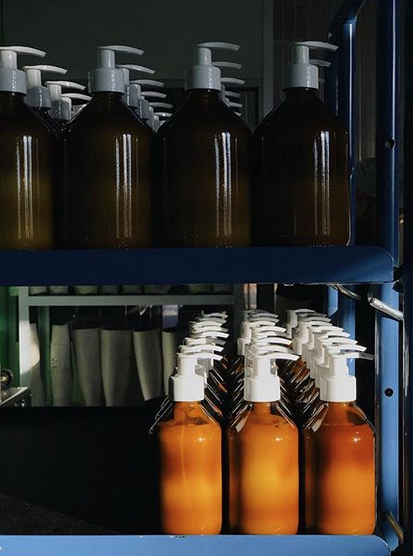 Soeder
Hinter Soeder* steckt ein kreatives Kollektiv, das eine sehr ähnliche Auffassung von Ästhetik und Ideologie der Nachhaltigkeit verbindet. Ihnen ist wichtig, welche Produkte sie selbst verwenden und erst recht, welche sie in ihren Läden sowie online verkaufen. Sie wollen zeitgemässe Entwürfe, die durch hohe Qualität, schlichtes Design und einfache Funktionalität unser Leben möglichst lange bereichern.
Da wir diese Ansicht mit dem Team von Soeder* teilen, freuen wir uns, ihr neues Steckenpferd, nämlich die in Zürich hergestellte Naturseife, bei uns im Sortiment zu führen.

Im Sinne unserer gängigen Produktionsweisen werden für die Seife nur biologische Bestandteile verwendet. So kommen ätherische Öle, destilliertes Wasser und Meersalz zum Einsatz, wobei Letzteres der Seife eine antibakterielle Wirkung verleiht. Die Seife besteht zu einem grossen Teil aus Glyzerin, was sie besonders feuchtigkeitsspendend macht. Für angenehme Pflege sorgen nachhaltiges Palmöl sowie natürliche Öle aus Kokos, Rizinus, Hanf, Olive und Jojoba. Honig aus dem Zürcher Oberland sowie Bio-Weizen werden für ihre regenerierende Wirkung beigefügt. Alle Inhaltsstoffe stammen aus kontrolliertem Anbau und sind Bio-zertifiziert.

Mehr zu Soeder Seifen HIER

Soeder* is a creative collective that shares a common sense for aesthetics and ecological ideology. "We care a lot about the products we buy and even more about the ones we sell at our stores and online. We're looking for contemporary design made from the best resources and items that are easily usable as well as long lasting. That's why we offer selected basics for everyday use and created inspiring places in Zurich's Kreis 4 and at Spalenberg in Basel where they are available. An increasing number of our products we design and produce ourselves. They are manufactured in Switzerland and all of Europe, by craftsmen that are among the best in their respective fields. That's why we enjoy working closely with them."