Soeder Natural Face Cream Swiss Alpine Herbs Special Edition
Niedriger Bestand
SKU
FACE.CREAM.SWISS.ALPINE.HERBS
Labels
Fair
Sustainable
Organic
Plastic free
Vegan
Local
Made in Europe
Small Producer

For the sensitive facial-skin we've developed a very light natural serum to bring it back to life after a long-haul flight. Natural stem-cells from raspberries, olive based Squalene and various herbal extracts provide a moisturizing, cooling, refreshing and relaxing anti aging effect. The serum diminishes very quickly and leaves the skin with a soft and non-greasy touch.
* 100ml
* 100% natural ingredients
* developed by Soeder
* produced by Soeder in Zurich, CH
Natürliche Stammzellen von Himbeeren, Oliven-basiertes Squalan sowie natürliche Kräuterextrakte sind nicht nur belebend, sondern wirken auch gegen Alterungserscheinungen der Haut. Das Serum dringt schnell in die Haut ein und wirkt feuchtigkeitsspendend, ohne zu fetten. Durch natürliche ätherische Öle weckt ihr Duft die Erinnerung an Schweizer Alpen.
* 100ml
* 100% plant based ingredients (vegan)
* developed by Soeder
* produced by Soeder in Zurich, CH
Brand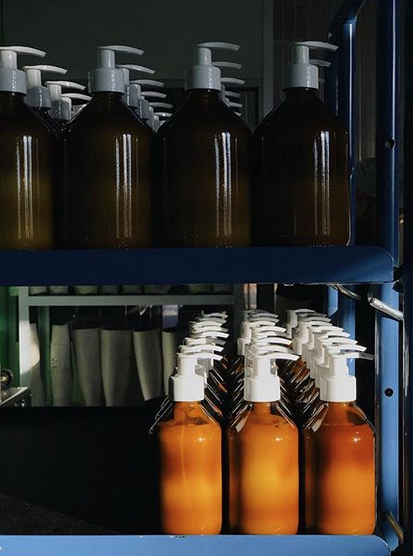 Soeder
Hinter Soeder* steckt ein kreatives Kollektiv, das eine sehr ähnliche Auffassung von Ästhetik und Ideologie der Nachhaltigkeit verbindet. Ihnen ist wichtig, welche Produkte sie selbst verwenden und erst recht, welche sie in ihren Läden sowie online verkaufen. Sie wollen zeitgemässe Entwürfe, die durch hohe Qualität, schlichtes Design und einfache Funktionalität unser Leben möglichst lange bereichern.
Da wir diese Ansicht mit dem Team von Soeder* teilen, freuen wir uns, ihr neues Steckenpferd, nämlich die in Zürich hergestellte Naturseife, bei uns im Sortiment zu führen.

Im Sinne unserer gängigen Produktionsweisen werden für die Seife nur biologische Bestandteile verwendet. So kommen ätherische Öle, destilliertes Wasser und Meersalz zum Einsatz, wobei Letzteres der Seife eine antibakterielle Wirkung verleiht. Die Seife besteht zu einem grossen Teil aus Glyzerin, was sie besonders feuchtigkeitsspendend macht. Für angenehme Pflege sorgen nachhaltiges Palmöl sowie natürliche Öle aus Kokos, Rizinus, Hanf, Olive und Jojoba. Honig aus dem Zürcher Oberland sowie Bio-Weizen werden für ihre regenerierende Wirkung beigefügt. Alle Inhaltsstoffe stammen aus kontrolliertem Anbau und sind Bio-zertifiziert.

Mehr zu Soeder Seifen HIER

Soeder* is a creative collective that shares a common sense for aesthetics and ecological ideology. "We care a lot about the products we buy and even more about the ones we sell at our stores and online. We're looking for contemporary design made from the best resources and items that are easily usable as well as long lasting. That's why we offer selected basics for everyday use and created inspiring places in Zurich's Kreis 4 and at Spalenberg in Basel where they are available. An increasing number of our products we design and produce ourselves. They are manufactured in Switzerland and all of Europe, by craftsmen that are among the best in their respective fields. That's why we enjoy working closely with them."