Sardines In Extra Virgin Olive Oil
SKU
SARDINE.HUILE.OLIVE.VIERGE.EXT

Das beste Heilmittel gegen Kater ist eingelegter Fisch.
Take Away Porto ist genau das: eine Reihe von eingelegten Fischen aus Portugal - Thon, Sardinen, Pulpo oder Trout. Schmecken vorzüglich, sind hilfreich und stecken in einer wunderbar illustrierten Verpackung. Aus nachhaltiger Fischerei.
Sardines in Olivenöl Extra Vergine:
Illustration: Bernardo Carvalho
Zutaten: Sardinen, Olivenöl Extra Vergine, Salz
The sardines strolled along the atlantic coast, caressing, up shore, down shore. And, from laughing, stretching, shaking and wriggling so much…the coast became as we know it to be today.
Brand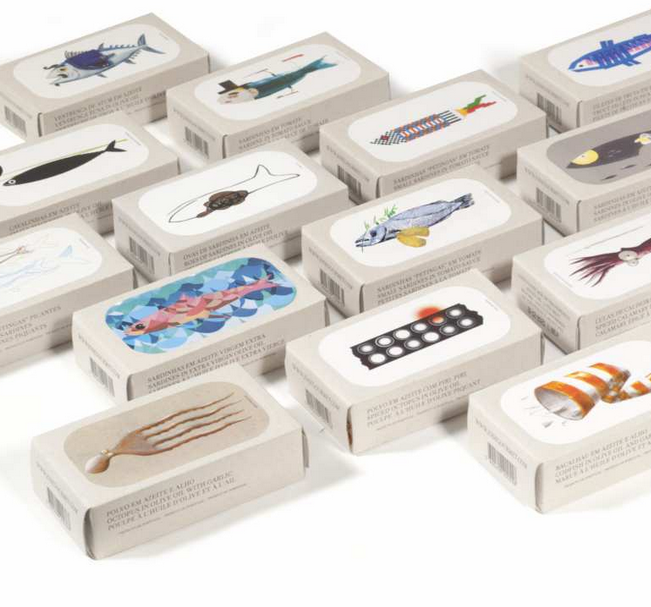 José Gourmet
Unter dem Label José Gourmet versammeln sich allerlei Portugiesische Delikatessen.
Das Team von José Gourmet arbeitet mit kleinen Produzenten aus Portugal zusammen und verkauft deren Produkte liebevoll verpackt in die ganze Welt. Ziel ist es, die Leckerbissen Portugals bekannter zu machen und das lokale Gewerbe zu unterstützen. Bei den Büchsenfischen handelt sich also um keine Fischschlepper-Ware, der Fisch wurde allesamt von regionalen kleinen Fischern gefangen. Und schmecken tun die Fische auch!