Danner Boots - Men's Mountain Light Cascade Clovis
SKU
31528.MOUNTAIN.LIGHT_Braun
Ask a seasoned backpacker what the ideal hiking boot looks like,
and you're bound to hear a description of the Mountain Light. That's because for over 30 years,
the Mountain Light set the standard for every new product that hit the market.
And in all that time, nothing ever dethroned the original.
Today, they're proud to re-introduce this classic boot.
Every single pair is built by hand in Portland, Oregon with full-grain leather, Vibram Kletterlift outsoles, and waterproof GORE-TEX liners.
The result is a classic design that provides unmatched comfort and support.
Second lace option included with the boot is in flat red.

Fragen Sie einen erfahrenen Backpacker, wie der ideale Wanderschuh aussieht,
und Sie werden sicherlich eine Beschreibung des Mountain Light hören.
Denn seit über 30 Jahren setzt die Mountain Light den Standard für jedes neue Produkt,
das auf den Markt kommt. Und in dieser ganzen Zeit hat nichts das Original entthront.
Heute sind sie stolz darauf, diesen klassischen Stiefel wieder einzuführen.
Jedes einzelne Paar wird in Portland, Oregon, von Hand mit Vollnarbenleder, Vibram Kletterlift-Laufsohlen und wasserdichten GORE-TEX-Liner gefertigt.
Das Ergebnis ist ein klassisches Design, das unvergleichlichen Komfort und Halt bietet.
Die zweite Schnür-Option, die im Lieferumfang des Stiefels enthalten ist, ist in Flachrot gehalten.
Brand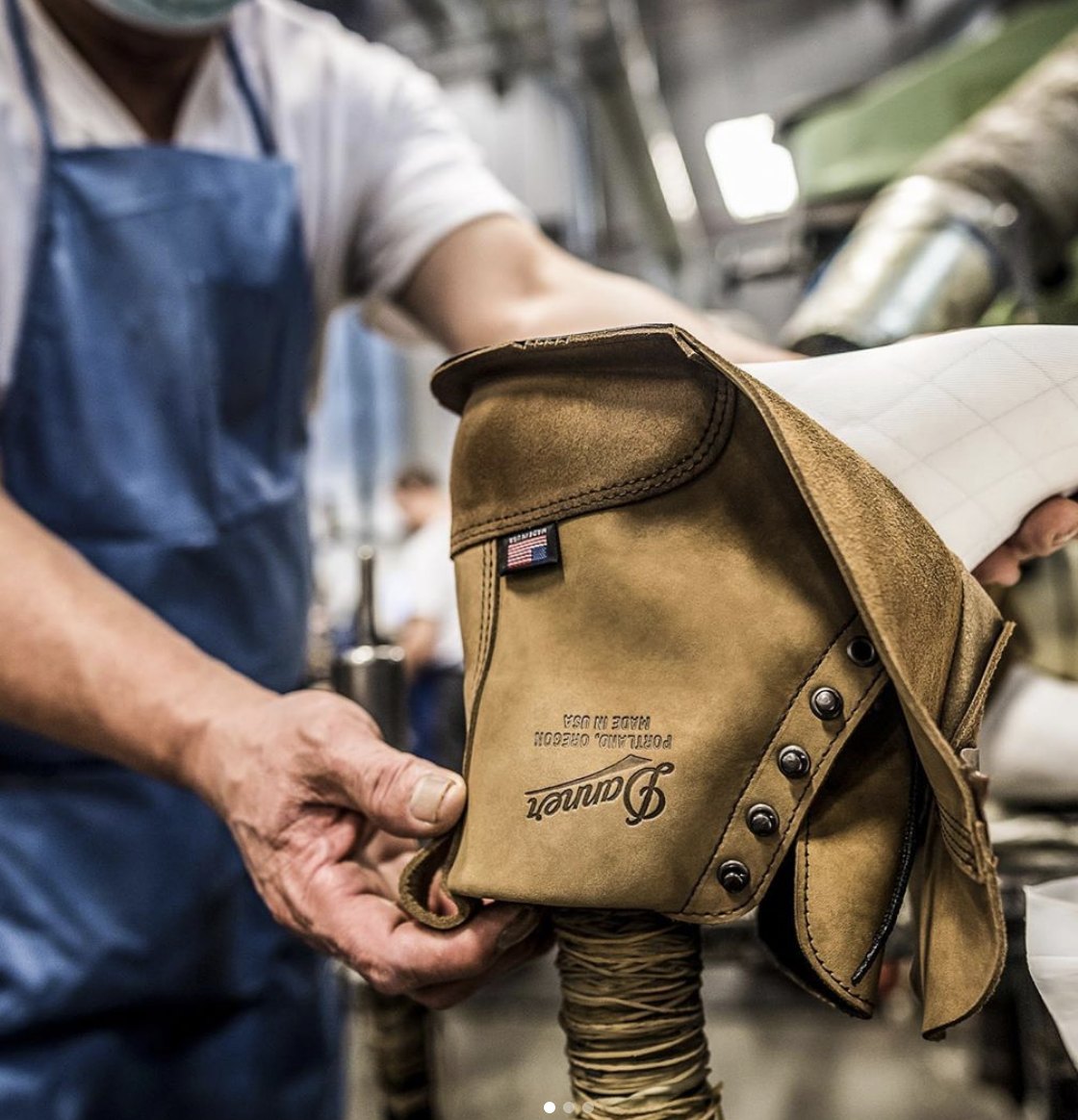 Danner boots
(EN) For nearly a century, Danner has crafted boots with purpose and integrity - footwear to equip those who choose the unlikely path, those who cut fresh trails, those who pioneer.

Charles Danner came west to build the best boots loggers had ever known, an effort that resulted in a long-standing heritage brand with a renegade spirit. A spirit that proudly lives on in each pair of Danner boots we make to this day. Charles Danner felt the pull to the wild of the Pacific Northwest, drawn by the promise of opportunity in the rugged unknown. He came with a commitment to quality craftsmanship and a deep respect for the uncompromising landscape.

From the gleaming alpine lakes and the plummeting river gorges, to the thick forests and the sweeping coastlines, Danner boots are of this place. To this day, the commitment to superior craftsmanship remains unchanged. Danner continues to craft high quality boots, using the best possible materials we can find, to create a product built to last.


(DE) Seit fast einem Jahrhundert fertigt Danner Stiefel mit Zweck und Integrität an - Schuhe, um diejenigen auszurüsten, die den unwahrscheinlichen Weg wählen, die neue Wege gehen, die Pioniere.
Charles Danner kam in den Westen, um die besten Stiefel zu bauen, die die Holzfäller je gekannt haben, eine Bemühung, die zu einer langjährigen Traditionsmarke mit abtrünnigem Geist führte. Ein Geist, der in jedem Paar Danner-Stiefel, das sie heute herstellen, mit Stolz weiterlebt. Charles Danner fühlte den Sog der Wildnis des pazifischen Nordwestens, angezogen von dem Versprechen, im rauen Unbekannten Möglichkeiten zu finden. Er kam mit einem Engagement für hochwertige Handwerkskunst und einem tiefen Respekt vor der kompromisslosen Landschaft.
Von den schimmernden Alpenseen und den herabstürzenden Flussschluchten bis hin zu den dichten Wäldern und den weitläufigen Küstenlinien sind Danner-Stiefel von diesem Ort. Bis heute ist unser Engagement für höchste Handwerkskunst unverändert. Sie stellen weiterhin hochwertige Stiefel her und verwenden die bestmöglichen Materialien, die wir finden können, um ein Produkt zu schaffen, das für eine lange Lebensdauer ausgelegt ist.