Macon & Lesquoy Hand-Embroidered Lobster Brooch
SKU
BB01GHR.ORANGE.LOBSTER_Orange

Hand-embroidered "LOBSTER" Brooch -That one will pluck your heart!
Inevitable: our small hand-embroidered cannetille pins take inspiration from the precision and quality of military embroideries. A small but precious object, chic, fun, off-the-wall, sometimes colored or articulated... Treat yourself!
size approximately Size : 58mm x 44mm
Item packed to unit on a little black card box.
Attention: hand-embroidery is fragile. Do not put in the washing machine, do not wash.
Macon & Lesquoy
Wenn die Tochter eines Antiquitätenhändlers die Tochter eines Astrophysikers trifft, dann erzählen sie sich Geschichten über Geschichten und das Schicksal von Macon & Lesquoy nimmt seinen Lauf.
So zusammenfassen könnte man die Geschichte von Marie Macon und Anne-Laure Lesquoy und ihrem gemeinsamen Label.

Jede Saison entsteht eine neue Kollektion wunderbarer Broschen, Patches und Pins.
Die Sujets werden von den beiden Frauen gezeichnet und in einem Handwerksbetrieb in Pakistan gefertigt.

"A touch of humor and luxury for the young girls, handsome boys, gorgeous mums and old dandies around the world who always
enjoy a good laugh!"
Brand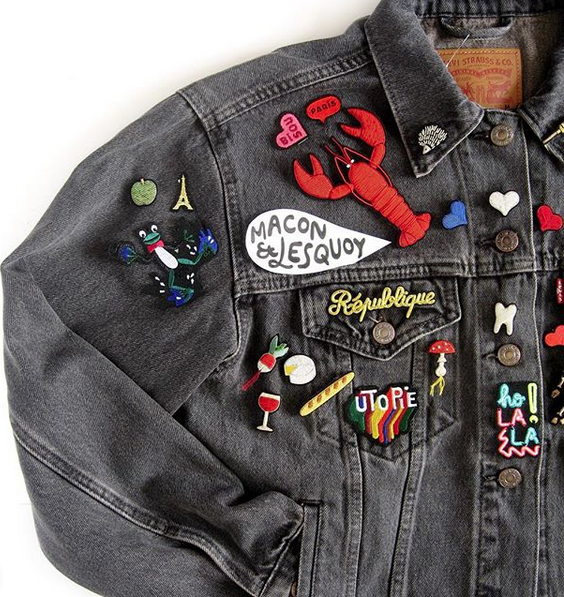 Macon & Lesquoy
Wenn die Tochter eines Antiquitätenhändlers die Tochter eines Astrophysikers trifft, dann erzählen sie sich Geschichten über Geschichten und das Schicksal von Macon & Lesquoy nimmt seinen Lauf.
So zusammenfassen könnte man die Geschichte von Marie Macon und Anne-Laure Lesquoy und ihrem gemeinsamen Label.

Jede Saison entsteht eine neue Kollektion wunderbarer Broschen, Patches und Pins.
Die Sujets werden von den beiden Frauen gezeichnet und in einem Handwerksbetrieb in Pakistan gefertigt.

"A touch of humor and luxury for the young girls, handsome boys, gorgeous mums and old dandies around the world who always
enjoy a good laugh!"