Mawena - Rose Papaya- Gel-Balm Glowing Cleanser
SKU
ROSE.PAPAYA.GEL.NETTOYANT.ILLU
This 100% natural gel balm from Mawena illuminates and cleanses the skin daily. The ingredients form a delicious gel texture:
Papaya, mango and pomegranate acids:
To form a new skin, these natural fruit acids have a "peeling" effect by acting on cell renewal. They help to smooth and balance the skin structure and lighten the complexion.
Aloe Vera:
Aloe Vera moisturizes, softens, protects and nourishes the skin in its depth and balances its pH. Astringent (tightens the pores of the skin), it is also rich in vitamins, amino acids and minerals with anti-inflammatory and soothing moisturising properties.
Moringa oil:
Moringa oil, highly appreciated by Ayurvedic medicine, nourishes, smoothes and revitalizes mature skin (vitamin E, antioxidant and free radicals), fragile or very dry skin exposed to scaling or itching (vitamin A, unsaturated fatty acids).
Tepezcohuite:
Tepezcohuite powder, also known as the "Mayan miracle plant", has antibacterial, antifungal and astringent properties that tighten pores and make the skin plump. Thanks to its ability to capture free radicals, it can also act on certain enzymes responsible for skin aging.
Content: 100ml

Dieser 100% natürliche Gel-Balsam von Mawena und reinigt die Haut täglich und bringt sie zum Strahlen. Die Zutaten bilden eine köstliche Geltextur:
Papaya-, Mango- und Granatapfelsäuren:
Um eine neue Haut zu bilden, haben diese natürlichen Fruchtsäuren eine "Peeling"-Wirkung, indem sie auf die Zellerneuerung wirken. Sie helfen, die Hautstruktur zu glätten, auszugleichen und den Teint aufzuhellen.
Aloe Vera:
Aloe Vera spendet Feuchtigkeit, macht sie weich, schützt und pflegt die Haut in ihrer Tiefe und gleicht ihren pH-Wert wieder aus. Adstringierend (strafft die Poren der Haut), ist sie auch reich an Vitaminen, Aminosäuren und Mineralien mit entzündungshemmender und lindernder Feuchtigkeitswirkung.
Moringa-Öl:
Das von der ayurvedischen Medizin hochgeschätzte Moringaöl nährt, glättet und revitalisiert reife Haut (Vitamin E, Antioxidans und freie Radikale), zerbrechliche oder sehr trockene Haut, die Schuppung oder Juckreiz ausgesetzt ist (Vitamin A, ungesättigte Fettsäuren).
Tepezcohuite:
Tepezcohuitpulver, auch bekannt als "Maya-Wunderpflanze", hat antibakterielle, antimykotische und adstringierende Eigenschaften, die die Poren straffen und die Haut prall machen. Dank seiner Fähigkeit, freie Radikale einzufangen, kann es auch auf bestimmte Enzyme einwirken, die für die Hautalterung verantwortlich sind.
Inhalt: 100ml
Brand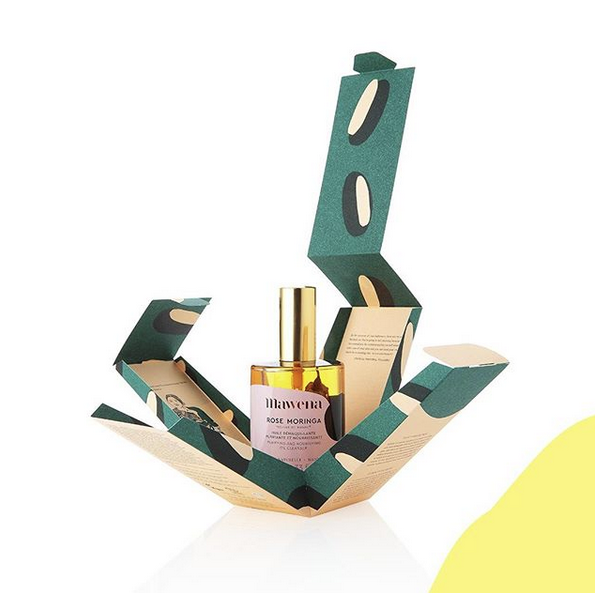 Mawena
(EN) Mawena uses Mayan women's beauty rituals and ingredients such as mimosa tenuiflora bark, a powerful ingredient known for its anti-inflammatory, soothing, protective, moisturizing and antioxidant properties. As well as the amazing formulas and packaging, the brand also strives to achieve a positive effect by donating €2 for every purchase of its product to the Maya Cooperative, which supplies the ingredients, they are also ECOCERT, vegan and cruelty free.
MAWENA is composed of a short range of organic cosmetics formulated with the principle of layering in mind: a cleansing oil, a gel cleanser, a mist and a face oil.
Just what it takes to make your skin radiant and beautiful. With complex formulations created by nature, those luxurious organic facial treatments combine naturalness and effectiveness: there are up to 25 active ingredients for the face oil!
The MAWENA experience begins with the packaging that opens up like water lilies and reveals the faces of Maya women without whom the brand could not have been created.The products have also ultra-sensory smells and textures for a moment of pleasure and relaxation.
All MAWENA products are vegan and without synthetic dyes, artificial preservatives, parabens, mineral oils, triclosan, EDTA,
palm oils, PEG, phthalates, GMO, alcohol, gluten, perfume...
(DE) Mawena nutzt Schönheitsrituale und Inhaltsstoffe der Maya-Frauen wie die Mimosa tenuiflora-Rinde: ein starker Wirkstoff, der für seine entzündungshemmenden, beruhigenden, schützenden, feuchtigkeitsspendenden und antioxidativen Eigenschaften bekannt ist. Nicht nur die Formeln und Verpackungen sind aussergewöhnlich, auch die Marke ist bestrebt, einen positiven Effekt zu erzielen, indem sie 2 € für jeden Kauf ihres Produkts an die Maya-Kooperative spendet, die die Zutaten liefert. Mawena sind auch ECOCERT, vegan und cruelty free.
MAWENA besteht aus einer Reihe von Bio-Kosmetika, die mit dem Prinzip der Schichtenbildung formuliert sind: ein Reinigungsöl, ein Reinigungsgel, ein Spray und ein Gesichtsöl. Genau das Richtige, um Ihre Haut strahlend und schön zu machen. Mit komplexen, von der Natur kreierten Formeln verbinden diese luxuriösen biologischen Gesichtsbehandlungen Natürlichkeit und Wirksamkeit: Es gibt bis zu 25 Inhaltsstoffe für das Gesichtsöl!
Das MAWENA-Erlebnis beginnt mit der Verpackung, die sich wie Seerosen öffnet und die Gesichter von Maya-Frauen enthüllt,
ohne die die Marke nicht existieren würde, und mit ultra-sensorischen Düften und Texturen für einen Moment des Genusses und der Entspannung.
Alle MAWENA-Produkte sind vegan und ohne synthetische Farbstoffe, künstliche Konservierungsmittel, Parabene, Mineralöle, Triclosan, EDTA, Palmöle, PEG, Phthalate, GMO, Alkohol, Gluten, Parfüm.....