Maison Cisson - 100% Knitted "Le Grand Tradition" Sausage
---
Made in Europe
Small Producer
Aprox. 40 cm
Knitted sausage in beige and white wool, elastic white cotton food net,
linen food string, metal clips with Polyester filling.
Gestrickte Wurst aus beiger und weißer Wolle, elastisches Futternetz aus weißer Baumwolle,
Futterschnur aus Leinen, Metallclips mit Polyesterfüllung.
The one and only Grand Tradition
is the saucisson to top all saucissons.
Look how majestic it is, like an
award-winning animal at an agricultural show.
Imagine the reaction you'll get as you hang it in your
kitchen alongside a red and white gingham tea towel,
or even a crisp white linen one. It's sure to turn a few heads,
making for a rather spectacular kitchen decoration.
From afar, it looks like the real deal
with its colourful label featuring a laurel wreath crown
– the symbol of French gastronomic excellence.
This saucission truly represents the whole charcuterie family,
making the Grand Tradition the saucisson
of choice for charcuterie lovers!

Die eine und einzige Große Tradition
ist die Saucisson, die alle Saucissons übertrifft.
Sehen Sie, wie majestätisch sie ist, wie eine
preisgekröntes Tier auf einer Landwirtschaftsausstellung.
Stellen Sie sich die Reaktion vor, die Sie erhalten werden, wenn Sie es in Ihre
Küche neben einem rot-weißen Gingham-Geschirrtuch,
oder sogar eine aus strahlend weißem Leinen. Das wird sicher einige Köpfe verdrehen,
die für eine ziemlich spektakuläre Küchendekoration sorgen.
Aus der Ferne sieht es aus wie das echte
mit seinem bunten Etikett mit einer Lorbeerkranzkrone
- das Symbol der französischen gastronomischen Exzellenz.
Diese Sauce repräsentiert wahrhaftig die gesamte Charcuterie-Familie,
die Große Tradition zur Saucisson machen
der Wahl für Charcuterie-Liebhaber!
Brand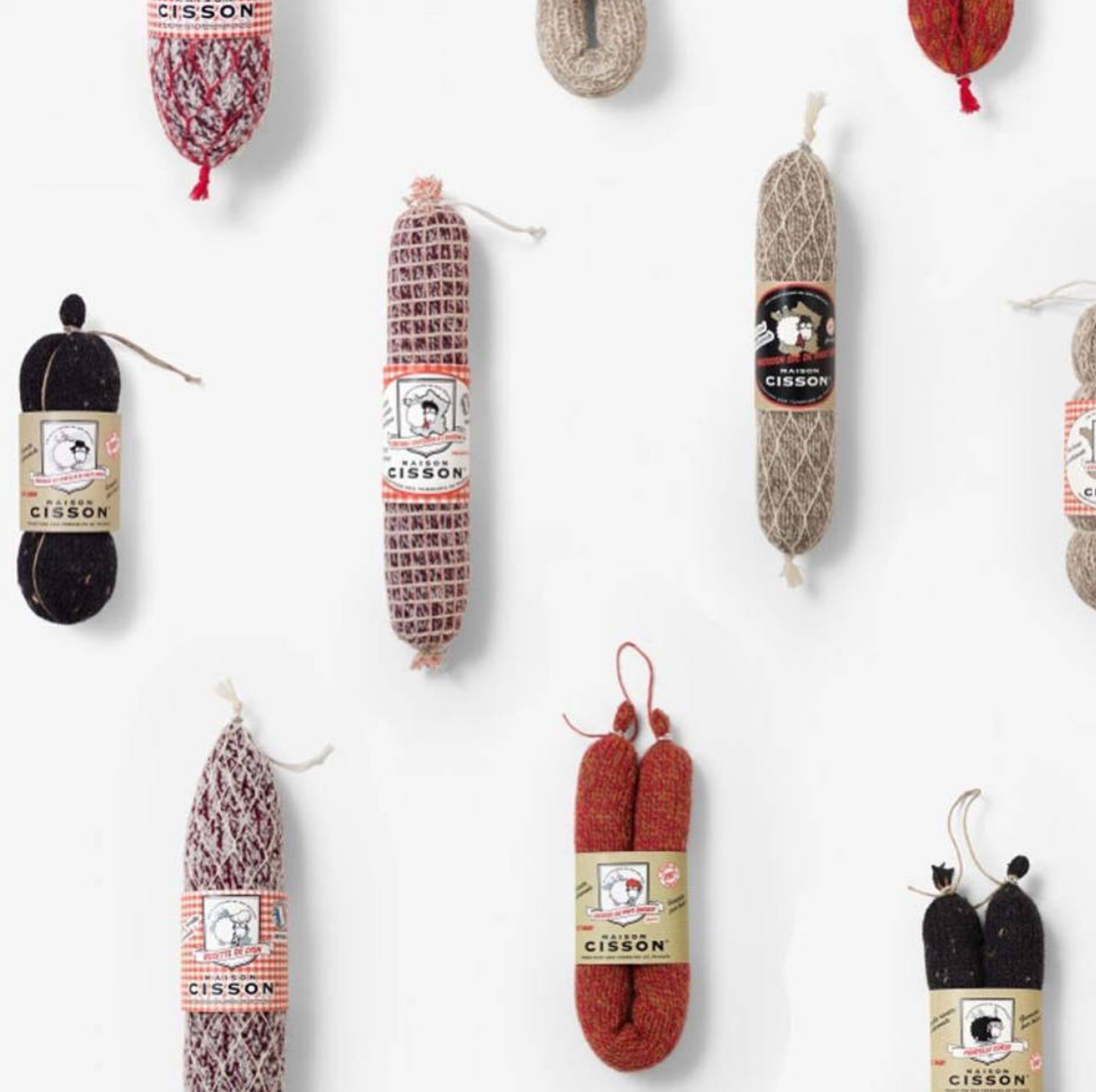 Maison Cisson
(EN) There are some things that simply do not make sense. For example knitted sausages in all variations. Nevertheless we could not resist. Too cool she is this charcuterie francaise !
Maison Cisson's aim is to make sausages so real that the illusion is preserved when you hang them on the walls. To create such small masterpieces, you have to be very careful when choosing wool, nets, ropes, clips and strings.
At Maison Cisson, they want to be faithful to their wonderful country, the production and woollen goods 100% French. Honestly, what would it look like to have French sausages made, even knitted, in a faraway country?
(DE) Es gibt Dinge die machen einfach keinen Sinn. Zum Bespiel gestrickte Würste in allen Varianten. Wir konnten trotzdem nicht Wiederstehen. Zu cool ist sie diese charcuterie francaise !
Maison Cissons Ziel ist es, Würstchen so echt zu machen, dass die Illusion erhalten bleibt, wenn man sie an die Wände hängt. Um solch kleine Meisterwerke zu erstellen, muss man bei der Auswahl von Wolle, Netzen, Seilen, Clips und Schnüren sehr vorsichtig sein.
Bei Maison Cisson wollen sie ihrem wunderbaren Land treu sein, die Herstellung und Wollwaren 100% französisch. Ehrlich gesagt, wie würde es aussehen, wenn man französische Würste in einem fernen Land herstellen, ja sogar stricken ließe?