Maison Cisson - 100% Knitted "Le Figatellu corse" Sausage
---
Made in Europe
Small Producer
Approx. (folded): 20 cm
Knitted sausage in black mottled wool,
hand-tied with natural linen foodstuff string, metal clips.
Polyester filling.
Gestrickte Wurst aus schwarz melierter Wolle,
handgeknüpft mit Naturleinen-Lebensmittelschnur, Metallklammern.
Füllung aus Polyester.
Figatellu is Corsican... so it is a sausage with its own character
and you have to let it mature quietly, without bothering it, otherwise it gets angry.
Have a look at the sleepy sheep on the label and you will understand.
The knitted figatellu from Maison Cisson, in its beautiful black mottled wool, is the same,
its purpose is to take a nap hanging from a pretty hook in your kitchen,
with a beautiful linen tea towel as a companion.
If you try to attack it with a knife for example... well, you have been warned.
***
Figatellu ist korsisch... es ist also eine Wurst mit eigenem Charakter
und man muss sie in Ruhe reifen lassen, ohne sie zu stören, sonst wird sie sauer.
Schauen Sie sich das verschlafene Schaf auf dem Etikett an und Sie werden es verstehen.
Das gestrickte Figatellu von Maison Cisson, in seiner schönen schwarz gesprenkelten Wolle, ist das gleiche,
sein Zweck ist es, an einem hübschen Haken hängend in Ihrer Küche ein Nickerchen zu machen,
mit einem schönen Leinen-Geschirrtuch als Begleiter.
Wenn Sie versuchen, es zum Beispiel mit einem Messer anzugreifen... nun, Sie sind gewarnt.
Brand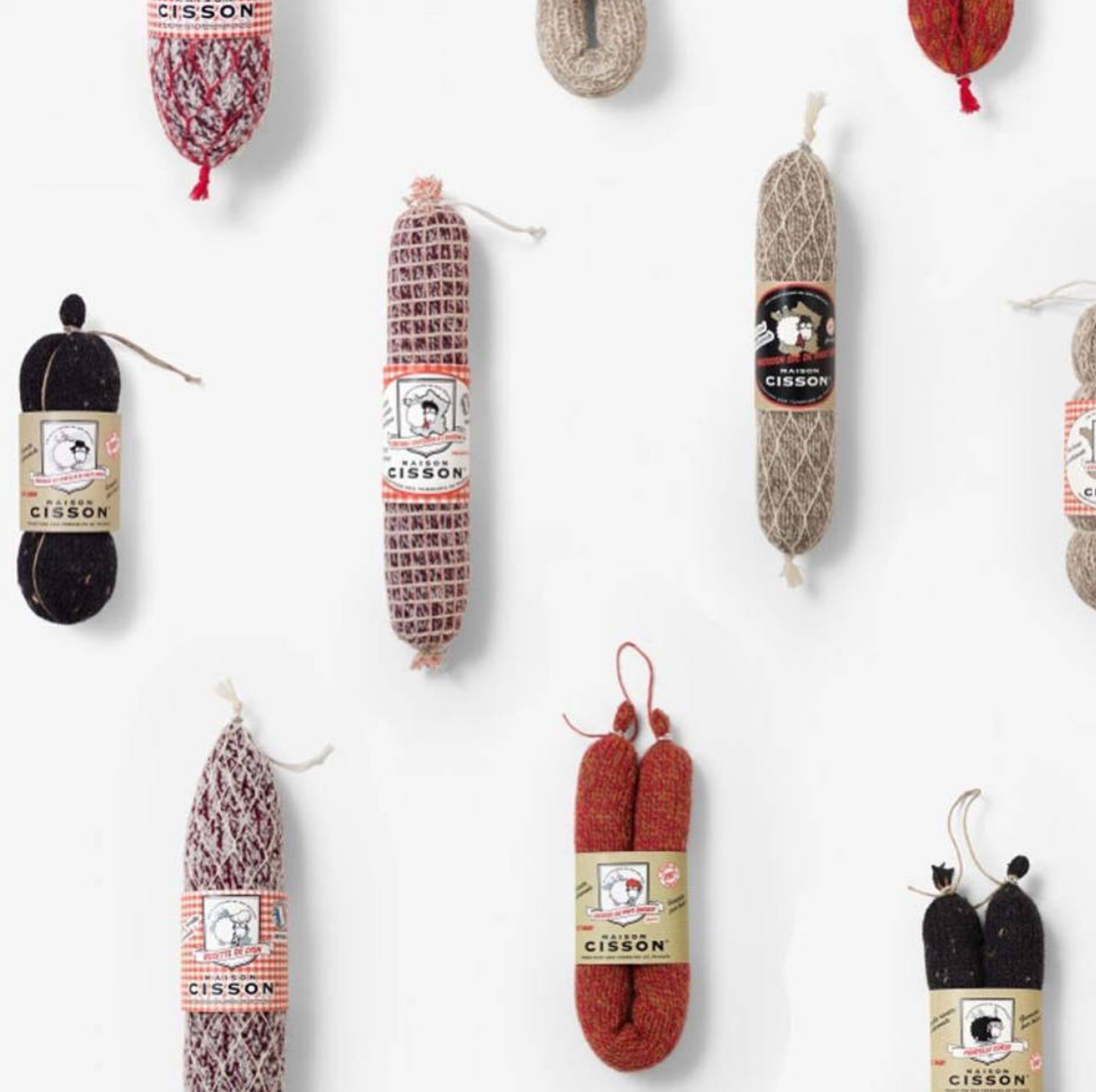 Maison Cisson
(EN) There are some things that simply do not make sense. For example knitted sausages in all variations. Nevertheless we could not resist. Too cool she is this charcuterie francaise !
Maison Cisson's aim is to make sausages so real that the illusion is preserved when you hang them on the walls. To create such small masterpieces, you have to be very careful when choosing wool, nets, ropes, clips and strings.
At Maison Cisson, they want to be faithful to their wonderful country, the production and woollen goods 100% French. Honestly, what would it look like to have French sausages made, even knitted, in a faraway country?
(DE) Es gibt Dinge die machen einfach keinen Sinn. Zum Bespiel gestrickte Würste in allen Varianten. Wir konnten trotzdem nicht Wiederstehen. Zu cool ist sie diese charcuterie francaise !
Maison Cissons Ziel ist es, Würstchen so echt zu machen, dass die Illusion erhalten bleibt, wenn man sie an die Wände hängt. Um solch kleine Meisterwerke zu erstellen, muss man bei der Auswahl von Wolle, Netzen, Seilen, Clips und Schnüren sehr vorsichtig sein.
Bei Maison Cisson wollen sie ihrem wunderbaren Land treu sein, die Herstellung und Wollwaren 100% französisch. Ehrlich gesagt, wie würde es aussehen, wenn man französische Würste in einem fernen Land herstellen, ja sogar stricken ließe?