Lust auf ein alkoholfreies IPA Bier? Uns geht es ähnlich: So sehr wir LOLA Cola lieben, manchmal steht uns der Sinn nach etwas anderem. Und manchmal soll das Andere nicht süss sondern eher …mmhh sagen wir… bitter schmecken. Wir probierten uns durch die unterschiedlichsten alkoholfreien Biere der Schweiz und Europa und stellten fest: es gibt keines, das uns schmeckt.

Das müssen wir ändern! Gesagt, getan. Nach vielen, sehr vielen Test-Flaschen gibt es die erfrischende Neuheit nun endlich: das alkoholfreie India Pale Ale IPA, ohne geschmackliche Kompromisse. Zwei Hopfensorten verleihen dem Bier seine fein-fruchtigen Noten, dopppeltgehopft heisst also das Geheimnis. In der Nase ist der erste Eindruck angenehm vielschichtig und hopfig. Im Gaumen erfrischt die runde Würze des alkoholfreien IPA. Zusammen mit dem unvergorenen Malz wird der bittere (für Kennerinnen und Kenner: amère) Geschmack perfekt abgerundet. Und verlangt nach mehr, mehr LOLA Bier.

Es ist das perfekte Sommerbier, mit vollem Biergeschmack, und das nicht in den Kopf steigt.
Enthalten sind nur die natürlichen Zutaten Wasser, Malz, Hopfen, Hefe und guter Geschmack − und beste Braukunst. Dank der besonderen Hefe, die Malzzucker nicht vergären kann, schmeckt das Bier schön aromaintensiv.

Trotz des geringen Alkoholgehalts von weniger als 0.5% gilt das neue LOLA Bier IPA offiziell als alkoholfrei. Eingebraut wird das Bier mit einer Stammwürze von 7,5° Plato, die es bis zu 45 Bittereinheiten bringen (was für ein IPA ohne Alkohol ganz schön viel ist, wie wir finden).
Wir sind schon etwas stolz auf dieses tolle LOLA Bier IPA alkoholfrei. Denn es ist eine perfekte Alternative für alle, die viel Biergeschmack und keinen Kater wollen. Seine volle Frische entfaltet es bei 7 Grad. Damit es ein malzig-hopfig, alkoholfreier und perfekter Trinkgenuss bleibt, sollte es kühl und dunkel aufbewahrt werden.
Brand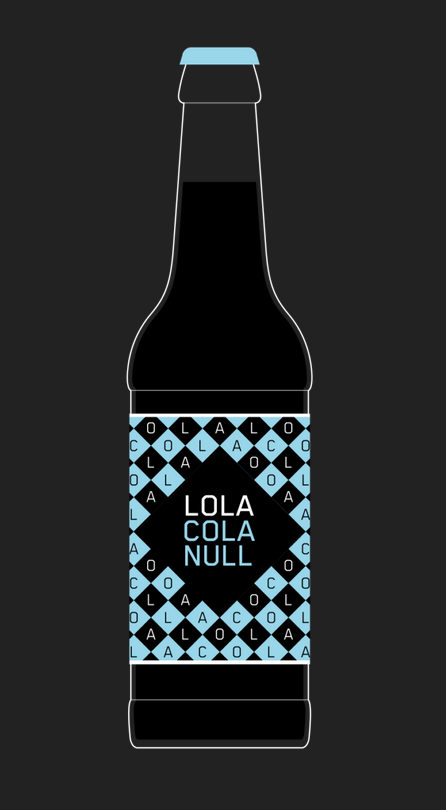 Lola Cola
Kurze Transportwege, fair gehandelter Zucker aus Costa Rica und Solarenergie - nie wurde eine Cola näher und umweltfreundliche Produziert als die von Lola. Der Vertrieb im Lorraineladen wird organisiert von CONTACT – Stiftung für Suchtprobleme, welche die Gesundheit, persönliche Kompetenzen und Integration von Menschen mit Drogenabhängigkeit fördern. Bitte noch eine Lola, da liegt nämlich mehr drin als nur Durstlöschen.
EN: Short transport routes, fair traded sugar from Costa Rica and solar energy - never a coke was produced closer and more environmentally friendly than that of Lola. Sales in the Bernese Shop are organized by CONTACT - Addiction Issues Foundation, which promotes the health, personal skills and inclusion of people with drug addiction. Can I get another Lola please ? , because there is more in it than just thirst quenching.