Lola Bier Alkoholfreies Wit
---
Plastic free
For a good cause
Local
Fair
Small Producer
LOLA brauen das Wit-Bier nach exakt denselben Traditionen,wie es bereits die Belgier im 16. Jahrhundert taten. Der sogenannte "Wit-Trick" sorgt dafür, dass diese Art von Weizenbier seine einzigartige Frische und Fruchtigkeit erhält. Der "Wit-Trick" besteht darin, bei der Herstellung des Biers nebst den üblichen Grundstoffen (Weizen, Hopfen, Wasser und Hefe) zusätzlich noch getrocknete Curaçao-Orangenschalen und Koriandersamen beizumischen.
Hält man beim Konsum des alkoholfreien Wit-Biers seine Nase über das Glas, steigt einem ein erfrischender Orangenduft in die Nase. Beim ersten Schluck verschwindet dieser wieder und macht einem angenehm frischen Weizengeschmack Platz. Im Abgang dann folgt eine langanhaltende Bitterkeit, die bei der konsumierenden Person den Wunsch weckt, sich noch einen Schluck dieses tollen LOLA-Biers zu gönnen.
Wie das LOLA Bier IPA ist auch das LOLA Wit-Bier alkoholfrei und deswegen besonders erfrischend und durstlöschend. Das Wit-Bier ist also die perfekte Alternative für alle, die viel Biergeschmack und keinen Kater wollen. Bei kühlen 4-5 Grad konsumiert, ist der Genuss perfekt.
LOLA brew Wit beer according to exactly the same traditions as the Belgians did in the 16th century. The so-called "Wit trick" ensures that this type of wheat beer retains its unique freshness and fruitiness. The "Wit trick" consists of adding dried curaçao orange peels and coriander seeds to the usual basic ingredients (wheat, hops, water and yeast) during the production process.
If you hold your nose over the glass while consuming the alcohol-free Wit beer, a refreshing orange fragrance rises into your nose. At the first sip, this disappears again and gives way to a pleasantly fresh wheat taste. The finish is followed by a long lasting bitterness, which awakens the desire of the consuming person to indulge in another sip of this great LOLA beer.
Like the LOLA IPA beer, the LOLA Wit beer is alcohol-free and therefore particularly refreshing and thirst-quenching. The Wit beer is therefore the perfect alternative for all those who want a lot of beer taste and no hangovers. Consumed at a cool 4-5 degrees, the pleasure is perfect.
Brand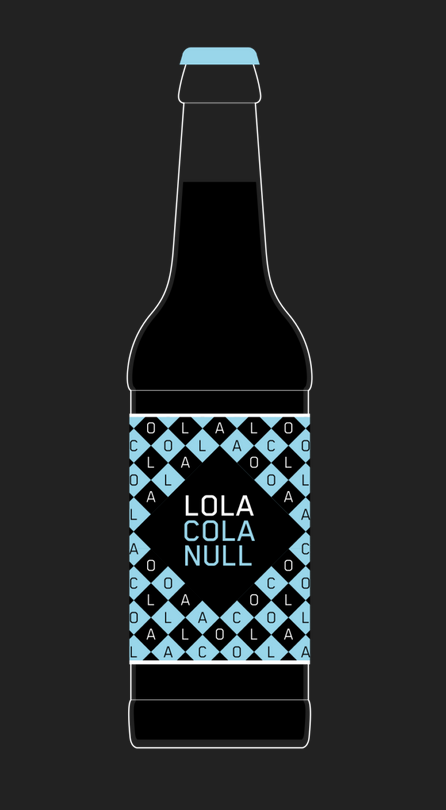 Lola Cola
Kurze Transportwege, fair gehandelter Zucker aus Costa Rica und Solarenergie - nie wurde eine Cola näher und umweltfreundliche Produziert als die von Lola. Der Vertrieb im Berner Lorraineladen wird organisiert von CONTACT – Stiftung für Suchtprobleme, welche die Gesundheit, persönliche Kompetenzen und Integration von Menschen mit Drogenabhängigkeit fördern. Bitte noch eine Lola, da liegt nämlich mehr drin als nur Durstlöschen.
EN: Short transport routes, fair traded sugar from Costa Rica and solar energy - never a coke was produced closer and more environmentally friendly than that of Lola. Sales in the Bernese Shop are organized by CONTACT - Addiction Issues Foundation, which promotes the health, personal skills and inclusion of people with drug addiction. Can I get another Lola please ? , because there is more in it than just thirst quenching.