Lola Bier Alkoholfreies IPA
---
Plastic free
For a good cause
Local
Fair
Small Producer
Lust auf ein alkoholfreies IPA-Bier? Das Gleiche gilt für uns: So sehr wir LOLA Cola auch lieben, manchmal fühlen wir uns wie etwas anderes. Und manchmal sollte das "Etwas anderes" nicht süß schmecken, sondern eher...mmhhhh .... bitter. Lola hat sich durch die verschiedenen alkoholfreien Biere in der Schweiz und Europa versucht und festgestellt, dass es keine gibt, die sie lieben.
Sie dachten: "Das müssen wir ändern!" Sagte, erledigt. Nach vielen, vielen Testflaschen ist die erfrischende Neuheit endlich erhältlich: das alkoholfreie India Pale Ale IPA, ohne Kompromisse im Geschmack. Zwei Hopfensorten verleihen dem Bier seine feinen fruchtigen Noten, das Geheimnis ist der Doppelhopfen. In der Nase ist der erste Eindruck angenehm komplex und hopfig. Das runde Gewürz des alkoholfreien IPA erfrischt den Gaumen. Zusammen mit dem unfermentierten Malz wird der bittere (für Kenner: amère) Geschmack perfekt abgerundet. Und fordert mehr, mehr LOLA-Bier.
Es ist das perfekte Sommerbier, mit einem vollen Biergeschmack, und das gibt dir keinen krausen Kopf. Es enthält nur natürliche Zutaten: Wasser, Malz, Hopfen, Hefe und guten Geschmack - und die beste Braukunst. Dank der speziellen Hefe, die keinen Malzzucker fermentieren kann, schmeckt das Bier wunderbar aromastark.
Trotz des niedrigen Alkoholgehalts von weniger als 0,5% ist das neue LOLA-Bier IPA offiziell alkoholfrei. Das Bier wird mit einer Stammwürze von 7,5° Plato gebraut, was es auf 45 Bittereinheiten bringt (was für ein IPA ohne Alkohol ziemlich viel ist). Sie sind nur ein wenig stolz auf dieses tolle LOLA Bier IPA alkoholfrei. Weil es eine perfekte Alternative für alle ist, die viel Bier und keine Kater wollen. Bei 7 Grad entfaltet er seine volle Frische. Damit es ein malzig-hopty, alkoholfrei und ein perfektes Trinkgenuss bleibt, sollte es kühl und dunkel gehalten werden.
Fancy a non-alcoholic IPA beer? The same goes for us: As much as we love LOLA Cola, sometimes we feel like something else. And sometimes that 'something else' should not taste sweet but rather ...mmhh ... bitter. Lola have tried their way through the different non-alcoholic beers in Switzerland and Europe and found that there is none that they loved.
They thought "We have to change that!" Said, done. After many, many test bottles the refreshing novelty is finally available: the alcohol-free India Pale Ale IPA, without any compromise in taste. Two hop varieties give the beer its fine fruity notes, the secret is double hops. In the nose, the first impression is pleasantly complex and hoppy. The round spice of the alcohol-free IPA refreshes the palate. Together with the unfermented malt, the bitter (for connoisseurs: amère) taste is perfectly rounded off. And demands more, more LOLA beer.
It's the perfect summer beer, with a full beer taste, and that doesn't give you a fuzzy head. It contains only natural ingredients; water, malt, hops, yeast and good taste - and the best art of brewing. Thanks to the special yeast, which cannot ferment malt sugar, the beer tastes beautifully aroma-intensive.
Despite the low alcohol content of less than 0.5%, the new LOLA beer IPA is officially non-alcoholic. The beer is brewed with an original wort of 7.5° Plato, which brings it up to 45 bitter units (which is quite a lot for an IPA without alcohol). They are just a little bit proud of this great LOLA beer IPA non-alcoholic. Because it is a perfect alternative for everyone who wants a lot of beer and no hangovers. It unfolds its full freshness at 7 degrees. To keep it a malty-hopty, alcohol-free and a perfect drinking pleasure, it should be kept cool and dark.
Brand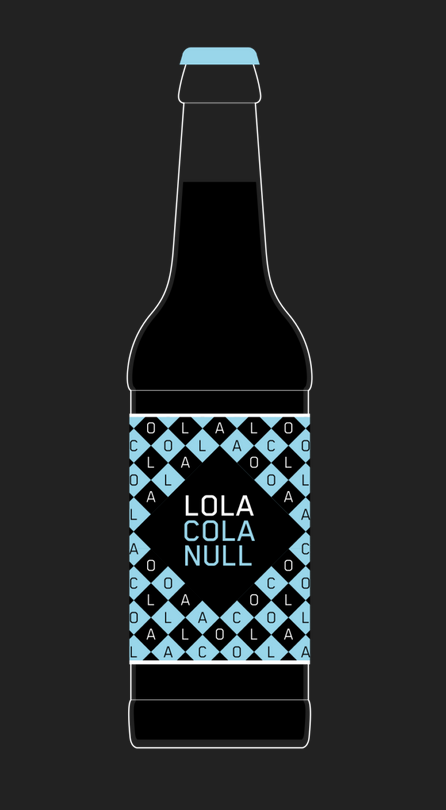 Lola Cola
Kurze Transportwege, fair gehandelter Zucker aus Costa Rica und Solarenergie - nie wurde eine Cola näher und umweltfreundliche Produziert als die von Lola. Der Vertrieb im Berner Lorraineladen wird organisiert von CONTACT – Stiftung für Suchtprobleme, welche die Gesundheit, persönliche Kompetenzen und Integration von Menschen mit Drogenabhängigkeit fördern. Bitte noch eine Lola, da liegt nämlich mehr drin als nur Durstlöschen.
EN: Short transport routes, fair traded sugar from Costa Rica and solar energy - never a coke was produced closer and more environmentally friendly than that of Lola. Sales in the Bernese Shop are organized by CONTACT - Addiction Issues Foundation, which promotes the health, personal skills and inclusion of people with drug addiction. Can I get another Lola please ? , because there is more in it than just thirst quenching.