Das beste Heilmittel gegen Kater ist eingelegter Fisch.
Take Away Porto ist genau das: eine Reihe von eingelegten Fischen aus Portugal - Thon, Sardinen, Pulpo oder Trout. Schmecken vorzüglich, sind hilfreich und stecken in einer wunderbar illustrierten Verpackung. Aus nachhaltiger Fischerei.
Sardinen in Olivenöl mit Zitronen:
Illustration: Inês Oliveira
Zutaten: Sardinen, Olivenöl, Zitrone und Salz
A lemon and a sardine fell in love. She would visit him on land and he would go see her at sea. Passion rhymes with sardine and lemon. And it is proven that sardine is good for the heart…one that is passionate.
Brand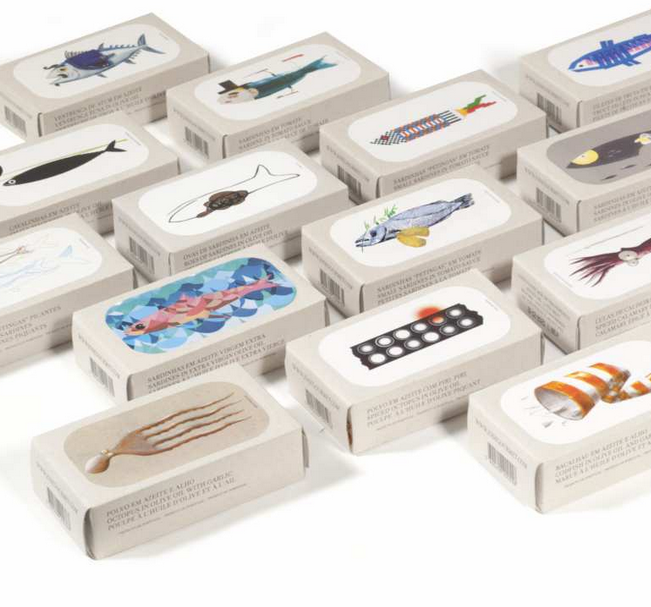 José Gourmet
Unter dem Label José Gourmet versammeln sich allerlei Portugiesische Delikatessen.
Das Team von José Gourmet arbeitet mit kleinen Produzenten aus Portugal zusammen und verkauft deren Produkte liebevoll verpackt in die ganze Welt. Ziel ist es, die Leckerbissen Portugals bekannter zu machen und das lokale Gewerbe zu unterstützen. Bei den Büchsenfischen handelt sich also um keine Fischschlepper-Ware, der Fisch wurde allesamt von regionalen kleinen Fischern gefangen. Und schmecken tun die Fische auch!