La Belle-Iloise Rillettes de maquereau au citron vert
SKU
S47.RILLETTES.MAQUEREAUX.CITRO_*_TARTINABLES
Labels
Made in Europa
Sustainable
Fair
Plastic Free
Small producer

A subtle and fragrant recipe to taste with ease!

Hand-crafted by the artisanal method dear to La Belle-iloise Conserverie, the mackerel fillets are covered with a delicately scented olive oil, all with a hint of lemon and just the right amount berry ... a delicious treat!
Cette recette traditionnelle est à découvrir tout simplement sur des toasts pour des apéritifs gourmets. Les maquereaux sont d'abord cuits entiers dans un court-bouillon, puis parés à la main pour retirer la peau et les arêtes. La chair est ensuite cuisinée avec des oignons, des tomates, du vin blanc, des épices, sans oublier le citron vert pour lui donner sa note de fraîcheur !
Brand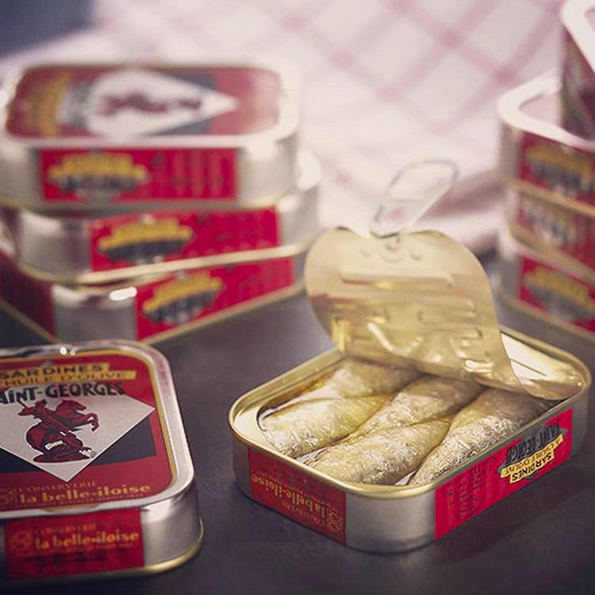 La Belle-iloise
La belle-illoise, is a family run fish conserver from Brittany. Since 1932 they are true to their values that are being a local company ,working with the local fishermen and solely fishing in the fish grounds around the village of Qiberon. Depending on the season up to 600 people from the region work for la belle-illoise. Today the company is run by the founders grand daughter. Independency runs deep in the veins of every Breton so it's not astonishing that beside being a very local company they did not want to relay on others to do business. Therefore they opened their first store 1967 which gave them independency from distributors and big chain stores and a direct contact to the customers. The local fish is brought in in the morning and immediately proceeded. A lot of the work is still done by hand and only the finest ingredients are used. Respecting the environment is a core value at la belle-illoise so you only find local sustainable fish in their tins. They recycle everything they can from fish to the water used for the production. The oil used for the sardine production becomes bio fuel. The historic establishment of the company on the peninsula of Quiberon gives it a privileged link with the resource, the marine world, its rules and seasons. On a day-to-day basis, the Conserverie reliably uses the resources at its disposal in all areas: environmental, social and societal. Kitchener note: We are big fans of tinned fish like sardine and mackerel. Not only are these fish that not at all endangered but they have a lot of omega 3 fats and are besides being super yummy also very healthy. Having some tinned fish in the cupboard is essential, be it to through together a quick and delicious dinner when you just had no time for shopping or when you wake up with a hangover and need some serious breakfast. Nothing beats a hangover like anchovy or sardine on toast and some black coffee. With la belle-illoise we know that we have a producer we can trust that they take care that there will be fish for many more generations to come. And we love to support local businesses. "Tinned fish makes a lovely gift and la belle-illoise tins are especially beautifull gifts. We have tried many tins of fish and to us la belle-illoise are among the best. " sarah , buyer