Kowtow Lucia Skirt Black Grid
SKU
KTW063.LUCIA.SKIRT_Black
Made from certified 100% Fairtrade organic cotton poplin.
-Hergestellt aus zertifizierter Popeline aus 100% Fairtrade-Bio-Baumwolle.
A flared skirt with a gathered waist,
made from organic cotton poplin.
A pull on style that is finished with a comfortable elastic waistband
and side seam pockets.
— Organic cotton is a natural, biodegradable
and renewable resource grown from non-genetically modified seeds, without harmful chemicals.
It requires less water to grow than conventional cotton,
and is rain-fed, hand-picked and processed using
Global Organic Textile Standard (GOTS) allowed inks and dyes.
— All of Kowtows garments are certified by FLO
and made in a traceable supply chain, which works
with Fairtrade certified farmers and manufacturers from seed to garment.
— Fused with organic cotton interlining, a natural product which has responsibly sourced.
***
Ein ausgestellter Rock mit geraffter Taille,
hergestellt aus Bio-Baumwollpopeline.
Das Modell zum Überziehen ist mit einem bequemen Gummibund
und Seitennahttaschen.
- Bio-Baumwolle ist ein natürlicher, biologisch abbaubarer
und erneuerbare Ressource, die aus nicht gentechnisch verändertem Saatgut
und ohne schädliche Chemikalien angebaut wird.
Für ihren Anbau wird weniger Wasser benötigt als bei konventioneller Baumwolle,
und wird von Regenwasser gespeist, von Hand gepflückt und nach dem
Global Organic Textile Standard (GOTS) zugelassenen Tinten und Farbstoffen verarbeitet.
- Alle Kleidungsstücke von Kowtows sind von FLO zertifiziert
und werden in einer rückverfolgbaren Lieferkette hergestellt, die
die mit Fairtrade-zertifizierten Bauern
und Herstellern zusammenarbeitet, vom Samen bis zum Kleidungsstück.
- Mit einer Einlage aus Bio-Baumwolle, einem Naturprodukt aus verantwortungsbewusster Beschaffung.
Brand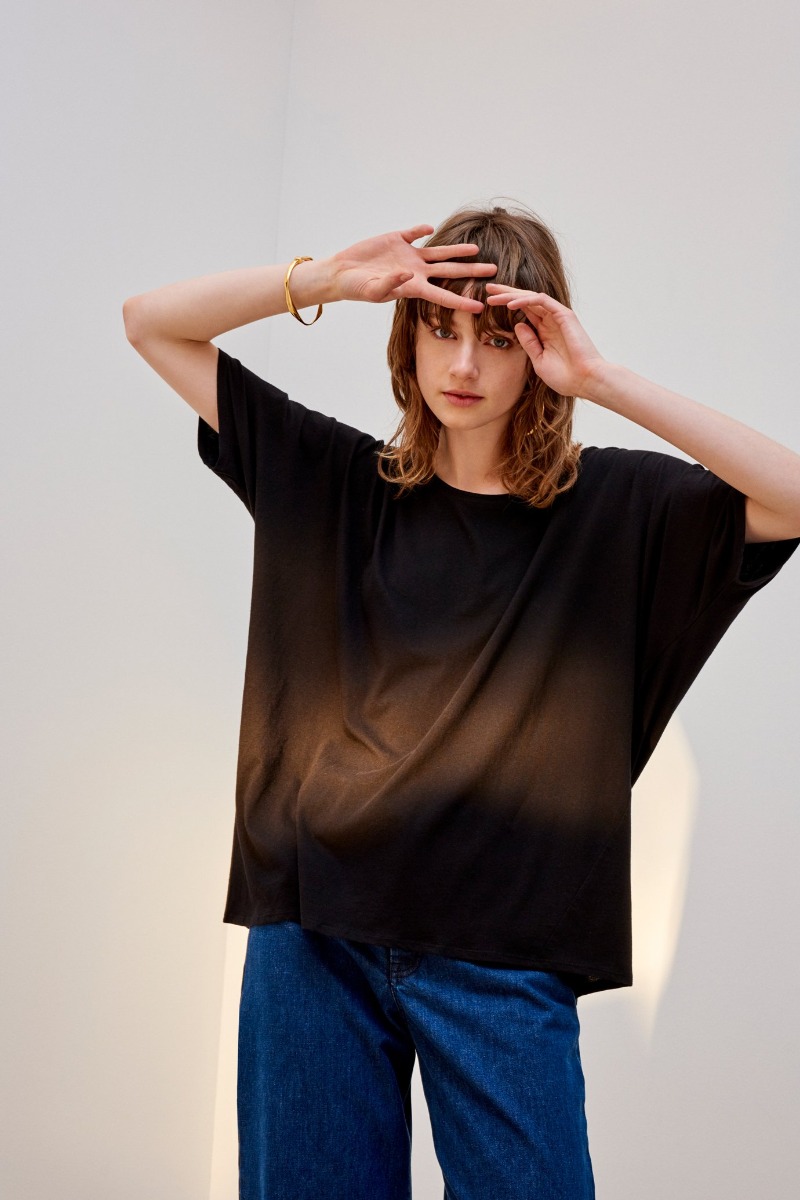 Kowtow
Vom Samen der Baumwollpflanzen über die Ernte, den Transport zur Fabrik und dem Spinnen bis zum fertigen Kleidungsstück überwachen die Leute von Kowtow, dass ihre Standards erfüllt werden. So wird nur Baumwolle verwendet, die zu 100% Fairtrade zertifiziert ist. Das bedeutet unter anderem, dass die Rechte der Farmer und Farmarbeiter, sowie die der Fabrikarbeiter zu 100% respektiert werden. In der Fabrik in Kolkata, wo Kowtow Kleidung hergestellt wird, bekommen die Arbeiter neben einem angemessenen Lohn bezahlte Krankheitsausfälle und Ferien, eine Krankenversicherung, bezahlte Schule für ihre Kinder und Transportmöglichkeiten zur Arbeitsstelle. Der ganze Prozess ist auf der Homepage des Labels unter kowtowclothing.com dokumentiert.
EN: From the seed of the cotton plants to the harvest, the transport to the factory and from spinning to the finished garment, the people of Kowtow ensure that their standards are met. Only 100% Fairtrade certified cotton is being used. The rights of farmers and farm workers, as well as those of factory workers, are fully respected. At the factory in Kolkata, where Kowtow clothes are manufactured, workers receive a decent wage, paid sick leave and holidays, health insurance, paid schooling for their children and access to transportation services to work. The whole project is documented on the label's homepage at kowtowclothing.com.