Haeckels Lemon Balm Incense Cones
SKU
0046W.INCENSE.CONES.LEMON.BALM
---
For a good cause
Made in Europe
Sustainable
Small Producer
Locally harvested (in the UK) natural scented incense. – 17 Cones
-Natürlicher, duftender Weihrauch, der vor Ort (in Großbritannien) geerntet wird. - 17 Kegel
These wooden incense cones fill your home and space with the scent of fresh lemongrass.
To get the best results use an incense burner.
Lemon Balm grows to 70–150 cm tall with oil-rich leaves that a
gentle lemon fragrance will come off onto your hands when crushed.
Melissa officinalis is in the mint family of Lamiaceae which reflects this high oil content and naturally fragrant quality.
The white summer flowers attract bees, hence the genus name Melissa (Greek for 'honey bee')
whilst high doses of purified lemon balm extracts have been found to be effective in the relief of stress,
producing increased calmness and reduced alertness.
***
Diese hölzernen Räucherkegel erfüllen Ihr Zuhause und Ihren Raum mit dem Duft von frischem Zitronengras.
Die besten Ergebnisse erzielen Sie mit einem Weihrauchbrenner.
Die Zitronenmelisse wächst 70-150 cm hoch und hat ölhaltige Blätter, die beim Zerdrücken einen
zarten Zitronenduft auf die Hände abgibt, wenn man sie zerdrückt.
Melissa officinalis gehört zur Familie der Minzgewächse (Lamiaceae), was auf den hohen Ölgehalt und den natürlichen Duft hinweist.
Die weißen Sommerblüten locken Bienen an, daher der Gattungsname Melissa (griechisch für 'Honigbiene')
hochdosierte, gereinigte Melissenextrakte haben sich als wirksam bei der Linderung von Stress erwiesen,
zu mehr Gelassenheit und geringerer Wachsamkeit führen.
Brand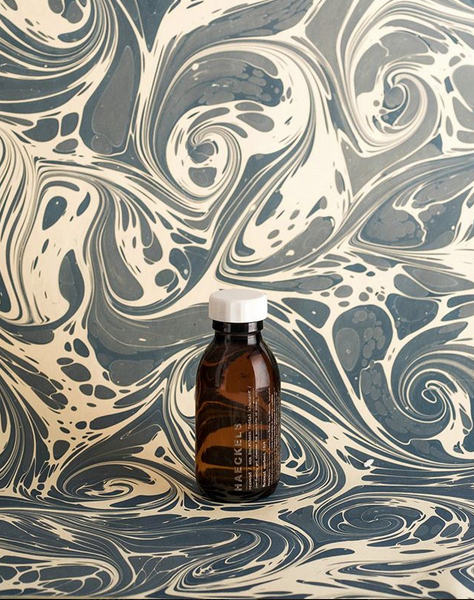 Haeckels
Als eine von zwei Firmen ist es Haeckels erlaubt an der Küste Englands Seegras zu pflücken. Die Margate's Coast ist ein 14 Meilen langes Kalkriff aus der Jura Zeit. Neben Seegras werden im Clifftop Lab von Haeckel's noch andere Pflanzen und Kräuter zu natürlichen Hautpflegeprodukten, Shampoos und Parfüms verarbeitet. Basierend auf der griechischen Thalassotherapie entstehen hier wunderbare Produkte für Körper und Geist. Ohne Tierversuche und mit ganz, ganz viel Liebe.

EN: Haeckels was founded in 2012 by volunteer beach warden and coastal enthusiast Dom Bridges.

Disillusioned by the production ethos of many larger skin care companies Dom wanted to create simple hand crafted products that showcased the surrounding coasts natural ingredients in the hope that the products themselves would then promote Margates heritage of healthy coastal living.

When Haeckels was just starting out Dom would collect seaweed and local botanicals along the Margate coast and bring them bring back to his family kitchen to experiment. Dom's wife Jo soon said it was time to get a proper Lab and turn a passion into a business as every saucepan in the kitchen was starting to smell like a skin care product. Taking his wifes advice he acquired the Lab on Cliff Terrace in 2013 where more product formulas were developed to complete the range. The company has now grown; taking on members of staff whilst still playing an active part in the local community by organising beach cleans and taking part in marine conseravtion surveys.