Haeckels Juniper Incense Cones
SKU
0047W.JUNIPER.INCENSE.CONES
---
For a good cause
Made in Europe
Sustainable
Fair
Small Producer
Locally harvested (in the UK) natural scented incense. – 17 Cones
-Natürlicher, duftender Weihrauch, der vor Ort (in Großbritannien) geerntet wird. - 17 Kegel
Juniper grows in the form of around 52 different species
which have each adapted to changing conditions around the world,
Juniperus refers to Juniper as a whole which is then individually characterised regionally.
The coastal form of Juniper in the cones grows as a low and dense bush
with bluish berries and dark green needle-like leaves, it is a hardy perennial
which has adapted to the shoreline environment to be substantial enough to cope with the salt water and strong winds.
Juniper berries are used in a wide variety of culinary dishes
and for a distinct flavouring in gin as well as the primary flavour in the liquor Jenever.
***
Wacholder wächst in Form von etwa 52 verschiedenen Arten
die sich jeweils an die wechselnden Bedingungen auf der ganzen Welt angepasst haben,
Juniperus bezeichnet den Wacholder als Ganzes, der dann regional individuell charakterisiert wird.
Die küstennahe Form des Wacholders in den Zapfen wächst als niedriger und dichter Strauch
mit bläulichen Beeren und dunkelgrünen, nadelförmigen Blättern, er ist eine winterharte Staude
Er ist eine winterharte Staude, die sich an die Küstenumgebung angepasst hat und kräftig genug ist,
um dem Salzwasser und den starken Winden zu trotzen.
Wacholderbeeren werden in einer Vielzahl von kulinarischen Gerichten verwendet
und für ein ausgeprägtes Aroma in Gin sowie als Hauptaroma in der Spirituose Jenever.
Brand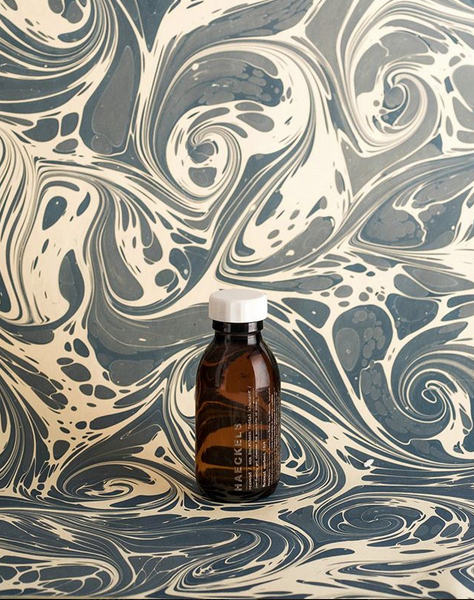 Haeckels
Als eine von zwei Firmen ist es Haeckels erlaubt an der Küste Englands Seegras zu pflücken. Die Margate's Coast ist ein 14 Meilen langes Kalkriff aus der Jura Zeit. Neben Seegras werden im Clifftop Lab von Haeckel's noch andere Pflanzen und Kräuter zu natürlichen Hautpflegeprodukten, Shampoos und Parfüms verarbeitet. Basierend auf der griechischen Thalassotherapie entstehen hier wunderbare Produkte für Körper und Geist. Ohne Tierversuche und mit ganz, ganz viel Liebe.

EN: Haeckels was founded in 2012 by volunteer beach warden and coastal enthusiast Dom Bridges.

Disillusioned by the production ethos of many larger skin care companies Dom wanted to create simple hand crafted products that showcased the surrounding coasts natural ingredients in the hope that the products themselves would then promote Margates heritage of healthy coastal living.

When Haeckels was just starting out Dom would collect seaweed and local botanicals along the Margate coast and bring them bring back to his family kitchen to experiment. Dom's wife Jo soon said it was time to get a proper Lab and turn a passion into a business as every saucepan in the kitchen was starting to smell like a skin care product. Taking his wifes advice he acquired the Lab on Cliff Terrace in 2013 where more product formulas were developed to complete the range. The company has now grown; taking on members of staff whilst still playing an active part in the local community by organising beach cleans and taking part in marine conseravtion surveys.