SKU
0029.W.ECO.HANDBALM.30ML
---
Plastic free
For a good cause
Made in Europe
Sustainable
Fair
Small Producer
Organic
30ml
Reintroduce the Eco Balm – Haeckels bestselling hand balm,
now 100% compostable and in a glassine sack.
-Der Eco Balm - Haeckels meistverkaufter Handbalsam -
ist jetzt zu 100 % kompostierbar und wird in einem Pergaminbeutel geliefert.
The buttery balm will keep your hands nourished through a
powerful combination of seaweed and eco marine extract.
Your hands will be moisturised but not greasy, with increased levels of collagen.
Your hands need nourishing. And though you might never have used a hand balm,
it should form a really important part of your daily routine.
The skin on your hands is different from the rest of your body – sometimes softer, sometimes harder.
The hands are the most used part of the body. Hands can be dry and chapped, or they can be clammy.
Either way, a good hand balm is necessary that is non-greasy but effective.
Eco Balm is formulated to help your hands. It all starts with seaweed.
Fucus Serum extract provides unrivalled levels of hydration,
which in turn helps to soften the hands and stimulate the production of structural skin proteins.
***
Der butterweiche Balsam pflegt Ihre Hände durch eine
Kombination aus Meeresalgen und Öko-Meeresextrakt.
Ihre Hände werden mit Feuchtigkeit versorgt, aber nicht fettig, mit erhöhtem Kollagengehalt.
Ihre Hände brauchen Nährstoffe. Und auch wenn Sie vielleicht noch nie einen Handbalsam benutzt haben,
sollte er ein wirklich wichtiger Bestandteil Ihrer täglichen Routine sein.
Die Haut an den Händen ist anders als die des restlichen Körpers - mal weicher, mal härter.
Die Hände sind der am meisten beanspruchte Teil des Körpers. Die Hände können trocken und rissig oder auch feucht sein.
In jedem Fall ist ein guter Handbalsam erforderlich, der nicht fettet, aber wirksam ist.
Eco Balm wurde entwickelt, um Ihren Händen zu helfen. Alles beginnt mit Meeresalgen.
Der Fucus-Serum-Extrakt spendet unübertroffene Mengen an Feuchtigkeit,
Dadurch werden die Hände weicher und die Produktion von Strukturproteinen der Haut wird angeregt.
Brand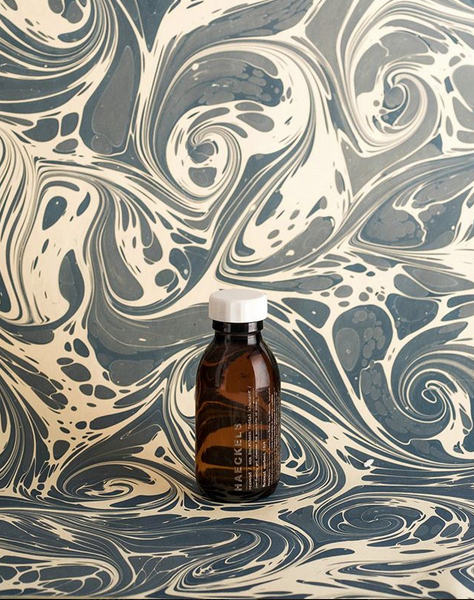 Haeckels
Als eine von zwei Firmen ist es Haeckels erlaubt an der Küste Englands Seegras zu pflücken. Die Margate's Coast ist ein 14 Meilen langes Kalkriff aus der Jura Zeit. Neben Seegras werden im Clifftop Lab von Haeckel's noch andere Pflanzen und Kräuter zu natürlichen Hautpflegeprodukten, Shampoos und Parfüms verarbeitet. Basierend auf der griechischen Thalassotherapie entstehen hier wunderbare Produkte für Körper und Geist. Ohne Tierversuche und mit ganz, ganz viel Liebe.

EN: Haeckels was founded in 2012 by volunteer beach warden and coastal enthusiast Dom Bridges.

Disillusioned by the production ethos of many larger skin care companies Dom wanted to create simple hand crafted products that showcased the surrounding coasts natural ingredients in the hope that the products themselves would then promote Margates heritage of healthy coastal living.

When Haeckels was just starting out Dom would collect seaweed and local botanicals along the Margate coast and bring them bring back to his family kitchen to experiment. Dom's wife Jo soon said it was time to get a proper Lab and turn a passion into a business as every saucepan in the kitchen was starting to smell like a skin care product. Taking his wifes advice he acquired the Lab on Cliff Terrace in 2013 where more product formulas were developed to complete the range. The company has now grown; taking on members of staff whilst still playing an active part in the local community by organising beach cleans and taking part in marine conseravtion surveys.