Wallace#Sewell Gunta Stölzl Seal Bauhaus Scarf
Niedriger Bestand
SKU
W35904.STOLZL.SEAL_Blau
100% lambswool
35 x 245 cm
This summer, as part of the Bauhaus centenary celebrations, Wallace Sewell have been authorised to create a re-edition of Gunta Stölzl's original 'Prellerdecke' blanket. The project was initiated by Jörg Klambt, founder of Designshop at Bauhaus Dessau; where in 1926, the first Prellerhaus blankets were made in the weaving workshops. The original design having been lost, Wallace Sewell have realized and recreated the design, with help from Gunta Stölzl's daughter, Monika Stadler, and archive drawings and photographs.
Gunta Stölzl was fundamental to the Bauhaus weaving department and when the Bauhaus moved to Dessau, Stölzl, who was a master of the weaving workshop, designed a blanket for the 'Prellerhaus' student dormitories. The original is a bold interaction of horizontal and vertical, positive and negative.
The Wallace Sewell Prellerhaus blanket harks back to the original as closely as possible, picking up on the rhythm and simplicity of Gunta's design. Wallace Sewell have also created two new colour ways, which keep the tonal balance and design that is essentially Bauhaus, whilst updating to a more contemporary palette.

100% Lammwolle
35 x 245 cm
Wallace Sewell wurde in diesem Sommer im Rahmen der Jubiläumsfeierlichkeiten des Bauhauses beauftragt, eine Neuauflage von Gunta Stölzls Originaldecke "Prellerdecke" zu erstellen. Initiiert wurde das Projekt von Jörg Klambt, dem Gründer der Designwerkstatt am Bauhaus Dessau, wo 1926 die ersten Prellerhausdecken in den Webereien hergestellt wurden. Da das ursprüngliche Design verloren gegangen ist, hat Wallace Sewell das Design mit Hilfe von Gunta Stölzls Tochter Monika Stadler realisiert und neu gestaltet und Zeichnungen und Fotos archiviert.
Gunta Stölzl war von grundlegender Bedeutung für die Abteilung Bauhausweberei und als das Bauhaus nach Dessau umzog, entwarf Stölzl, der ein Meister der Weberei war, eine Decke für die Studentenwohnheime Prellerhaus. Das Original ist ein mutiges Zusammenspiel von horizontal und vertikal, positiv und negativ.
Die Decke des Wallace Sewell Prellerhauses geht so nah wie möglich an das Original heran und greift den Rhythmus und die Einfachheit des Designs von Gunta auf. Wallace Sewell hat auch zwei neue Farbvarianten entwickelt, die die tonale Ausgewogenheit und das Design, das im Wesentlichen Bauhaus ist, beibehalten und gleichzeitig auf eine modernere Palette umgestellt.
Brand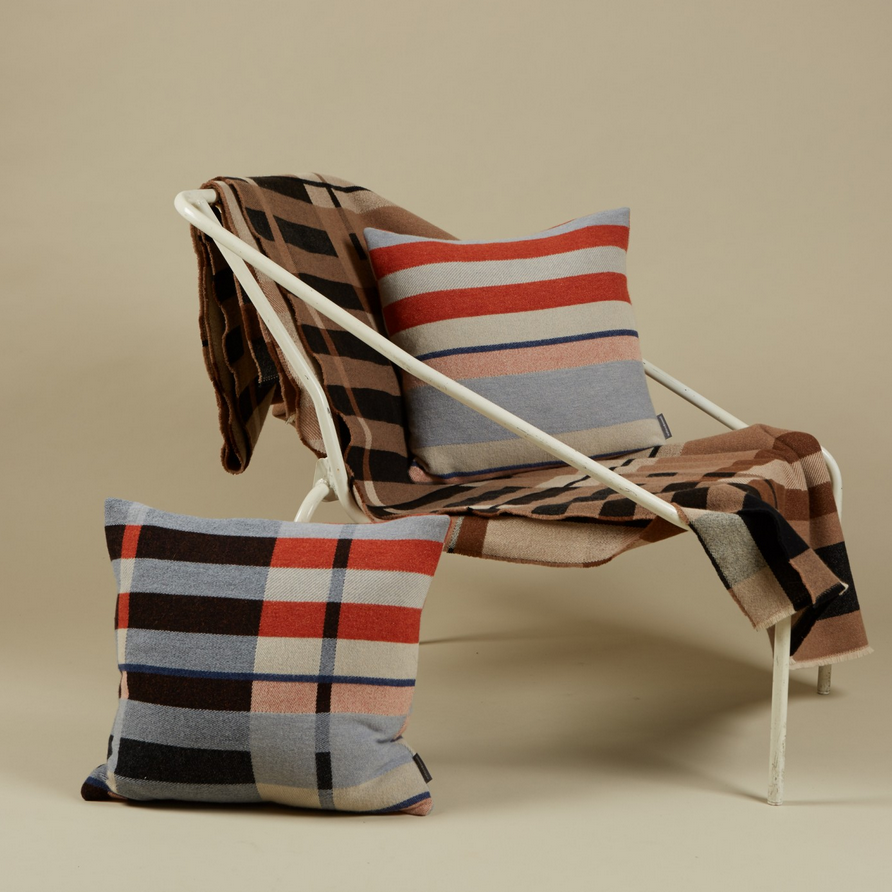 Wallace#Sewell
Das in Großbritannien ansässige Designstudio Wallace#Sewell wurde 1990 von Harriet Wallace-Jones und Emma Sewell gegründet, nachdem beide am Royal College of Art ihren Abschluss gemacht hatten. Ihr vielfältiges Portfolio umfasst unter anderem Schals für das Tate sowie Entwürfe für Moquette-Stoffe für die Sitze der Londoner Tube. Als sie 1992 zum ersten Mal ausstellten, erregten ihre Arbeiten viel Begeisterung und Interesse, insbesondere bei Barney's New York. Dieses progressive Studio aus London und Dorset, steht für gewebte Exzellenz und Originalität.
EN: The UK-based design studio Wallace#Sewell was founded in 1990 by Harriet Wallace-Jones and Emma Sewell after graduating from the Royal College of Art. Their diverse portfolio includes scarves for the Tate and designs for moquette fabrics for the London Tube seats. When they exhibited for the first time in 1992, their work generated much enthusiasm and interest, especially at Barney's New York. This progressive studio from London and Dorset stands for woven excellence and originality.