Guanabana Handwoven Fan Grey
Niedriger Bestand
SKU
IR0122.HANDWOVEN.FAN_*_RGRAY
These fans are exclusively designed in Madrid
and hand made by artisans in Colombia using a manufacture technique
that belongs to the Colombian tradition: weaving with iraca.
This natural fiber comes from the iraca palm,
a plant whose leaves are collected and boiled to obtain fine strips,
normally used to weave hats, baskets and other handicrafts.
The weaving process requires a lot of dedication
and expert hands that result in this beautiful handicraft
that will help you in the hottest days.

Diese Fächer werden ausschließlich in Madrid entworfen
und von Kunsthandwerkern in Kolumbien mit einer Herstellungstechnik handgefertigt,
die zur kolumbianischen Tradition gehört: dem Weben mit Iraca.
Diese Naturfaser stammt von der Iraca-Palme, einer Pflanze,
deren Blätter gesammelt und gekocht werden,
um feine Streifen zu erhalten, die normalerweise zum Weben von Hüten,
Körben und anderen Kunsthandwerken verwendet werden.
Der Webprozess erfordert viel Hingabe und fachkundige Hände,
die dieses schöne Kunsthandwerk hervorbringen,
das Ihnen in den heißesten Tagen helfen wird.
Brand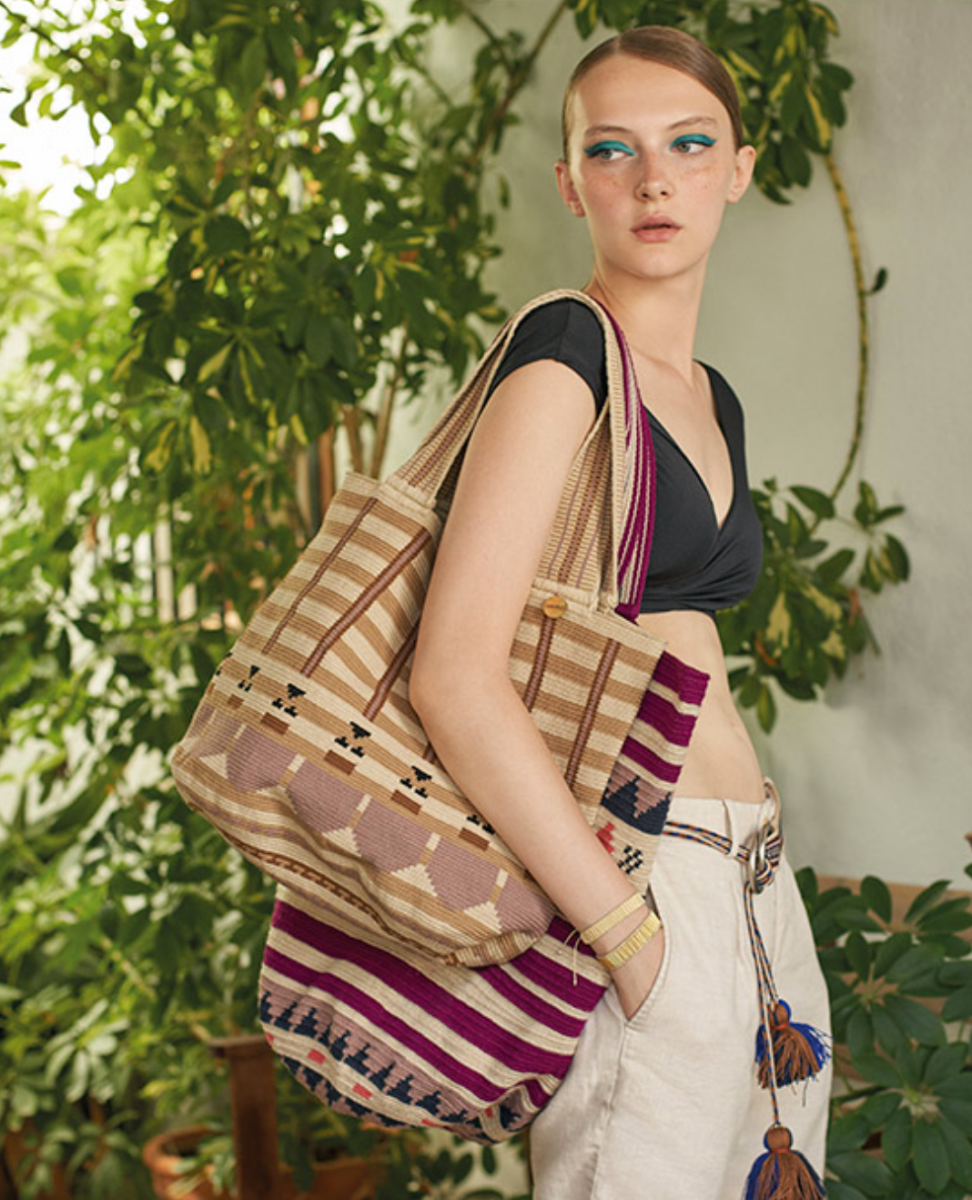 Guanábana
Guanábana is born under the philosophy of creating special pieces, hand made products of a high quiality, innovative and timeless designs, Ready-to-wear fashion accessories.
The collection mix together design and different artisan techniques from several places in South America; Guanábana believes in special products with story behind, each piece is made up by the work part of the brand and artisan's workshops, which had been developing al the same time.
Every Guanabana bag is hand crocheted by Columbia's Wayuu artisans and may vary in color and pattern.
The inspiration of the brand, comes from hand made techniques, the richness in the material and colors, that influence by the European style gives a special touch to the pieces.