A Beautiful Story Gemstone Black Onyx Gold Bracelet
SKU
BL22474.GEMSTONE.CARD.ONYX_Black
---
Sustainable
Fair
Small Producer
The dimensions of the card are 74 x 74 mm
Die Maße der Karte sind 74 x 74 mm
This bracelet is made of cotton yarn and a centrally placed Black Onyx gemstone. The bracelet is adjustable by a sliding knot.
The black onyx is true and strong. Sometimes you need a little push, sometimes you don't dare to do it alone. With the black onyx you have the focus and confidence to do what you ask for. Together you can do it.
about this stone
black onyx helps to focus.
***
Dieses Armband ist hergestellt aus Baumwollgarn und einem mittig platzierten Black Onyx Edelstein. Das Armband ist verstellbar durch einen Schiebeknoten.
Der schwarze Onyx ist wahrhaftig und stark. Manchmal benötigst Du einen kleinen Schubs, mal traust Du Dich nicht alleine. Mit dem schwarzen Onyx hast Du den Fokus und das Vertrauen um das zu tun, wonach Du verlangst. Zusammen schafft ihr das.
über diesen stein
schwarzer onyx hilft zu fokussieren.
Brand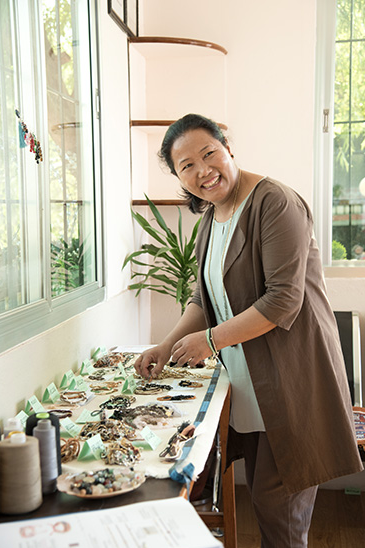 A BeautIful Story
It all started with a Silver Factory
There once was a small silver factory in a city called Kathmandu, the Nepali capital.
A beautiful story begins in the year 2005. During that year the factory offered jobs to twenty outstanding silver smiths, who created the most amazing jewelry. Dambar, the owner of the factory, was looking for more customers to buy his stunning products. More customers meant more sales, which in return would let him secure employment for the men under his care. This news travelled halfway around the globe, and reached Cathelijne Lania, the founder of A Beautiful Story, in The Netherlands.
Women's empowerment
Through the men working in the silver factory (silver smith is a male-dominated profession in Nepal) they met a group of women.
Their business was called 'Beads for Life' and their goal was to achieve financial independence.
A Beautiful Story also decided to sell their knitted jewelry and within a few years, the group grew to 15 fulltime workers. They make the most intriguing and awe-inspiring pieces and apply various techniques, including good old crochet, in their knitted collection!