Dr. Bronner's Peppermint Toothpaste
SKU
TPPE05.PFEFFERMINZ.ZAHNPASTA
Labels
Made in Europa
Sustainable
Fair
Organic
Vegan
For a good cause

GOOD FOR TEETH AND EARTH Introducing Dr. Bronner's All-One Toothpaste with 70% organic ingredients! The low-foaming formula has no synthetic detergent foaming agents, is fluoride-free, vegan and cruelty-free, with no artificial colors, flavors, preservatives, or sweeteners & none! This simple yet effective toothpaste stimulates mouth, teeth, gums and tongue, leaving them fresh and clean. Made in a 100% recyclable box and tube. Better Toothpaste for you and our Earth! We are All-One or None!". GUT FÜR DIE ZÄHNE UND UNSERE ERDE Inhaltsstoffe zu 70 % aus kontrolliert biologischem Anbau. Fluoridfrei, vegan und tierversuchsfrei, frei von künstlichen Farb- und Aromastoffen, Konservierungsmitteln und Süßstoffen. Geringe Schaumbildung – frei von synthetischen Schaumbildnern! Umverpackung und Tube zu 100 % recycelbar. Bessere Zahnpasta für Dich und unsere Erde! Mit Dr. Bronner's kannst Du jeden Tag dazu beitragen, die Welt ein kleines Stückchen besser zu machen. "We are All-One or None!".
Brand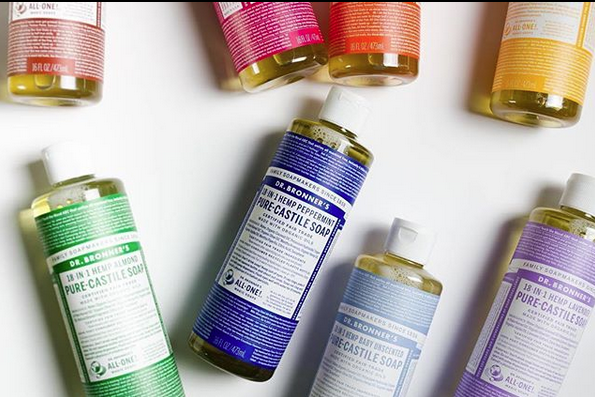 Dr Bronner
Sisters & Brothers of Spaceship Earth! - Good things shaking all over the globe! - Work-love-fight to make best soap-peace-earth!

Dr. Bronner's macht gar nichts falsch! Zu den Grundsätzen des Unternehmens gehören unter anderem eine nachhaltige Produktion, faire Löhne und Arbeitsbedingungen für Mitarbeiter und Lieferanten und Gleichstellung aller Geschlechter, Nationen und Religionen.
Das Produkt ist eine zu 100% biologisch abbaubare Seife, die vielseitig verwendet werden kann: Duschen, putzen, Wäsche waschen, usw.
Die Magic Soaps finden in jedem Zuhause Platz, doch auch für Outdoor-Menschen sind sie ideal; man darf sich problemlos im kristallklaren Bergbach waschen und duftet dann sogar noch nach Lavendel, Rose oder einer der vielen anderen angenehmen Duftrichtungen. Ausserdem sind alle Seifen in praktischer Reisegrösse erhältlich.
Gegründet wurde das Unternehmen 1948 von Emanuel Bronner, der in dritter Generation in die Seifenherstellung der Familie eintrat. Heute wird Dr. Bronner's Magic Soap von seinen Enkelkindern weitergeführt.

EN: Dr. Bronner's was founded in 1948 by Emanuel Bronner, a third- generation master soapmaker from a German-Jewish soapmaking family. He used the labels on his superb ecological soaps to spread his message that we must realize our unity across religious & ethnic divides or perish: "We are All-One or None!" Still family-owned and run, Dr. Bronner's honors its founder's vision by continuing to make socially & environmentally responsible products of the highest quality, and by dedicating our profits to help make a better world. All-One!