Brooklyn Brew Shop No-Rinse Sanitizer Packet
SKU
ACSAN.NO.RINSE.SANITIZER
Makes 2 Gallons of Sanitizer
-Ergibt 2 Gallonen Desinfektionsmittel
Many people might not realize it,
but sanitization is one of the most important steps in the beer making process.
Without properly sanitizing all brewing equipment, yeast may die
or beer may become infected, resulting in some not-so-tasty brews.
Sanitization is important, but it's nothing scary.
When brewing, keep everything clean so that you give what you're brewing its best chance to succeed.
So when preparing for brew day, wipe any crumbs off the counters.
Move any clutter that might be in your way. Read through the rest of the instructions
(at least through fermentation) so that you know what to expect.
And have fun!
***

Vielen mag es nicht bewusst sein, aber die Desinfektion ist einer der wichtigsten Schritte bei der Bierherstellung.
Ohne eine ordnungsgemäße Desinfektion aller Brauanlagen kann es zum Absterben von Hefe
oder zur Infektion des Bieres kommen, was zu einigen nicht so schmackhaften Gebräuen führt.
Die Desinfektion ist wichtig, aber sie ist nicht beängstigend.
Halten Sie beim Brauen alles sauber, damit das, was Sie brauen,
seine beste Chance auf Erfolg hat. Wenn Sie sich also auf den Brautag vorbereiten, wischen Sie alle Krümel von den Tresen.
Bewegen Sie alle Unordnung, die Ihnen im Weg sein könnte.
Lesen Sie den Rest der Anleitung durch (zumindest die Gärung), damit Sie wissen, was Sie erwartet.
Und viel Spaß dabei!
Brand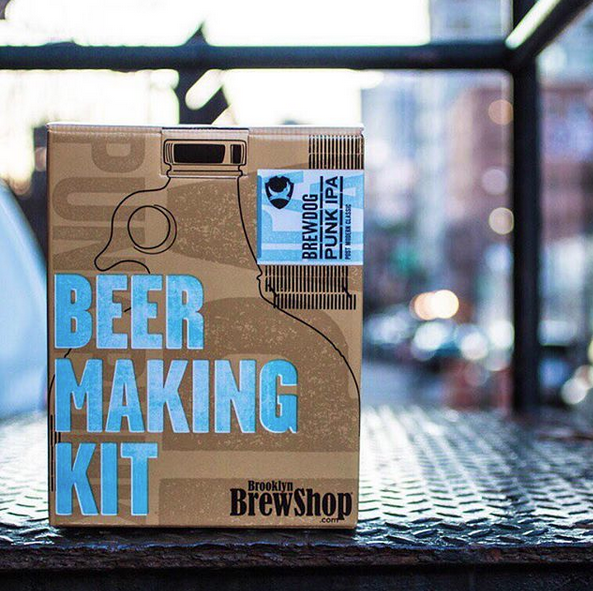 Brooklyn Brew Shop
Der Brooklyn Brew Shop macht das Bierbrauen für zuhause sehr einfach. Ein Set enthält alle nötigen Zutaten und Behälter, braucht es nur noch ein wenig Geduld und schon steht das selbstgemachte Bier abgefüllt und mit eigenen Etiketten im Kühlschrank. Was darf's den bitte sein? Ein IPA, BLACK IPA, GREEN TEA PALE ALE, AFTERNOON WHEAT, BRUXELLE BLONDE oder am Ende dann doch lieber ein STOUT oder gar eine SOUR SESSION? Optimal als Geschenk oder als ultimative Bierzelebration.
EN: The Brooklyn Brew Shop makes brewing beer at home very easy. One set contains all the necessary ingredients and containers, it just takes a little patience and the homemade beer will soon be stored in the fridge all bottled and labeled by yourself. What will it be for you? An IPA, BLACK IPA, GREEN TEA PALE ALE, AFTERNOON WHEAT, BRUXELLE BLONDE or in the end a STOUT or even a SOUR SESSION? Ideal as a gift or as the ultimate beer celebration.