Brooklyn Brew Shop BRUXELLES BLONDE® Beer Making Kit
SKU
GKBUX.BRUXELLES.BLONDE.KIT
All the equipment in the Beer Making Kits is reusable.
All you need for your next batch is another Beer Making Mix and packet of No-Rinse Sanitizer.
-Die gesamte Ausrüstung in den Beer Making Kits ist wiederverwendbar.
Alles, was Sie für Ihre nächste Charge benötigen, ist ein weiterer Beer Making Mix und ein Päckchen No-Rinse Sanitizer.
A dreamy, light-bodied Belgian ale with a gentle malt sweetness,
Bruxelles Blonde offers a refreshing, slightly earthy,
slightly spicy hop aroma and a smooth, fresh taste.
Included in the Bruxelles Blonde Beer Making Kit:
Bruxelles Blonde 1 Gallon, All-Grain Mix
Golding Hops
Beer Making Yeast
Glass Fermentation Jug
Thermometer
Racking Cane
Tubing
Tubing Clamp
Screw-cap Stopper
Airlock
No-Rinse Sanitizer

***

Als verträumtes, leichtes belgisches Ale mit einer sanften Malzsüße
bietet Bruxelles Blonde ein erfrischendes, leicht erdiges,
leicht würziges Hopfenaroma und einen weichen, frischen Geschmack.
Im Lieferumfang des Bruxelles Blonde Beer Making Kit enthalten:
Bruxelles Blonde 1 Gallone, Vollkornmischung
Vergoldeter Hopfen
Bierherstellung Hefe
Gärungskrug aus Glas
Thermometer
Regalstock
Rohrleitungen
Rohrschelle
Schraubverschluss-Stopfen
Luftschleuse
Desinfektionsmittel ohne Spülung
Brand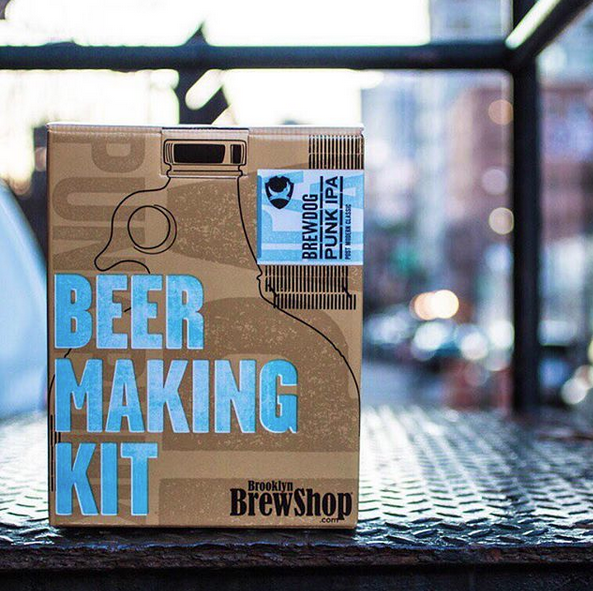 Brooklyn Brew Shop
Der Brooklyn Brew Shop macht das Bierbrauen für zuhause sehr einfach. Ein Set enthält alle nötigen Zutaten und Behälter, braucht es nur noch ein wenig Geduld und schon steht das selbstgemachte Bier abgefüllt und mit eigenen Etiketten im Kühlschrank. Was darf's den bitte sein? Ein IPA, BLACK IPA, GREEN TEA PALE ALE, AFTERNOON WHEAT, BRUXELLE BLONDE oder am Ende dann doch lieber ein STOUT oder gar eine SOUR SESSION? Optimal als Geschenk oder als ultimative Bierzelebration.
EN: The Brooklyn Brew Shop makes brewing beer at home very easy. One set contains all the necessary ingredients and containers, it just takes a little patience and the homemade beer will soon be stored in the fridge all bottled and labeled by yourself. What will it be for you? An IPA, BLACK IPA, GREEN TEA PALE ALE, AFTERNOON WHEAT, BRUXELLE BLONDE or in the end a STOUT or even a SOUR SESSION? Ideal as a gift or as the ultimate beer celebration.