Brooklyn Brew Shop Chestnut Brown Ale Beer Making Kit
SKU
GKCHB.KIT.CHESTNUT.BROWN.ALE
All the equipment in the Beer Making Kits is reusable.
All you need for your next batch is another Beer Making Mix and packet of No-Rinse Sanitizer.
Die gesamte Ausrüstung in den Beer Making Kits ist wiederverwendbar.
Alles, was Sie für Ihre nächste Charge benötigen, ist ein weiterer Beer Making Mix und ein Päckchen No-Rinse Sanitizer.
Northern English style Brown ales are known for their rich and nutty flavors,
and the Chestnut Brown Ale is no exception.
BBS have enhance the nuttiness by adding freshly roasted chestnuts to the boil,
resulting in a sweet, mellow flavor that is just a tad malty and very satisfying.
Included in the Chestnut Brown Ale Beer Making Kit:
Chestnut Brown Ale 1 Gallon, All-Grain Mix
Golding Hops
Beer Making Yeast
Glass Fermentation Jug
Thermometer
Racking Cane
Tubing
Tubing Clamp
Screw-cap Stopper
Airlock
No-Rinse Sanitizer
***
Brown Ales im nordenglischen Stil sind für ihre reichen und nussigen Aromen bekannt,
und das Chestnut Brown Ale ist da keine Ausnahme.
BBS hat die Nussigkeit durch die Zugabe von frisch gerösteten Kastanien zum Kochen verbessert,
Das Ergebnis ist ein süßer, weicher Geschmack, der nur ein wenig malzig und sehr befriedigend ist.
Im Chestnut Brown Ale Bierherstellungsset enthalten:
Chestnut Brown Ale 1 Gallone, All-Grain-Mix
Golding-Hopfen
Bierherstellungs-Hefe
Glas-Gärkrug
Thermometer
Abfüllstock
Schläuche
Schlauchklemme
Schraubverschluss-Stopfen
Luftschleuse
No-Rinse Desinfektionsmittel
Brand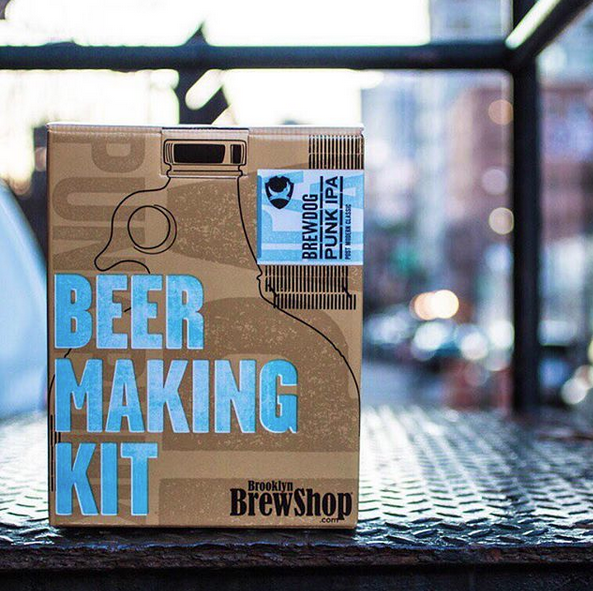 Brooklyn Brew Shop
Der Brooklyn Brew Shop macht das Bierbrauen für zuhause sehr einfach. Ein Set enthält alle nötigen Zutaten und Behälter, braucht es nur noch ein wenig Geduld und schon steht das selbstgemachte Bier abgefüllt und mit eigenen Etiketten im Kühlschrank. Was darf's den bitte sein? Ein IPA, BLACK IPA, GREEN TEA PALE ALE, AFTERNOON WHEAT, BRUXELLE BLONDE oder am Ende dann doch lieber ein STOUT oder gar eine SOUR SESSION? Optimal als Geschenk oder als ultimative Bierzelebration.
EN: The Brooklyn Brew Shop makes brewing beer at home very easy. One set contains all the necessary ingredients and containers, it just takes a little patience and the homemade beer will soon be stored in the fridge all bottled and labeled by yourself. What will it be for you? An IPA, BLACK IPA, GREEN TEA PALE ALE, AFTERNOON WHEAT, BRUXELLE BLONDE or in the end a STOUT or even a SOUR SESSION? Ideal as a gift or as the ultimate beer celebration.