Biocol Labs Detox: Something® for a Detox Week Ampoules
---
Sustainable
Made in Europe
Small Producer
Something® for a detox week contains a purifying blend of ingredients such as chicory,
artichoke and choline, which contributes to the maintenance of a normal liver function
and supports the detoxification and elimination of additives, food excesses and pollution effects.
Recommended- taking a pack per month together with a plant-based, wholefood diet.
That's right, show your liver some love.
Flavour: green apple.
Product is: vegan | GMO free | refined sugar free | gluten free | lactose free
Something® für eine Entgiftungswoche enthält eine reinigende Mischung aus Zutaten wie Zichorie, Artischocke und Cholin,
die zur Aufrechterhaltung einer normalen Leberfunktion beiträgt und die Entgiftung und Ausscheidung von Zusatzstoffen,
Nahrungsmittelüberschüssen und Verschmutzungseffekten unterstützt.
Empfohlen - Einnahme einer Packung pro Monat zusammen mit einer pflanzlichen Vollwerternährung.
So ist es richtig, zeigen Sie Ihrer Leber etwas Liebe.
Geschmacksrichtung: grüner Apfel.
Das Produkt ist: vegan | GVO-frei | raffiniert zuckerfrei | glutenfrei | laktosefrei
Brand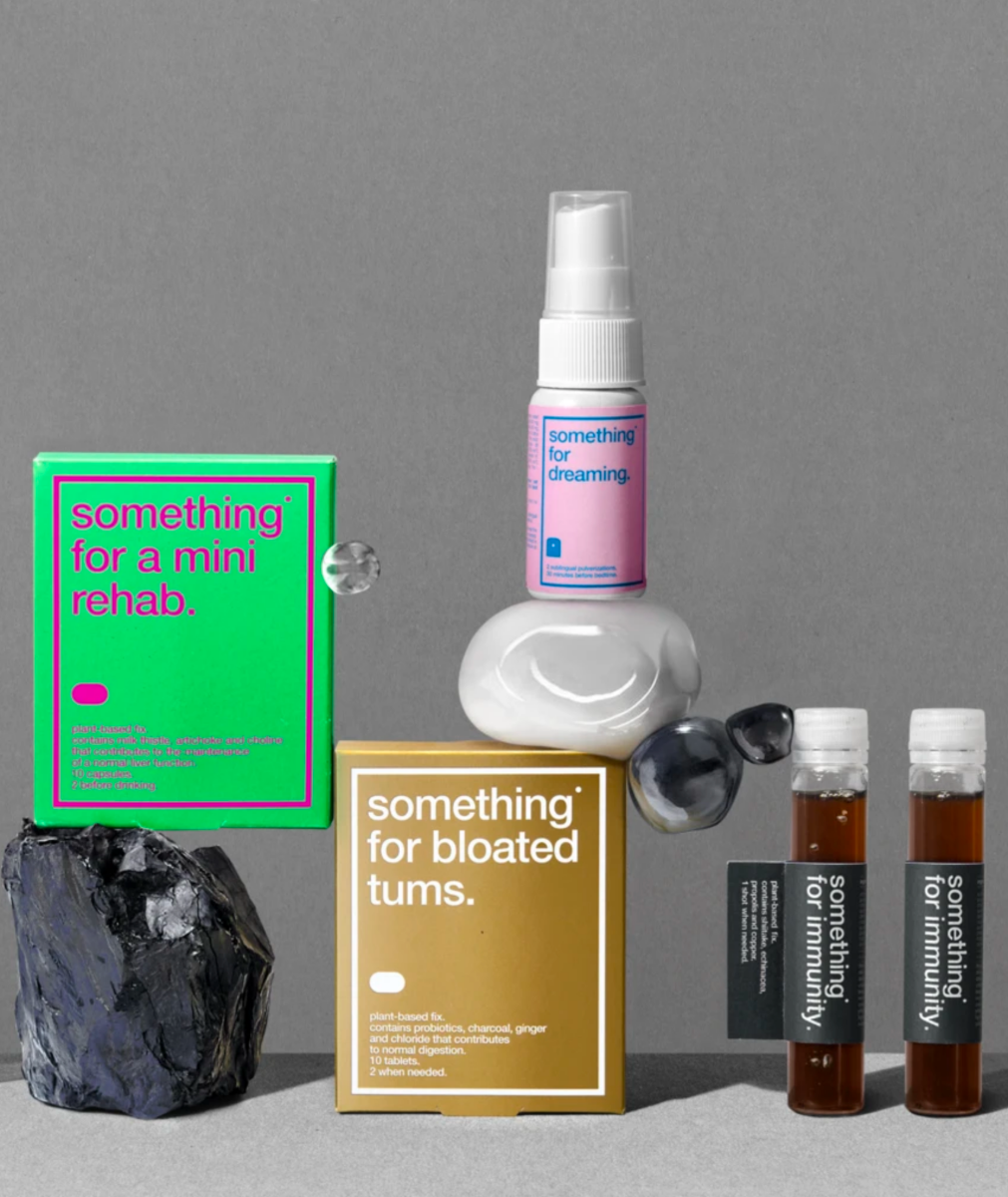 Biocol labs
(EN) Biocol Labs is a laboratory that has always been ahead of its time.
It was founded in 1977 in Lisbon, Portugal, with the conviction that mineral-and plant-based science will make the chemical pharma industry redundant. Not the other way round. The two founders, husband and wife Gualdim and Natalia Redol, were a self-taught scientist and a self-made business woman. They focused on the needs of a new class of men and women that emerged in Europe. This class was modern in every way: seeking a balanced, rejuvenating, natural and efficient lifestyle. They researched, developed and perfected a trace-element range of supplements aiming to activate the vital functions of the organism and to preserve the integrity of the cells, endangered by the disadvantages of modernization: pollution, stress, electronic radiations, UV rays and genetic modified foods and crops. The complete range consisted of 25 trace-elements.
Today Biocol Labs is still independent, family owned and operated, selling its products in more than 20 countries, doing its own research, development and production in order to make the world free of chemicals and silliness; with the power of minerals and vegetables always at its heart.
(DE) (EN) Biocol Labs ist ein Labor, das seiner Zeit immer einen Schritt voraus war.
Es wurde 1977 in Lissabon, Portugal, mit der Überzeugung gegründet, dass die mineral- und pflanzenbasierte Wissenschaft die chemische Pharmaindustrie überflüssig machen wird. Nicht andersherum. Die beiden Gründer, Ehemann und Ehefrau Gualdim und Natalia Redol, waren autodidaktische Wissenschaftler und eine Selfmade-Geschäftsfrau. Sie konzentrierten sich auf die Bedürfnisse einer neuen Klasse von Männern und Frauen, die in Europa entstand. Diese Klasse war in jeder Hinsicht modern: Sie suchte einen ausgewogenen, verjüngenden, natürlichen und effizienten Lebensstil. Sie erforschten, entwickelten und perfektionierten eine Reihe von Spurenelementpräparaten mit dem Ziel, die lebenswichtigen Funktionen des Organismus zu aktivieren und die Unversehrtheit der Zellen zu erhalten, die durch die Nachteile der Modernisierung gefährdet waren: Umweltverschmutzung, Stress, elektronische Strahlung, UV-Strahlen und genetisch veränderte Lebensmittel und Nutzpflanzen. Die gesamte Palette bestand aus 25 Spurenelementen.
Heute ist Biocol Labs immer noch unabhängig, in Familienbesitz und -betrieb, verkauft seine Produkte in mehr als 20 Ländern, betreibt eigene Forschung, Entwicklung und Produktion, um die Welt frei von Chemikalien und Dummheiten zu machen; mit der Kraft von Mineralien und Gemüse immer im Mittelpunkt.